3 Supplements mbg's Health Editor Keeps On Hand To Fight Inflammation
mbg Health Contributor
By Gretchen Lidicker, M.S.
mbg Health Contributor
Gretchen Lidicker earned her master's degree in physiology with a focus on alternative medicine from Georgetown University. She is the author of "CBD Oil Everyday Secrets" and "Magnesium Everyday Secrets."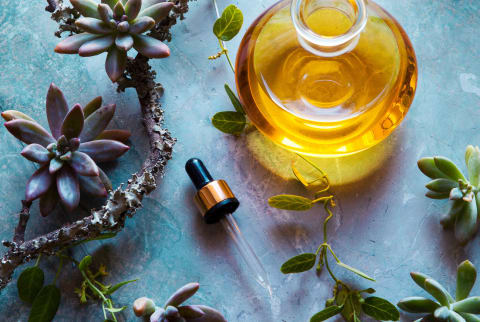 September 25, 2018
Inflammation underscores so much of what we cover here at mbg—it's the root cause of not only preventable diseases but also gut dysfunction that many of us experience daily. So, for the next 10 days, we're doing a deep dive into inflammation, giving you everything you need to know: the basics of what inflammation is, how to know if you have it, and what you can do to control it. Follow along here, and to learn even more, check out our
FREE Functional Nutrition Webinar with Vincent Pedre, M.D.
Advertisement
This ad is displayed using third party content and we do not control its accessibility features.
Knowing I'm the health editor at mindbodygreen, it probably comes as no surprise that a significant portion of my thoughts are about inflammation. I'm constantly writing about it, asking top integrative and functional medicine doctors about it, and experimenting with the newest and greatest supplements aimed at calming chronic underlying inflammation, which plays a role in almost every disease out there.
After years of trial and error, there are three supplements that I always keep on hand and strive to take every day. Combine these with eight (or more) hours of sleep a night, an anti-inflammatory diet—consisting of lean proteins, healthy fats, veggies, and not a lot of sugar—regular exercise, and a semi-sporadic meditation practice, and you have a pretty solid anti-inflammatory lifestyle.
1. CBD oil
CBD oil is everywhere. It's in our self-care and beauty routines and even our hot chocolates. CBD has been shown to quell the overactive immune response that is the hallmark of chronic inflammation and autoimmune disease. As the author of the upcoming book, CBD Oil Everyday Secrets: A Lifestyle Guide to Hemp-Derived Health and Wellness, I've done my fair share of research on CBD. Studies have shown that CBD, which is short for cannabidiol, tempers the immune system and can even induce regulatory T-cells, which help the immune system distinguish between our own bodily tissues and foreign invaders like viruses and bacteria. Studies have shown that when there's persistent inflammation in the body, the health of the endocannabinoid system is altered.
I take CBD (almost) every day and am a big believer in its ability to reduce minor aches and pains, calm anxiety, and, of course, fight off pesky inflammation. Look for a full-spectrum CBD product that has been lab-tested for quality, potency, and safety.
Advertisement
This ad is displayed using third party content and we do not control its accessibility features.
2. Turmeric
Getting back to basics, I always have a high-dose turmeric supplement in my medicine cabinet. Specifically, I always have this Gaia Herbs whole-plant-based turmeric supplement—called Turmeric Supreme Extra Strength, $29.99—in my medicine cabinet. Turmeric is a spice originally from India and is one of the most well-studied natural compounds on earth. It has a lot of potential for inflammation-related conditions and has been studied as a potential therapy to use for depression, ulcerative colitis, and even cancer, Alzheimer's disease, and heart attacks. One study showed that curcuminids (the main anti-inflammatory compounds found in turmeric) can help control knee pain as well as ibuprofen. I find it helpful for minor aches and pains, recovering from a workout, headaches—you name it. I also like to include turmeric-rich foods in my weekly meal prep plan, like a grounding curry or a golden milk latte before bed.
3. Omega-3 fatty acids
When it comes to fighting inflammation, it's all about reducing your intake of inflammatory refined carbohydrates, added sugars, processed foods, and hydrogenated oils and increasing your intake of healthy, anti-inflammatory fats like omega-3 fatty acids. Omega-3 fatty acids are found in foods like walnuts, fatty fish like salmon and mackerel, and chia seeds and flaxseeds. I try to incorporate them into my meals as often as possible.
So what does the research say about omega-3s? These beneficial fats can help maintain a healthy inflammatory response but also enhance mood and support a healthy heart, brain, and healthy insulin levels. I take omega-3s daily and increase my dose in the second half of my cycle for a little extra mood support. Currently, I'm using Super EPA, Thorne Research, $35.
So there you have it! Those are the three supplements I always have on hand to help my body cope with all the inflammatory triggers it encounters each day. Just remember that, as I mentioned before, you can't rely on supplements alone. Keeping inflammation at bay requires a full lifestyle approach and requires you to take a good hard look at your diet, sleep quality, exercise routine, and what chemicals and pollutants you're being exposed to each day. Not sure where to start? Talk to your doctor.
Advertisement
This ad is displayed using third party content and we do not control its accessibility features.
Reset Your Gut
Sign up for our FREE doctor-approved gut health guide featuring shopping lists, recipes, and tips