The Candida-Fighting Tropical Fruit You Didn't Know Could Heal Your Gut
Our editors have independently chosen the products listed on this page. If you purchase something mentioned in this article, we may
earn a small commission
.
With its unmistakable golden cone topped with spiky green leaves, the pineapple is an emblem of the tropics. First cultivated by indigenous people in South America, the pineapple caught the attention of the Europeans, who brought it around the world, from the Philippines and India to Africa and Hawaii, where it took root and flourished.
In Cuba where I'm reporting from, pineapple cultivation is on the upswing for export to Europe, supporting the incomes of farmers growing this fruit on the island. In modern times the most common variety of pineapple has been Smooth Cayenne, evidently because it's consistent cylinder shape made it well-suited for canning. Today, as fresh pineapple is in vogue, more varieties of the fruit are gaining popularity.
You would think that this fruit, bursting with sweet flavor and enchanting aroma, would have some very special nutritional qualities. And you would be right! And vitamin C, calcium, magnesium, and potassium are just the beginning. Pineapples are also packed with the enzyme bromelain, which was discovered in 1875 and takes its name from the family Bromeliaceae to which the pineapple belongs. Renowned for its ability to fight inflammation, bromelain is often called pineapple protease.
Naturally, pineapple has been prized in traditional folk medicine, which has inspired intensive nutritional study in recent decades. So what does the literature say? Here is a look at what the science has turned up on pineapples and their powerhouse enzyme:
1. Pain and inflammation relief.
Because of the anti-inflammatory and pain-relieving effects of bromelain, the earliest studies were on arthritis. Subsequently, an investigation from the University of Reading found an improvement in stiffness and function in acute knee pain for people using bromelain.
Research from Benin in Africa discovered that the fruit was helpful in correcting liver damage in laboratory rats. This means it can help support our detoxification pathways, which is never a bad thing.
3. Multifaceted inflammation fighter.
A review from India and Malaysia explained that bromelain decreased key inflammatory mediators in numerous studies. For example, bromelain helped down-regulate an important component of inflammation called COX-2. In another example of its therapeutic impact on inflammation with soft-tissue injuries, bromelain was able to help athletes recover from bruising more quickly.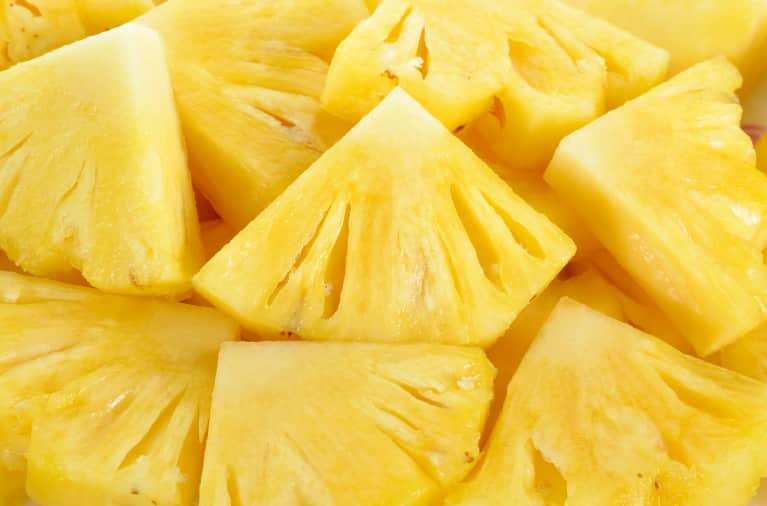 Pineapple has been long praised as a digestive aid because of its potent enzymes. In a rather dramatic example of this, a study appearing in the Turkish Journal of Gastroenterology said that drinking pineapple juice led to the dissolution of undigested food in the stomach due to the enzyme in the juice.
5. Improves bowel cleansing.
Cleansing is paramount in prepping for a colonoscopy since an incomplete cleanse can lead to unsuccessful procedures. A study from Turkey discovered that adding pineapple juice to the cleansing regime significantly helped to clear the tracks for colonoscopies.
Research from the University of Maryland School of Medicine indicates that bromelain can fight diarrhea from GI infections such as the notorious E. coli. The authors concluded that "It may be clinically useful as an antidiarrheal drug."
7. Fights yeast like candida.
Yeast infections are a major health concern. In a lab experiment done in Germany, bromelain demonstrated an ability to support the immune system and kill candida.
To learn more about delicious fruit, vegetables, and herbs that can help reduce inflammation, check out the anti-inflammatory program in my new book, The Allergy Solution.
And do you want to turn your passion for wellbeing into a fulfilling career? Become a Certified Health Coach! Learn more here.