What This Supermodel Eats In A Day & Her Go-To Post-Workout Smoothie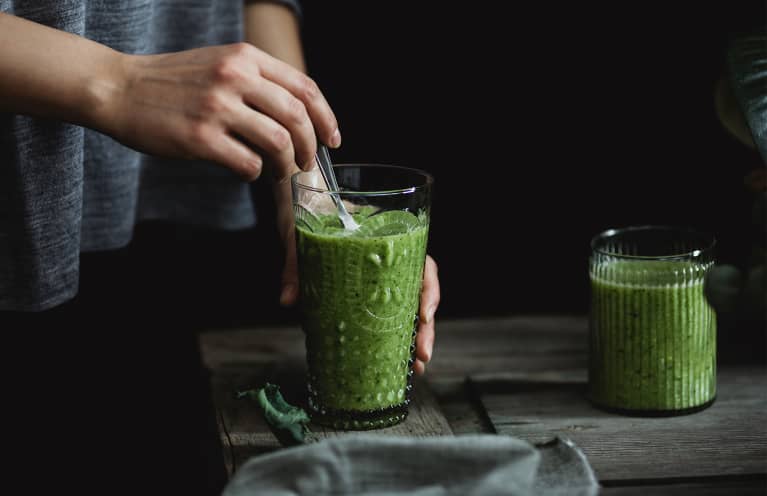 We've always believed that taking care of your mind, body, and skin starts internally—with a balanced, nutritious diet that feeds your body all the essentials it needs to stay healthy. Of course, a lot else comes into play (moving your body, how you treat your skin externally, and your mental health practices), but a good meal is a great place to start.
So recently when I had supermodel, mom-to-be, content creator, and entrepreneur Emily DiDonato on my podcast Clean Beauty School, I couldn't help but ask her about her daily meal prep (along with her beauty and wellness routine). After all, taking care of herself is a big part of her career.
Here, what a supermodel eats in a day to stay focused, full, and glowing all day long.
A self-described early riser, DiDonato's first stop is a coffee. (Can relate.) "I love an iced oat milk latte," she says. "It's so nice getting out of the house right when I wake up. It helps me get going. Then when I get back I have something light before heading to the gym, like a banana or a bit of cottage cheese with blueberries."
After her workout—which is either HIIT, Pilates, or lifting—she'll replenish her body with some much-needed fuel.
"So in my smoothie, I'll do collagen protein, almond milk, blueberries, tons of greens, spinach, and mixed greens. I'll add some cacao, flaxseeds, or chia seeds. Sometimes all of the above, sometimes just one of them. That's my go-to morning smoothie: I want to get a lot of nutrition in at once," she says. We love the sound of the antioxidant dense-blend—plus with the addition of collagen, she's getting skin support as well.* For more information on the benefits of collagen supplements, visit our guide.*
In the afternoon, she stays satiated with tons of veggies and snacks. "And then for lunch, it's a salad almost every single day. I love Sweetgreen, and usually I get the chicken pesto parm. It's an easy go-to for me," she says.
After lunch, she keeps a variety of options on hand. "Throughout the day, I'm always snacking on almonds, crackers, apples, and string cheese—these are all my pregnancy snacks," she says. "I always have food on me—that's for sure."
DiDonato notes she has dinner with her husband in the evening—which is a protein, vegetable, and carb. (During pregnancy, lighter on the veggies and heavier on the carbs, she says.)
"Dinner is usually some sort of protein and some sort of vegetable. I've been less on the cooked vegetable train while pregnant. We used to eat a lot of beets, broccoli, and asparagus, but I can't even look at that these days." She laughs. "So that's what I used to eat when I was normal. So now it's just like some sort of protein and a carb for me, or sometimes it's just the protein at night. 'Cause my stomach is quite upset in the evenings for some reason."
And then she ends the evening with a dessert: "We'll have some ice cream, frozen yogurt, or I'll make like my favorite almond butter cookies." We'll have to get the recipe on that last one.