A French Woman's Guide To Aging Gracefully
By Valérie Grandury
mbg Contributor
Valerie Grandury is the founder of Odacite, a natural skincare brand.
April 29, 2018
Skin care is an "art de vivre" (art of living) for French women. For me, it's a beauty ritual that was passed on from my grandmother to my mother to me. It's a morning and evening celebration of skin, honoring it through its different shapes and ages, and reflecting on what it meant at that time in my life. Some days I'd see some endearing spots from being in the sun. Others, I'd flaunt a fresh glow that can only come from hiking in the mountains. And others, still, I had bags under my eyes and gaunt features as I battled cancer. Having the privilege of checking in each day and honoring our skin philosophy is at the heart of accepting it, and ourselves.
Advertisement
This ad is displayed using third party content and we do not control its accessibility features.
Skin care became more than a regimen.
Having spent 18 years in Los Angeles fully adopting the "green California" lifestyle that comes with living there, paired with my background in health coaching and leading my company, Odacité, have inspired me to add a mindful dimension to my French philosophy of "aging" gracefully. Don't get me wrong—I love products, regimens, and gentle solutions as much as the next person!
But I've found it starts with two fundamental beliefs: First, we need to accept the skin for what it is right now and suspend judgment even for just a little while. Accepting our skin starts by shifting the way we look at it. This brings us to the second shift, which is redefining our outer "flaws." Instead of being critical of our "flaws," we can choose to look at those imperfections as loving messengers, letting us know something needs more attention.
Two fundamental beliefs have changed my skin—and myself.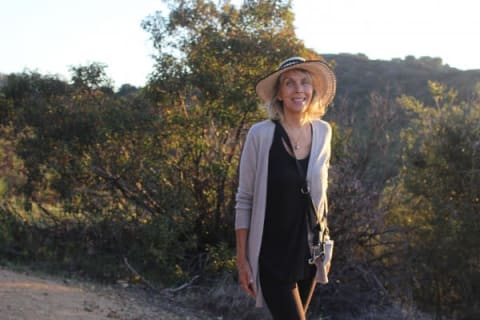 Advertisement
This ad is displayed using third party content and we do not control its accessibility features.
The truth is that skin is an extraordinary barometer of what is happening inside. I believe it is a reflection of both our physical and emotional bodies. By starting to listen to the message behind our skin, we are encouraged to practice self-care and self-love—assessing our needs and meeting them—rather than simply judging ourselves and letting the inner critic's voice run on repeat. If I could give my younger self advice, I'd say, Don't obsess about you skin imperfections, but focus on "être bien dans ta peau" (feeling good in your skin). Nothing will make you more beautiful than the confidence of embracing the skin you are in.
In practice, this looks like meeting pimples with compassion, dull skin with sympathy, and wrinkles with kindness. You can laugh because it does sound silly to some at first, but don't knock it till you try it. Forgive and forget about finding fault; just listen to your skin's messages. Feeling love for our skin releases us from the self-judgment that so often robs us of the opportunity of responding to our life with clarity and intention.
Whether you experience aging skin, acne, redness, lack of glow, uneven skin tone, dryness, clogged pores, or something else, your 911 response is, of course, a proper skin care routine adapted to each specific skin concern. But the real lesson comes from connecting with our skin and the message(s) it's sending:
How can I get more sleep?
What would it take for me to adopt a healthier diet?
How connected am I with my passion?
What kind of activity would bring more relaxation?
How can I carve some time for things that make me happy?
Why am I in a toxic relationship?
Do I spend enough time with the people who truly love me?
These don't have to be sweeping life changes—the answers to these questions could be as simple as a 10-minute meditation, taking the time to call a friend, or trying out a new yoga class. Whatever is calling you, these loving skin messages are here to help us care, nurture, and honor the beautiful life we were given and help us carve out the life we want—ones that our bodies and minds can handle—for ourselves. Our skin is empowering us to think mindfully about our physical being and the big journey we are all on.
You'd be surprised what happens as a result—people I work with report feeling and looking lighter, but at the end of the day, it's all about inviting joy into your life and releasing pain. In my view, there's nothing more beautiful than that!
Check out Valerie's skin care routine, plus the weird exercise she swears by to stay flexible and fit.
Advertisement
This ad is displayed using third party content and we do not control its accessibility features.
Heal Your Skin.
Receive your FREE Doctor-Approved Beauty Guide
Valérie Grandury
Valérie Grandury was born and raised in Paris and is now living in Los Angeles, and is the founder of Odacité. The name is a French play on "audacity," and the brand marries the best of two worlds: luxurious French skin care and green California living. It all started after she was diagnosed with breast cancer and realized that if she wanted to heal, she needed to change everything. She embarked in a life-changing healing journey, quit her job, went back to school to become a health and wellness coach, adopted a raw vegan diet, started yoga and meditation daily. Odacité products have been featured in Instyle, Elle, Cosmopolitan, Vogue, and Vanity Fair.