Get The Glow: A Green Beauty Expert Shares Her Skin Care Routines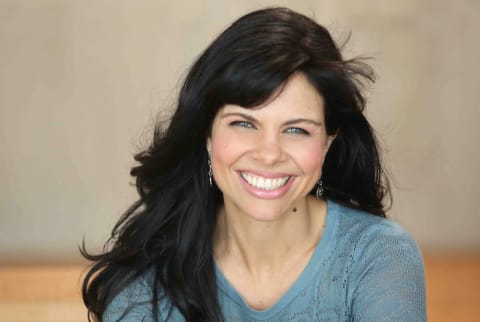 January 13, 2016
As the founder of an amazing non-toxic beauty subscription box, Jeannie Jarnot knows a thing or two about all-natural skin care. She's made it her mission to find and share brands who uphold her ideas about what natural beauty can and should be. So who better to kick off our Beauty Diaries series than Jeannie? We'll have what she's having.
Around the same time I was diagnosed with an endocrine disorder, I began learning just how much of an impact the ingredients in our beauty products can have on health. Once I delved into this space, I never went back.
Using nontoxic, 100 percent healthy beauty products is now a must for me. My daily and weekly skin care routines include only the best of the bunch — and there are many to choose from these days — to enliven and restore skin function. These products cover everything from cell turnover and circulation (hello, glow!) to oil control and preventing the signs of aging.
As a product curator for spas for many years and the founder and buyer for my own business, Beauty Heroes, I use products that not only deliver real results but that also form the basis for centering rituals. I rely on them as a way of self-care that helps me go out into the world with my best skin and as my best self.
Morning Ritual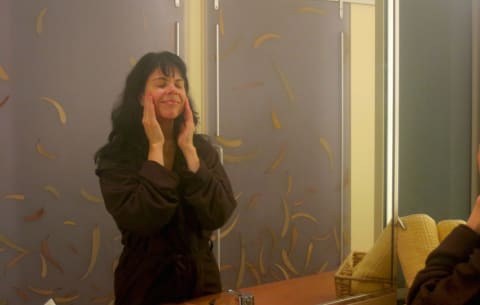 Gentle exfoliation is a daily must for glowing skin. As a mom and entrepreneur, I multitask this essential step and currently, Osmia Organics Black Clay Facial Soap is my favorite solution.
I lather up my face while showering, leave it on for 2 to 3 minutes, then rinse and go. The dead sea mud helps keep my acne-prone skin balanced.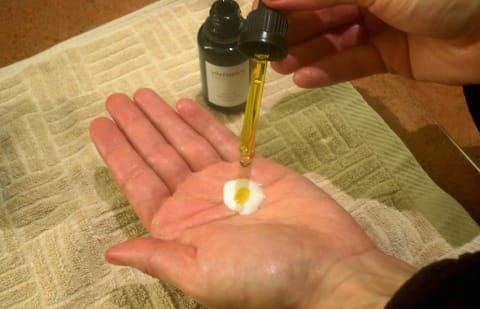 Then, as soon as I'm out of the shower, I "speed layer" products, mixing a few of them together. (This gives me the advantage of deep nourishment in a fraction of the time.)
I like blending a few drops of face serum (Vintner's Daughter is my current love) into a dose of daily moisturizer to add a measure of protecting antioxidants and regenerating minerals.
Twice Weekly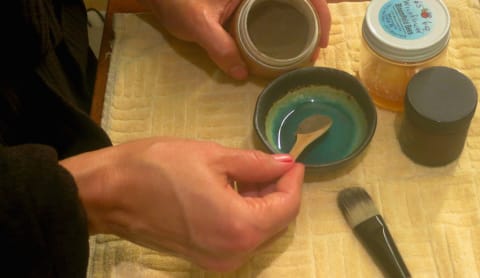 A facial mask twice a week is must for refining pores and keeping blemishes under control. To make it more of a ritual, I use a beautiful bowl and brush from Mahalo Skincare.
After measuring out a dry mask, I add in a half-teaspoon of raw honey, then drizzle in some warm water. Honey isn't just good for the skin, it also keeps clay-based masks from flaking and gives this one an easy-to-use consistency.
Evening Ritual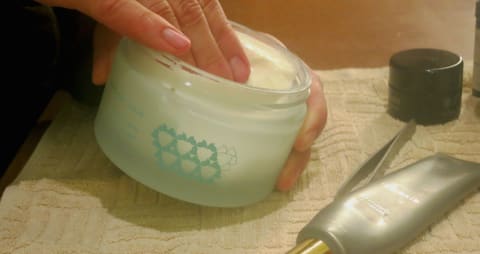 My nighttime beauty ritual is sacred quiet time for me. I never thought I'd spend 10 minutes washing my face, but that changed when I discovered In Fiore's cleansing duo. Its Japanese-inspired ritual calls for massaging Lustra, from chin to forehead as it breaks down dirt and debris and draws out impurities.
I've struggled with acne for years and would never have thought oil was the answer, but my skin has never been healthier.
The next steps include a massage for two more minutes with their cream cleanser, right on top of the oil, and a finishing rinse with warm then cool water for clean, glowing skin.
Because nighttime is when skin cells repair and renew, I give mine lots of TLC with a few more nourishing layers. I start with a layer like Vintner's Daughter and depending on the season, I top that off with a treatment oil or balm.
Right now I'm loving Skin Owl's Mangosteen Beauty Drops PM and the way its oxygenating blend revives my skin. Treating the eye area with a skin-repairing ingredient — like the prawn sage extract found in Bottega Organica's Eye Illuminate — is a must for waking up with smooth skin. I tap a generous amount on the outer- and under-eye areas, and let it soak in overnight.
The crowning layer of my evening ritual is massaging my favorite all-over face and body cream — Red Flower Arctic Berry Cloud Milk Cream — into my neck, chest, and hands. Not only is this cream full of nourishing oils and antioxidants, its gorgeous texture and aroma signal that my transition from busy to rest is complete.
Weekly Ritual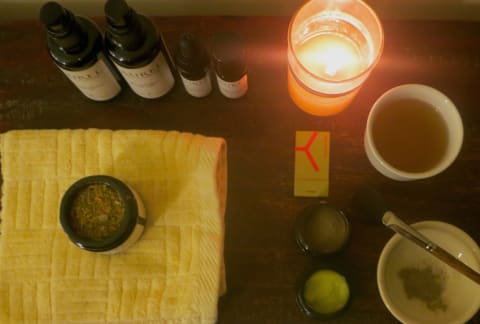 It's not an obvious source for healthy skin, but a luxurious bath just once a week makes all the difference for my skin and spirit. I look five years younger afterward and my stress just flows down the drain with the water.
Coming from a spa background, turning a bath into an at-home spa treatment comes pretty naturally to me: add Epsom salts, essential oils, a face mask, candlelight, and a body scrub, and I'm in business.
I also love Laurel Whole Plants Organics Winter Radiance Ritual, especially the herbal tea facial compress, filled with organic calendula, chamomile, and licorice.
A beauty ritual like this might sound like a lot of work but it's really not and it's so worth it. My skin genuinely glows for days after and I feel a deep sense of gratitude that I took time to slow down and take care of myself. My skin loves me for it.
Photos courtesy of author

Jeannie Jarnot
As founder of Beauty Heroes, Jeannie Jarnot has manifested her dedication to non-toxic beauty and whole person health. After nearly two decades as a luxury spa director, Jeannie turned her passion for finding high-quality, high-performance products for face, body and hair into a service that simplifies the process of using safe beauty products. Her natural beauty subscription box, Beauty Heroes, reflects her vision that we resist the urge to compromise health in pursuit of a youthful or otherwise desirable appearance, and that by using pure ingredients, we learn to "Use Less. Love More."
As founder of Beauty Heroes, Jeannie's mission is to clean up the beauty business. Seeking out high-quality, all natural products for skin, hair and sun was her work for many years as a spa director in Northern California. Now she has applied this lifelong passion and intuition to her natural beauty subscription box service, delivering 100-percent toxin-free beauty products from a variety of equally dedicated brands. Her vision is that we embrace our natural beauty and resist compromising health in pursuit of a youthful or otherwise desirable appearance and that we "Use Less. Love More."