A French Beauty Guru Shares Her Routine For Happy, Bright Skin
By Valérie Grandury
mbg Contributor
Valerie Grandury is the founder of Odacite, a natural skincare brand.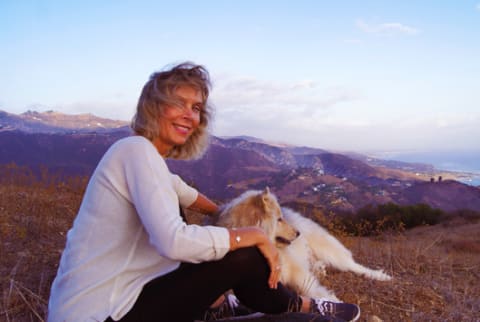 Photo by Valerie Grandury
August 9, 2017
Valerie Grandury knows a thing or two about green beauty. After getting diagnosed with cancer, she switched over to naturals but was disappointed by the efficacy of the products on the market (green beauty was a much smaller niche at the time!). So she did what any dutiful entrepreneurial spirit would do and started making her own, using the contacts and resourcefulness she developed as a producer in Hollywood to procure the best ingredients she could find. This was the beginning of Odacité, one of the first effective organic, homegrown skin-care lines.
And although she calls Topanga, California, home, Valerie's cool French-girl identity remains as true and clear as ever. She's one of those rare women who talks the talk and walks the walk when it comes to taking care of her skin, naturally, but she also practices holistic well-being. We spoke to her this spring about wellness, balance, and skin-care rituals, and got the lowdown on what it takes to live a day in her life, including her French beauty secrets. Here's what she shared about how she keeps it balanced:
Yes, my morning routine involves hiking with a masque on.
I wake up early, around 5:30 a.m., and I have two cups of hot water with lemon and ginger. Then I rinse my face with water, pat it dry, apply a thin layer of my deep-hydration masque, and take my dogs for an hour hike in Topanga. I rinse off in the shower. In the summer, I mist with aloe treatment mist and apply a couple of drops of serum concentrate on my skin when it's still damp from the mist. Because my skin is very reactive, especially to fragrance, I don't try anything I don't make!
My approach to beauty is very, well, French.
For facials, I swear by the expert hands of Tawny, an esthetician based in Brentwood, California. I love her motto: "promoting beauty through healthy skin." My favorite beauty indulgence is a nap on a hot Sunday afternoon.
I'm lucky to live in Topanga, a beautiful Canyon between LA and Malibu, so hiking has become my exercise of choice. We have yoga classes in the office on Thursday nights, to which I add two weekly classes of aerial yoga. It has been so restorative for my back.
Here's what a day in the life looks like.
I travel six months of the year; the rest of the year I try to have a very steady schedule that allows me to stay healthy and handle the stress that can come with running a company and spending so much time on airplanes. In order to stay on my path I actually schedule my "healthy" time in my calendar and prepare most of my food on Sundays.
5:30 a.m.: Wake up, drink 12 ounces of warm water with lemon juice.
5:30 a.m. to 6:30 a.m.: Hike with the dogs in beautiful Topanga Canyon.
7 a.m. to 8 a.m.: Breakfast, emails, and press paired with a large green smoothie—go through my inbox answering emails and do a quick read of the news.
8:00 to 8:30 a.m.: Drive to the office podcasting the French news; it is already the end of the afternoon there. It's also a great time to catch up with my family in Europe.
8:30 a.m.: Arrive at the office for a day of meetings with the team. If the day gets too crazy I will go sit in my car and meditate for 20 minutes!
6 p.m.: I do aerial yoga twice a week, and it will realign your spine like nothing else. On the other days when I get home I do 30 minutes of restorative yoga to wind down.
7 p.m.: Dinner with my husband to catch up on the day. Our food is always vegan, in the winter 50 percent raw in the summer 80 percent raw.
8 p.m. to 9 p.m.: Answer more emails.
9 p.m. to 10 p.m.: Time to indulge in total escapism, with some Netflix or an Amazon series.
10:30 p.m.: I'm asleep.
My evening routine is all about reversing damage to the skin during the day.
In the summer, I'm all about stopping damage triggered by the sun. I'll wash with my cleanser taking time to give myself a delicious face massage. Then I'll use a toner, and I favor the same aloe treatment mist I use in the morning because it's so refreshing during the summer. On skin still damp I then apply a couple of drops of this serum concentrate. This serum is loaded with papaya enzymes that prevent hyperpigmentation and maintain a nice, even skin tone. On top of that, I apply one more serum concentrate, for its amazing vitamin C content, which helps slow down the aging process and prevent wrinkles.
Beauty is as much an inside job as an outside job. For me, it is about feeling confident in your skin, finding your passion, being yourself, and eating well so your energy shines. For the outside job, it is liberating your skin from toxic personal care products and experiencing the extraordinary power of natural products so you can radiate with a fresh, happy glow. Listen and respect your body, watch your thoughts, surround yourself with people who want the best for you, and know that life is beautiful even when not perfect.
Here is the beauty product that's missing in your life.
Valérie Grandury
Valérie Grandury was born and raised in Paris and is now living in Los Angeles, and is the founder of Odacité. The name is a French play on "audacity," and the brand marries the best of two worlds: luxurious French skin care and green California living. It all started after she was diagnosed with breast cancer and realized that if she wanted to heal, she needed to change everything. She embarked in a life-changing healing journey, quit her job, went back to school to become a health and wellness coach, adopted a raw vegan diet, started yoga and meditation daily. Odacité products have been featured in Instyle, Elle, Cosmopolitan, Vogue, and Vanity Fair.