How I Furnished Nearly My Entire Home Without Buying Anything New
As an interior designer, I feel that being real about how I design my own home is so important. So, in the name of full transparency: I've decorated my space almost exclusively with secondhand and gifted pieces.
Growing up, I learned to shop secondhand from the best teachers: my mother and grandmother. Hitting yard sales in our town was a great way to find treasures and bond. Fast-forward to when I was leaving for college and told my parents that I would need a bed and maybe a dresser for my new apartment. My dad said my budget for everything was $100, and all of a sudden, I realized that buying new wasn't really an option. As I got older, I learned that shopping secondhand, thrifting, and rummaging through my grandma's house was also more sustainable for our environment—so why wouldn't I do it?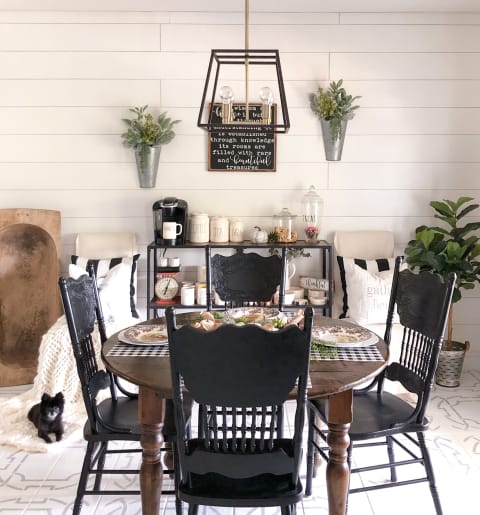 Image by Heather Cooke / Contributor
My golden rules for decorating with secondhand pieces.
My design philosophy has always been: You don't need to overspend to make your home "Pinterest-worthy," and buying secondhand should be appreciated, not shamed. Secondhand items and antiques are the new "new."
In my own home, I try to creatively mix modern pieces with vintage finds that add a unique flair to a room and give it character all its own. Sometimes, I even design a room around a specific piece, using more modern elements to tie everything together.
Transitioning my home into a space that's decorated 95% secondhand, largely for the sake of my budget, has been no small feat. My family and I started with a few thrift store finds and then branched out to online resale sites to source secondhand treasures. Over the years, I've gradually added antique and resale pieces into each room. We've had such success decorating our home secondhand that we started going directly to resale sites first before looking into buying new.
Buying secondhand is also an opportunity to get creative. For example, in our master bathroom, I didn't want to put holes in our new wall for a towel rod, so I brainstormed and ran across these storage lockers. They add so much storage to our bathroom, and they are special to me because they came from a local school. In my back deck area, I created curtains out of dropcloths, made the coffee table out of pallets, popped in an outdoor rug, added a little bench, hung a pendant light, and voilà!
I will say that finding a resale item that fits your design aesthetic can take some extra time, but the money it saves definitely makes it worthwhile.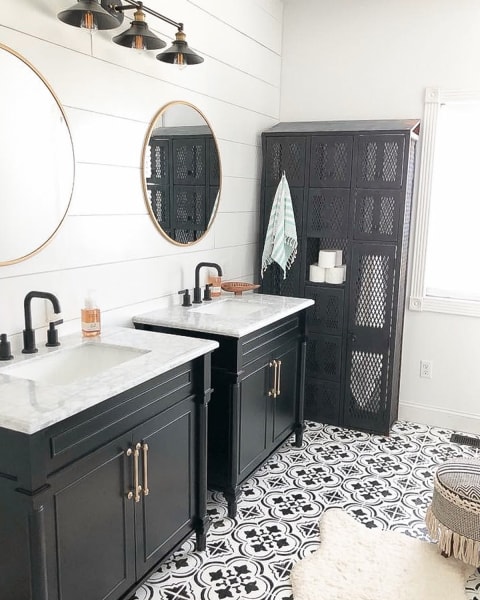 Image by Heather Cooke / Stocksy
Here are my top tips for finding stylish, affordable, and earth-friendly secondhand pieces:
1. Research, research, research!
When shopping secondhand, I always research what the item sells for new, and if I need more photos, I ask the seller before I consider meeting up to make the purchase. I want to be sure that the items are in good condition. There are some pieces that I come across that are a good deal but may need a little work. I always ask the seller about the condition of the piece—if all of the drawers work, if it's real wood, if it's sturdy, etc.
2. Accept that style is ever-evolving.
These days, I love to switch up the décor of my home, and shopping secondhand makes it easy to do. I can buy something without feeling bad if I want to change the space a year or so later since I know that I can resell it. To do this, I lean on digital resources like Facebook Marketplace or Craigslist. My family and I also frequent any and all yard sales, and when traveling or on vacation, we always make sure to stop at antiques or vintage stores to search for treasures.
3. Act fast and be patient. (Yes, these two can go together).
Act fast if you think you've found the perfect piece and never hesitate to put in a lower offer. (I've found that most of the time, the seller will take it!) And be patient if you don't see the exact item. Odds are something will come up you love, and you'll be glad you waited for that perfect piece.
4. Don't go to pick up any item or meet the seller alone.
This helps keep both parties safe. Plus, recruiting a buddy will make it easier to load your finds into a car!
5. Don't purchase any item that can't be cleaned.
Skip on buying things like mattresses and sofas that don't have a cover you can easily remove and wash. Even then, I would suggest being very selective since you don't know to what capacity the item was used or where it was kept.
6. Don't limit your secondhand escapades.
In addition to furniture, my husband and I even shop secondhand for our daughter's "big" Christmas item. Last year, we found an indoor cedar playhouse for around $100. It retails for over $400, and since it was only used indoors, it still looked new!
7. Don't knock it till you shop it.
We also shop resale for wedding, housewarming, and teachers' gifts. For these items, I am a bit more selective, as I want to ensure that they are in good condition. However, if it is a piece that really speaks to me, I will upcycle the item to spruce it up to fit a specific aesthetic. Pro tip: Many people resell new gifts for half the price on resale sites. Even if you're looking for something very specific, it's always best to check resale sites, so you can save $$.
I hope I've inspired you to consider shopping secondhand first. Your wallet and our environment will thank you!
Heather Cooke
Heather manages Interior Swag—a design service and blog. With over 10 years of commercial and residential design experience, Heather possesses an eclectic, diverse design eye, and knack for discovering extraordinary statement pieces. By mixing her vintage secondhand finds with other transitional pieces, Heather's designs are well-balanced, while never losing touch of the client's individual style and budget. She serves many clients via her online e-design experience. Heather is known as the budget designer of the South!