6 Supplements To Always Have Around During The Holidays
mbg Health Contributor
By Gretchen Lidicker, M.S.
mbg Health Contributor
Gretchen Lidicker earned her master's degree in physiology with a focus on alternative medicine from Georgetown University. She is the author of "CBD Oil Everyday Secrets" and "Magnesium Everyday Secrets."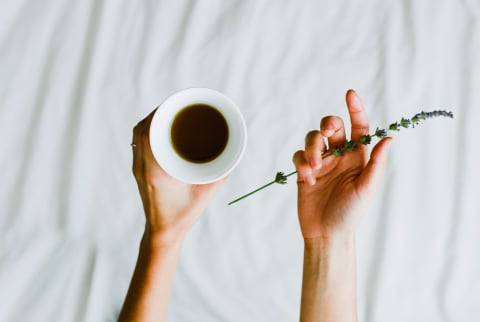 Photo by Isaiah & Taylor Photography
December 13, 2017
Sometimes it feels like we're destined to feel less than optimal during the holidays. Who wants to spend this precious time of year at the gym or saying no to our favorite treats? It can be hard to balance enjoying the moment with the repercussions from that last glass of wine of gingerbread cookie, which can leave our bodies feeling like they need a little extra TLC. Luckily, that's exactly what many supplements are there to do.
These supplements will help fill in the little holes that a little too much sugar, stress, and too little sleep can leave in their wake. Because while it's always important to take a food-first approach—by eating some extra vegetables and experimenting with healthier versions of our favorite holiday recipes—it's good to have a backup plan and keep these supplements around during the holidays:
1. Digestive enzymes for bloating.
Digestive enzymes are great for large meals or when you're eating foods that are a little harder to digest (eyes on you: dairy, gluten, and red meat). They are destined to give your body some extra support and stave off bloating and post-meal sleepiness, which are especially common during the holidays. American Health Chewable Super Papaya Enzyme Plus ($11.03) have added peppermint and chlorophyll for the perfect post-meal treat.
2. Apple cider vinegar for gut health.
People all over the world sing the praises of apple cider vinegar (ACV), which is full of vitamins and minerals and can be used for what seems like thousands of different health, beauty, and household purposes. It's a great remedy to have around, as many functional medicine doctors often suggest taking a little bit in water before meals to stimulate digestion. It also makes for a great face toner if your skin is feeling the effects of the holidays!
3. Melatonin for peaceful sleep.
The hormone melatonin' also known as the "sleep hormone," signals to our body that it's time to wind down and prepare for a good night's sleep. When we're traveling, stressed, or looking at screens well into the evening, it can upset the natural cycle of melatonin release. This is important during the holidays, since we're normally out of our regular routine and sleep is extra important. Natrol's Advanced Sleep ($9.96) contains melatonin and added 5-HTP— a precursor to serotonin that is often used by functional medicine doctors to help promote great sleep and a steady mood.
4. Herbs to support detoxification.
Herbs are a great place to turn if you're feeling a little sluggish. For a little extra liver support, try starting your morning or ending your day with dandelion, which acts as a natural diuretic and is commonly used to support the body's natural detox system. Aloha's Clean Tea ($5) contains dandelion, nettle, and ginger root. Plus, it smells (and tastes!) delicious.
5. Chromium for blood sugar.
When it comes to blood sugar, the holidays are tricky. Alcohol, sugar, and caffeine are often responsible for upsetting your body's blood glucose levels. Luckily, there are a lot of great ways to balance blood sugar naturally. Chromium has been shown to reduce blood glucose levels in diabetics, and a deficiency in this nutrient is actually associated with high blood sugar. Always talk to your doctor before trying a new supplement, but a little extra chromium might be just what you need. Looking for a chromium supplement? Try this: Thorne Research Chromium Picolinate ($14.75).
6. Glutathione for extra antioxidants.
If dandelion tea just isn't cutting it, you might want to turn to glutathione, which is affectionately known as your body's "master antioxidant." It gets its name from its ability to recycle other antioxidants, so when you increase glutathione levels, you increase1 levels of other antioxidants in the body like vitamins C and E and coenzyme Q10 (CoQ10). A great glutathione supplement comes with a hefty price tag—like this Pure Encapsulations Liposomal Glutathione ($81.75)—but it might be worth it if your body and brain really need a boost.
Want to turn your passion for wellbeing into a fulfilling career? Become a Certified Health Coach! Learn more here.