6 Women With Awesome Hair On Their No-Heat, Air-Drying Techniques

Contributing Wellness & Beauty Editor
By Lindsay Kellner
Contributing Wellness & Beauty Editor
Lindsay is a freelance writer and certified yoga instructor based in Brooklyn, NY. She holds a journalism and psychology degree from New York University. Kellner is the co-author of "The Spirit Almanac: A Modern Guide to Ancient Self Care," with mbg Sustainability Editor Emma Loewe.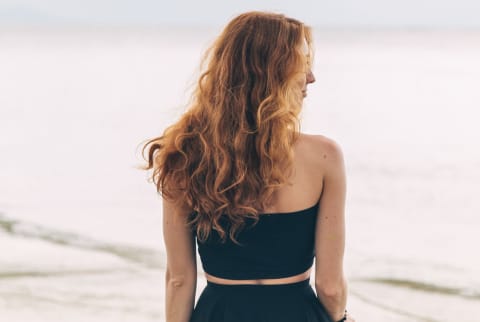 Image by Andrey Pavlov / Stocksy
April 28, 2019
You know those people who just seem to have it together, who never have a frizzy, dull, or "off" day? These are the people who have mastered their beauty routines, and who have, I'm convinced, figured out how to work with their hair, not against it. On a personal quest to "master" my hair's natural texture—it's fine, wavy, and/or curly depending on the day, and quite frizzy—I've tried several scalp treatments and co-washing but have yet to find a method that truly works.
When I started asking said above put-together people about their hair routines, I was taken by how systematic, specific, and efficient their air-drying methods are. I talked with six women about the steps they take to achieve a no-heat dry look that's as fuss-free as it is frizz-free. The best part is that it all can be done in the background while you go about your morning or evening.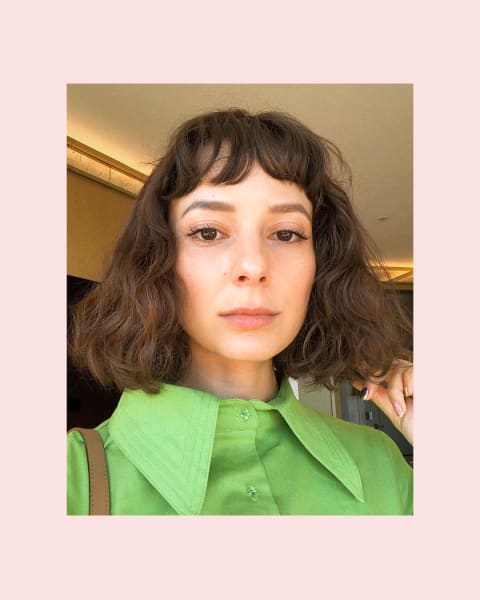 Image by Alyssa Coscarelli / Contributor
Alyssa Coscarelli, founder of @alyssainthecity
Hair type: My hair is average/medium thickness, mostly wavy with some curls. It can be curlier or wavier depending on weather conditions and what products I'm using.
It's all really just come from trial and error and finding the products that aren't too heavy or too crunchy. I just started air-drying my hair about two years ago, I used to straighten it every day, so it's been a learning curve discovering how best to style my hair naturally, but I won't be looking back! These products make it easy to shower and head out the door.
Image by Adaeze Elechi / Contributor
Adaeze Elechi, post-production supervisor at mindbodygreen and writer & filmmaker
Hair type: My curl pattern is a combination of mostly coily 4C with some looser 4B strands along my edges. My strands aren't very thick, but there's a lot of volume, and it's prone to dryness, especially in the colder seasons.
That said, the name of the game in my no-heat routine is moisture retention. After watching countless YouTube tutorials, reading a bunch of natural hair blogs, and going on my own trial-and-error adventures, I've finally found what works best for me. After deep conditioning, while my hair is still damp, I split it into small sections and apply a combination of Cantu Shea Butter's conditioning creamy hair lotion and avocado oil from the tips up to the root, being mindful to cover all the hair but not saturate it with too much product. I detangle each section with a wide-tooth comb as I go and two-strand twist them to lock in the moisture. When everything's been twisted, I massage more avocado oil onto my scalp. (They say a healthy scalp is the foundation of healthy hair!). I then let my hair air-dry in the twists. This usually takes up the better part of a day, so I make the twists neat enough to wear out. When it's all dry, I like to wear it in a twist-out in the daytime and twist it back at night before bed. If I notice dryness as I'm doing my nighttime twists, I'll reapply a little bit of the hair lotion and avocado oil combination. I sleep with a satin scarf or put a satin pillowcase over my pillow so that my cotton sheets don't dry out and tangle my hair at night.
—Adaeze Elechi, post-production supervisor at mindbodygreen and writer & filmmaker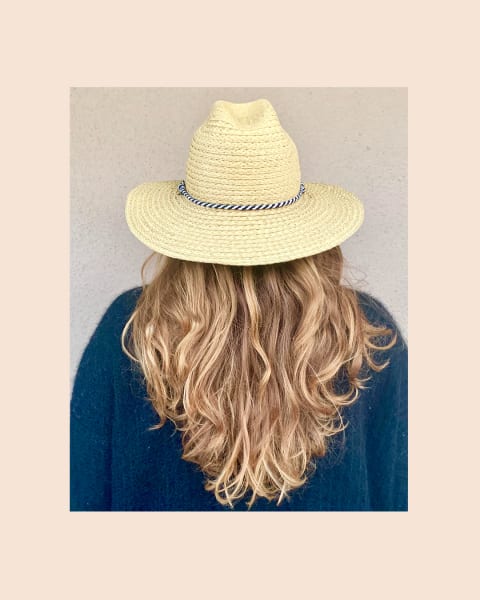 Image by Callie Miller / Contributor
Callie Miller, founder, Change of Air
Hair type: I have a lot of hair, which makes it seem thick, but it is very fine, and though it can hold a curl well, it tends to frizz and easily tangle.
The key to the waves is all in the strategic use of a hair elastic. After letting my hair air dry for a bit, I put my still-damp hair into a loose low bun with a hair elastic for 10 to 20 minutes while I do other things. Then, I let it back out again to air dry. Then I put it in a loose bun higher on my head. Then, I let it out again to air dry for 10 minutes.
By now, I have most of the waves I need but they might be a little too close together (if I've made either bun too tight), and they always need some smoothing out. So I add two more drops of Oi Oil, lightly applied across most of my hair and I do one more loose low bun. After 10 minutes or so, the waves tend to be just where I want them. I don't apply any other products at this point and avoid any hair spray entirely as it makes my hair tangle even faster than it would on its own.
I've gotten so used to this no-hair-dryer, no-curling-iron method! Though it sounds like a lot of steps (low bun, high bun, low bun), it's easy to do other morning things like make coffee, feed my dog, check work emails, and meditate while my hair is doing its thing.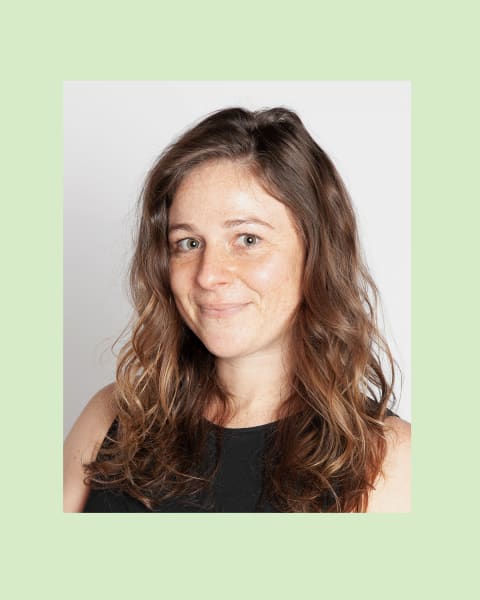 Image by Emily Feinberg / Contributor
Emily Feinberg, manager at Sky Ting yoga studio
Hair type: My hair is fine and wavy and tends to be on the dryer side.
First of all, I can't recommend dry cutting curly/natural hair enough. Find someone who is experienced at dry cutting curls, and you'll never look back. It's changed the game for me.
I only really brush my hair right before I shower, using a natural bristle brush, to spread out the natural oils in my hair from scalp to ends. It also helps to use a wide-tooth comb when you condition. I've also stopped wrapping my hair up in a towel turban and instead shake out my hair, and use a microfiber towel to scrunch up my curls and squeeze the water out gently. I use a camping towel from REI.
My favorite product right now is the Moroccan oil leave-in curl conditioner. I shake out as much excess water as I can, then use half a pump of the leave-in conditioner. With my head upside down, I comb my fingers through the ends of my hair, then start gathering it up in bunches and gently squeezing up toward my scalp.
When I'm satisfied I've gotten as much of my hair as I can with the leave-in conditioner, I use the microfiber towel again to gather up my curls toward my scalp and gently squeeze out more water. I start to see my natural curl shapes forming and let my hair air dry from there, trying my best not to mess with it. For my fine, wavy curls, I've found that less product and messing with it is always the way to go. I also love a silk pillowcase to keep my hair smooth when I sleep, and the Day 2 curls are a little softer, more like beachy waves.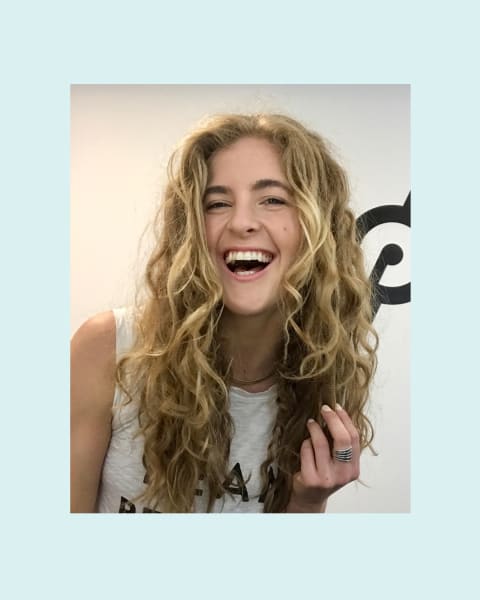 Image by Rebecca Kennedy / Contributor
Rebecca Kennedy, Holistic Fitness Trainer
Hair type: It's thick, naturally curly with lots of body and volume. It responds to humidity—I get instant curls with any moisture in the air—and tends to do what I ask it to (stays straight, holds a curl [loose or tight], etc.)
First I wash my hair with shampoo and conditioner. I really like Evolvh's shampoo and conditioner. If I'm wearing my hair curly, I comb through my hair in the shower with my fingers and don't brush it after that. I also don't wrap it in a towel! Once I'm out of the shower, I flip my head over, take a towel, and blot my hair from the bottom up. The motion is like grabbing my hair with the towel and making a fist as I bring it up toward my head.
Then, I spray with Oribe's après-beach spray from the bottom up and flip my head to the left and right and spray again to get the sides too. After this, I do my best not to touch it and to let it air dry. Once it's 90% there, I pump two pumps of Oribe gold lust serum into my palms and again, grab the hair from bottom up and distribute it, avoiding the root area. Voilà—a full head of curls!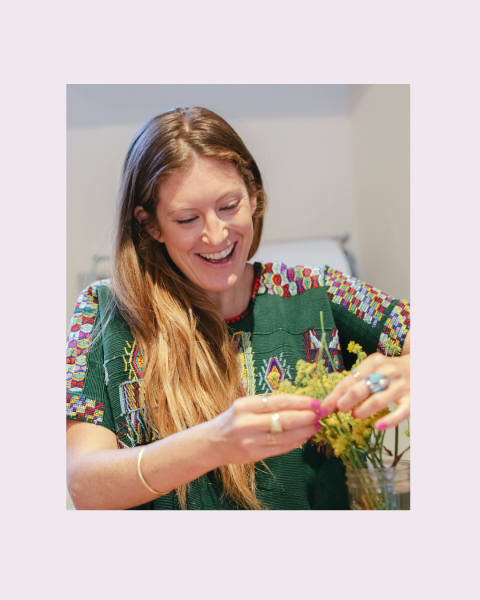 Image by Jessa Blades / Contributor
Jessa Blades, natural makeup expert, makeup artist, and herbalist
Hair type: My hair is thick and has a mind of its own—some days it's wavy, and some days it's straight.
I drink nettle tea for my hair health and know that I am lucky. While taking care of your hair is all about eating good food, balancing your lifestyle, and managing stress levels—like skin, hair is a mirror of health—I have to attribute some of my good hair days to genetics.
That said, I try to wash my hair as little as possible as to not disrupt its natural oils. I occasionally do a full-body abhyanga massage with warm oil and massage this hair oil into my hair and scalp to stimulate blood flow, creativity, and giving my hair some extra TLC. I love hair rituals. Nackie at the Karcher salon does an amazing ritual treatment, and I love to go see her in between cuts for a sprucing up of the ends and a massage and soothing hair-brushing ritual.
When I do wash and style, I dry my hair with a T-shirt, twirl it into little buns, clip them with tiny clips, and let them dry. I also love using Kahina argan oil on my face and then using what is left on my ends to moisturize. On days when my hair could use more texture, I use the salt spray by La Tierra Sagrada.
—Jessa Blades, natural makeup expert, makeup artist, and herbalist