6 Rituals To Help You Clear Energy This Spring & Beyond
By Ashley River Brant
mbg Contributor
Ashley River Brant is a multidimensional artist and feminine healer bringing her medicine through as the creator of Soul Tattoo®, a ceremonial intuitive tattooing modality, as well as with film photography, illustration, writing, and through her online courses. She is the author of TENDING TO THE SACRED: Rituals to Connect with Earth, Spirit, and Self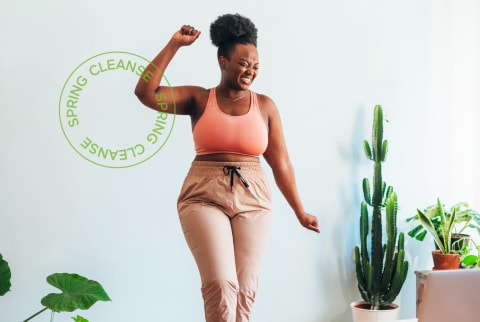 Image by Studio Firma / Stocksy
April 11, 2021
We carefully vet all products and services featured on mindbodygreen using our
commerce guidelines.
Our selections are never influenced by the commissions earned from our links.
Beyond dust and clutter, there's a lot of emotional debris that's built up all around us in the past year. mbg's Spring Cleanse series is here to help clear it away. Follow along for the first two weeks of April as we share nourishing, sustainable ways to embrace a lighter, brighter home—and toss any lingering heaviness into the (compost) bin.
It's time to respectfully put down the Palo Santo and white sage and try something new. These are some of my favorite rituals and ways of clearing space to make way for more positive energy.
If you have a full day in front of you, begin this work by scheduling just five to 10 minutes of ritual time in a way that creates the most ease. Maybe that means waking up five minutes earlier or cutting down on your phone and computer time for the day. If you have time for media, you have time for ritual!
Do what works for you and your life, but prioritize your connection and re-centering—not as a daily chore but as an essential for your balance and well-being:
1.
Find your favorite plants, and stick with them.
Plants have been used to create space for millenniums upon millenniums. One of my favorite rituals is to sit with my beloved rosemary bush at the entryway to my house and ask for her energy to clear my own. I like to clip off a few sprigs and brush my entire body with the plant, starting from the soles of my feet up to my head, as I breathe deeply with the intention to clear out any energies I am holding that need to be released.
Another way I like to create space is to burn a tiny bit of bark from my favorite trees—cedar or cypress—and intentionally waft the smoke around my aura, home, and sacred spaces with my hand or a found feather. Cedar and cypress are two great alternatives to white sage and Palo Santo, both of which have risen in popularity as of late and are now on the bridge to extinction.
When sourcing, it is of utmost importance to obtain our herbal allies in sustainable and conscious ways and work with herbal allies we have formed a connection with from the heart. If that connection isn't there, we cannot energetically receive its loving medicine.
I'd recommend noticing the plants that surround you where you are and which ones you feel a strong pull toward. Consider how you can work with those first. Cedar and rosemary are two close allies of mine, but they may not offer you the same help that they do for me.
Salt is also a powerful energy clearer, which is why bathing in saltwater, whether in the bath or the ocean, can shift and clear out whatever energies we intend it to. I take a salt bath almost daily to clear out the energy from the day and to create space for my emotional and intuitive energy to flow with more ease.
I also keep a shell filled with sea salt or pink salt in all my sacred places to act as an energy clearer for my space so that the energetic waters of my life may flow more freely.
Dropping into your body and connecting to intentional breathing is a beautiful, simple way to clear out any stuck energy. Breath is life force energy—a healing tool at the root of most all ancient healing practices. Taking even three deep breaths when feeling overwhelmed or off-balance can connect us back to our sacred center.
4.
Move however your body tells you to.
Moving my body is my go-to ritual practice to transform and express stuck energy and create more space in my body for its natural wisdom and grounded presence. My movement practice is intuitive dancing (sometimes slow and curving with tears streaming down my face, sometimes more passionately to Beyoncé), but do whatever feels best and most natural and intuitive for your body.
5.
Clear space with sound.
For me, singing clears out any energy that I am holding on to in my heart and throat. It knocks down the walls around my love and opens my heart to grace and allows me to more easily express myself. I also use musical instruments in my self-care and client practice to clear energy.
My favorites are a small lyre harp my partner made for me, a flute, drums, rattles, shakers, and singing bowls. I look to sound and music as my ally to open my heart and channels, clear unwanted energies, and fortify my boundaries.
You may find that certain music shifts your energy or that having a wind chime outside your front door clears energy in your space. You may find serenity in chanting, mantras, humming, or birdsong. Listen and connect to the sounds that create the most space for you.
6.
Finally, remove distractions!
Distractions can manifest as negative habits, other people's opinions, devices, social media, etc. Distractions carry energy that is not our own and can prevent us from seeing through the lens of our own truth and love. Simply identifying distractions can create a subtle shift in our reality, giving us space to clear them. When going into a ritual, I will often place my phone in another room or clear out distracting thoughts and to-do lists with writing beforehand.
As you connect more to your ritual practice, you will slowly begin to notice how everything affects your energy and become aware of what takes up space in your life (in both positive and negative ways). Notice what things cause anxiety, fatigue, and fear and what things light you up, inspire you, make you feel centered, and fill you with joy. When we can be more conscious of the energy we invite into our sacred energetic spaces, we can move toward greater alignment on our paths through life.
Ashley River Brant
Ashley River Brant is a multidimensional artist and feminine healer bringing her medicine through as the creator of Soul Tattoo®, a ceremonial intuitive tattooing modality, as well as with film photography, illustration, writing, and through her online courses.
She is the author of TENDING TO THE SACRED: Rituals to Connect with Earth, Spirit, and Self (on sale 6.8.21). For more, visit ashleyriverbrant.love.