Close Banner
Advertisement
This ad is displayed using third party content and we do not control its accessibility features.
The Top 5 Mistakes You Can Make On A Road Trip — And How To Avoid Them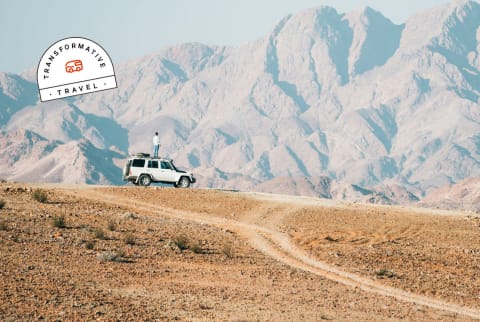 Summer is officially here! And here at mbg we're all about traveling light and creating space for real transformation. Whether you're jetting off to faraway lands this year or just exploring new pockets of your neighborhood, these next few months are reserved for exploration and play. This week, we've shared our favorite plane snacks to stop bloat, the one supplement you should always travel with, minimalist packing routines and beauty looks, and more. We're wrapping up the series with a primer on how to make your next road trip epic.
Over years of setting out on road trips across the country (and writing a book about the adventures I took solo at first, and now with my family—six young kids included!) I've seen the importance of setting out with an open mind and eagerness to learn and empathize with the way life teems and tangles around you.
And despite the romantic, soulful prospects of setting out on the road, there are also some practical details to consider before that first magical mile. When I think back on the best road trips, I reflect on what I saw, what I ate, and what I experienced. Rarely do I think about how the adventures went smoother thanks to the way my family and I planned our route or packed our bags. But when a trip goes badly because of poor planning, it can be a real downer.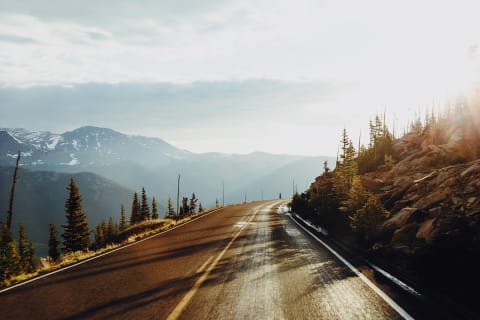 Here are five of the biggest mistakes that I've made, and seen others make, on the road over the years, and how to avoid them for a summer full of off-the-beaten-track adventure:
1. You don't plan the route.
It may seem obvious, but you should plan a route and create at least a loose itinerary before setting out. Consider where you're staying, where you want to eat, the places you definitely want to see, etc. I am a meticulous planner, and I always create a travel packet for the car. After securing all of our hotel or campsite reservations, I print and staple them together in chronological order in two sets—outbound travel and inbound travel. By doing this, I have all the addresses, phone numbers, and pertinent dates at my fingertips. I also make notes on the back of each paper about restaurants and noteworthy sites. You can of course create this digitally as well, but I'm a paper person. And just because you have a plan in place doesn't mean you can't deviate based on what you're feeling that particular day.
2. You don't get your ride ready.
Aside from careful planning, the most important thing to do before your trip is to ensure your car is ready for the road. I'd recommend joining a roadside assistance program like AAA—these also will oftentimes offer discounts at hotels, restaurants, and attractions.
Here are lists of the most important things to have checked out before hitting the road. Ask your favorite trusted mechanic to:
Check the tread on your tires
Check your tire pressure
Ensure your spare tire is in good shape
Check that all connections and hoses are in good shape and tight
Replace all dead fuses
Check your oil level and ensure there are no leaks
Check the life of your battery
Check the car's coolant level
Address any major repair concerns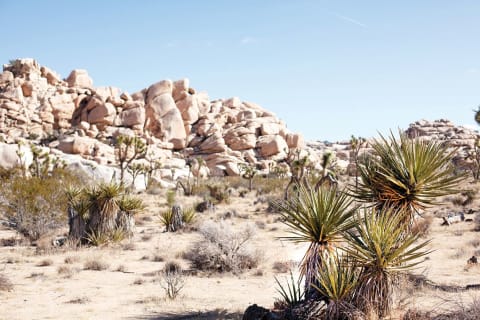 Photo: "Road Trips"
3. You throw everything in the trunk.
When packing your car, take a moment to think about where your road trip companions will be sitting. Make things easy for everyone to access since you don't want to be fishing around for anything while driving. This mindful organization can also make unloading and reloading the car after each day easier.
Some of my favorite organization hacks include:
If you have multiple overnights in a row followed by a longer stay, pack smaller bags to tote into the hotel each night so you don't have to unload the entire trunk.
Be sure to organize the trunk of your car so it's easy to unload, burying any larger items that you know you won't need until you reach your final destination.
Create an easily accessible bag to hold any charging devices and electronics (Kindles, iPads, etc.) and store in the glove compartment or center console.
Have a small tote ready to go for pit stops. This should include your small first-aid kit, sunglasses, bug spray, sunscreen, books, and any snacks and reusable utensils you may need.
4. You skimp on the snacks.
The temptation to stop at every roadside café is a major problem for me. After all, what if they have the absolute best desserts in the world and we just drove by without knowing? But there are always long stretches of road that yield no promising gourmand memories, so it's a good idea to have some snacks packed for easy access. Some of my favorite nonperishable options include protein bars, fruit, nuts, and Trader Joe's organic lollipops (somehow, they seem to magically make the time go a little faster as well). If you're traveling with kids, some cheese and meat bars provide some much-needed protein and keep little ones from asking every five minutes when lunch is.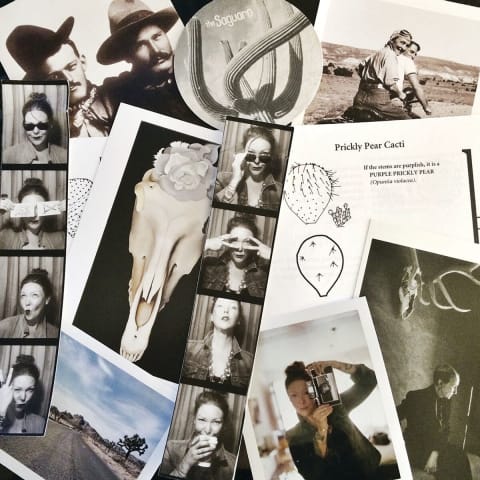 Photo: "Road Trips"
5. You don't document your memories.
It's important to record your travels—for you and you alone. There are many ways to keep a travel record, including taking photos and making a road trip mixtape, but my preferred method is always journaling. I don't attach too many rules to it and instead use it as a vehicle to write, sketch, tape together photos, whatever feels natural. I'll pack a little bag with a small journal that I can take out on excursions, a collection of pencils, some watercolors and brushes, Sharpies, a pair of scissors, glue, and tape.
Jen CK Jacobs
After serving as a sailor in the U.S. Navy for seven years, Jen CK Jacobs studied design and art history at the Art Institute of Pittsburgh and worked for nearly 10 years as an editorial photographer. Her photography and styling work has been exhibited throughout North America and is held in private collections across the globe; her clients included Chronicle Books, Roost Books, Martha Stewart Living, Delta Airlines, Food & Wine, Food Network, and Kinfolk magazine, among others.
An avid traveler who regularly takes to both the dusty backroads of American highways and the serpentine side roads of Europe, her fifth book, Road Trips, about the wanderlust of taking to the road is available now. Jen lives just outside of Asheville, North Carolina, with her husband and six children. Connect with her at jeniferjacobs.com.