3 Yoga Mats for Sweating, Not Slipping
Registered Yoga Teacher
By Lisa Mitchell
Registered Yoga Teacher
Lisa Mitchell is an ERYT-500 Yoga-Alliance-certified instructor. She owns a hot yoga studio in Pennsylvania where she teaches 200-hour teacher trainings and helps children with autism practice yoga.
Finding the right yoga mat becomes a priority once we decide to take our practice more seriously. Slipping and sliding on a yoga mat can be distracting to the practitioner… and it's just downright annoying. As a hot yoga studio owner, and hot yogi, I have thoroughly explored a variety of high-end yoga mats. The mats I will discuss are all mats that I have in rotation in my own practice, as well as mats that I either sell or use for mat rentals at my studio. Therefore, naturally I recommend them all for particular reasons, but I will also discuss some valuable FYI information, as well.
Pros: I love Jade yoga mats for many reasons. One, Jade Industries is minutes from my hometown Philadelphia, so I enjoy supporting this local business. Jade mats are also made from an open cell, natural rubber that provides optimal grip, cushion, and resiliency for a hot yoga practice. For taller yogis, the Jade comes in either a standard 68 inches, but they also offer a tall person's mat with a length of 74 inches. Jade mats contain no PVC or ozone-depleting substances. Jade also plants a tree for every mat sold in partnership with Trees for the Future. My Jade will survive with minimal slippage for about a good hour of a hot vinyasa class; then I may lay a yoga towel down for the latter part of class.
Cons: Be prepared for the mat to have a stinky rubbery scent the first few practices. Also, note that due to the open cell rubber, the mats will loose some grip if not cleaned frequently, as they tend to absorb perspiration and oils in the cells. Washing is easy with a mild soap. However, know that the mat will take at least 24 hours to dry, so plan accordingly for your practice. In addition, if left out in the sun to dry, the mat has a tendency to dry out and loose some of its stickiness.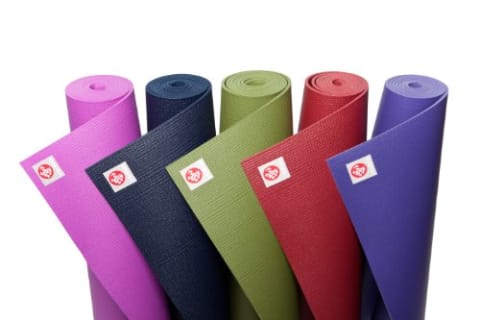 Pros: The Manduka mat has a great solid feel when practicing. It is very slip resistant, and highly preferred amongst hot yoga practitioners. It provides great comfort for wrists and knees with a perfect amount of padding. The Manduka PROlite mat is considered a "zero waste" mat, and has environmentally conscious "emissions free" manufacturing. The PROlite offers a lifetime guarantee, which is an added perk. The texture and stickiness of the PROlite improve over time and use, so I recommend using it daily. The mat is easy to clean, and air-dries in minutes.
Cons: If you sweat buckets in your practice, the mat may feel a bit slippery. You may need a lot of down dog repositioning if the mat is not "broken in" properly. Manduka suggests washing the mat a few times with sea salts, and leaving to dry in the sunshine. The mat is a bit heavy (about 5 pounds), so it may feel cumbersome if you're a yogi on the go.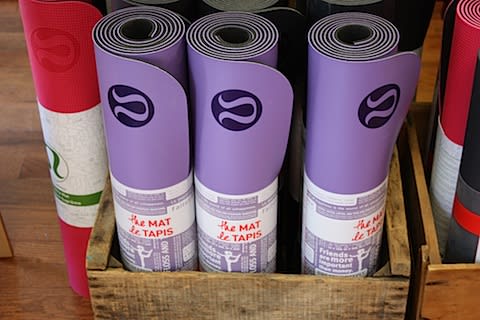 Pros: The Mat from Lululemon is reversible, so one can practice on whatever surface best suits you (one side is smooth, the other has some perforation). This also comes in handy when one side of the mat can use a washing. The Mat is made form natural rubber and provides excellent cushion for your joints. It has a polyurethane coating that absorbs in a way that reminds me of duck skin (sucks the moisture right up). It will remain grippy for the majority of a sweaty vinyasa class. The Mat is also made with an antimicrobial additive that prevents mildew and mold. The standard length of the mat is 71 inches, so it provides a bit more length for the practitioner.
Cons: The initial smell of the mat will shock you! It has a very pungent rubbery smell that may take several weeks to fade completely. Lululemon recommends washing it with baking soda and water to speed up the process. Although it is a great sweat absorber, the mat will eventually have permanent sweat stains on it. Therefore, I recommend a darker mat color, or even better, black.
Once again, I use and appreciate all of these mats, and highly recommend each one of them for the reasons I mentioned. I hope this information is handy for all those in search of the perfect yoga mat. I would love your yoga mat feedback, as well as any mats that you would recommend. Namaste!
Lisa Mitchell
Registered Yoga Teacher
Lisa Mitchell is an ERYT-500 Yoga-Alliance-certified instructor. Mitchell owns the hot vinyasa yoga studio, Dana Hot Yoga, where she also directs 200-hour yoga teacher trainings. Mitchell completed her doctoral studies in special education and utilizes her knowledge to help children with Autism Spectrum Disorder practice yoga. She currently resides in Pennsylvania and when she's not teaching yoga, she serves as an adjunct professor in the graduation education department of St. Joseph's University and is a mother to two daughters.