This 3-Day Gut Reset Will Make You Feel Amazing Again, ASAP
Integrative Medicine Doctor
By Taz Bhatia, M.D.
Integrative Medicine Doctor
Dr. Taz Bhatia is a board-certified physician, specializing in integrative and emergency medicine, pediatrics and prevention, with expertise in women's health, weight-loss, hormone balance and nutrition. She attended Emory University, the University of Georgia and the Medical College of Georgia.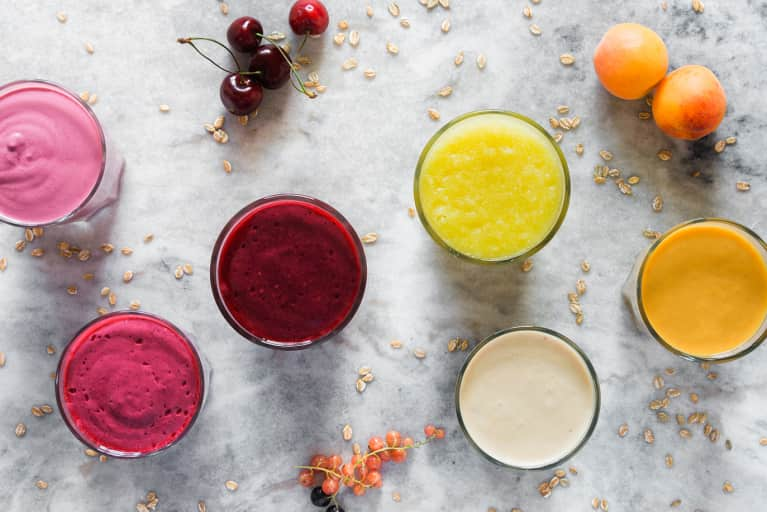 Your gut health is critical to your overall health and well-being. Around 70 million Americans report digestive and gut issues, and all this is exacerbated at this holiday time of year. Have you been indulging in greater amounts of rich, sugary, highly processed, alcoholic foods and beverages? You're not alone. The good news is that you can quickly reset your gut by following an easy three-day plan that will detox and repair your entire digestive tract.
The abbreviation pH, stands for "power of hydrogen," which is a measure of the hydrogen concentration in your body. The pH scale ranges from 1 to 14, with 1 being completely acidic, and 14 being all alkaline. Our ideal pH is 4.3 to 7.45 (you can determine this through a saliva or urine test). If you are too acidic—something that happens frequently during our holiday overindulgences—you are at higher risk for digestive issues, heart disease, infertility, joint and muscular pain, and a weak immune system.
So, the first order of business is to begin your day with a pH balancer, which will relieve inflammation and help to shift your gut microbiome back into balance. Enjoy one of the following pH tonics each morning.
Warm lemon water is great on cold winter mornings. Heat a cup of water and squeeze juice from half a lemon. Add a half teaspoon of honey (a natural anti-inflammatory), and use a whisk, frother, or immersion blender to whip it all up.
This is a bit of work to make on your own, but you can make extra and store it in the fridge for up to three days. Cut a pomegranate and scoop out half of it. Blend with 8 ounces of water and enjoy (you can strain the juice, but it's not necessary). Not only is this drink tasty, it's beautiful. Make extra and you can store it in the fridge for up to three days.
Apple cider vinegar and water:
Mix 1 tablespoon raw and organic apple cider vinegar with 3 tablespoons water and drink quickly. If you can tolerate larger amounts, try 1 ounce of the vinegar in 4 ounces of water.
Step 2: Remove inflammatory foods.
You'll notice that all the foods included for the next three days are free of dairy, yeast, gluten, lactose, alcohol, artificial sweeteners, red meat, processed foods, and refined sugars and carbs (here's a list that goes into detail about what to avoid). This is to give your gut a chance to rest and repair from foods that are often inflammatory and can interfere with your digestion. Inflammation is an immune response that happens when there is a perceived threat in your body. This can show up as digestive pain, bloating, and cramps but can also cause joint pain, brain fog, depression, and anxiety. While some people are more sensitive to gluten, and others need to avoid sugar and red meats, we can all benefit from three days free of all inflammatory foods. This will give your gut time to reset and rebuild.
Step 3: Ease digestion with breakfast and lunch smoothies.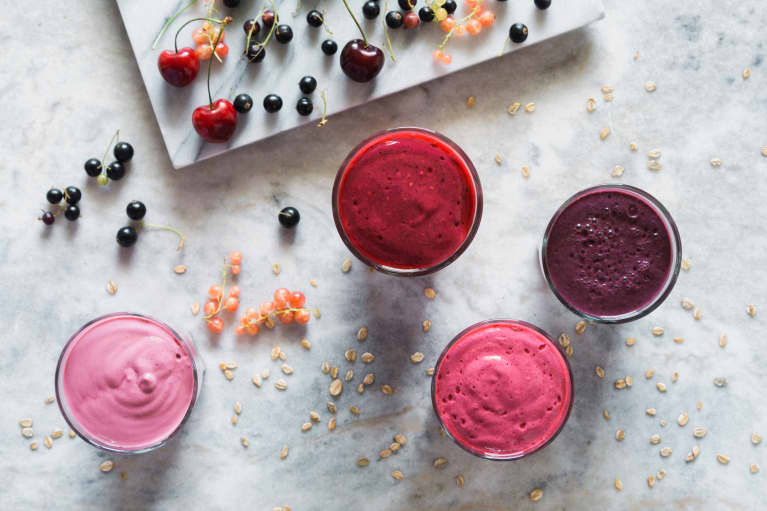 Next on your 3-Day Reset will be to replace breakfast and lunch with smoothies. This eases the work your body has to do to digest foods and makes it easier for your belly to absorb the nutrients you'll be consuming. You'll notice that the power drinks I recommend all have protein powder added—this is ideal for energy and nutrition while being easy on the tummy. Choose a protein powder that is made from rice, pea, or hemp protein (these are easiest on digestion), make sure that sugar is not one of the first three ingredients listed on the label, and skip powders that use sweeteners such as dextrin or maltodextrin. You'll also see coconut oil in all of the options below; choose an organic and unrefined oil. Coconut oil helps you absorb the other nutrients better.
In a blender, combine a medium banana, ⅔ cup unsweetened almond or rice milk, a pinch of ground cinnamon (a natural anti-inflammatory), 2 teaspoons coconut oil, and 2 scoops vanilla or chocolate protein powder. Blend until smooth.
In a blender, combine 1 cup unsweetened almond or rice milk, ¼ cup frozen chopped pineapple (pineapple is good for digestion), ¼ cup frozen mango, 2 teaspoons coconut oil, ½ banana, and 2 scoops vanilla protein powder. Blend until smooth.
In a blender, combine 1 cup unsweetened almond or rice milk, 2 scoops vanilla or plain protein powder, 2 teaspoons coconut oil, 1 cup frozen mixed berries, and ½ cup spinach or kale. Blend until smooth.
Step 4: Take gut-boosting supplements.
Add all of the following gut-rebuilding supplements for the next three days, and then keep them on your daily "to-do" list:
Choose a supplement with at least 50 billion CFU (colony-forming units), to help regulate your digestion and build a healthier gut microbiome. Take each morning with your breakfast smoothie.
These supplements work to break down your food into smaller particles, making it easier for you to process and to absorb the nutrients from all the great foods you're eating. I recommend taking one or two caplets of digestive enzymes before your dinner for the next three days. After that, you can keep digestive enzymes on hand to take before your heaviest meal of the day. Take a digestive enzyme with amylase (an enzyme that breaks down starch), lipase (an enzyme that breaks down fat), and protease (breaks down protein).
Glutamine is an amino acid and one of my favorite supplements since it helps with digestion and re-establishes your gut lining by literally sealing the gut. Take 1 to 2 grams daily, in the morning or at whatever time you can take it most consistently.
Step 5: Eat a gut-friendly dinner.
The following recipe will make three dinners for your next three nights. Repetitive? Yes, but the perfect cap on your day because this traditional Indian dish is easy on your gut and provides you with easily digestible and highly nutritious protein from mung beans and rice. Plus, you'll make one batch and be ready for all three nights with a warm and nurturing meal.
1 cup of mung beans that have been soaked overnight (these are a great source of vegetarian protein and easy on your gut)
1 cup uncooked brown rice
1 teaspoon each cumin seeds, salt, and garam masala
1 tablespoon coconut oil
1 quart water
Method
Add all ingredients to a pressure cooker or medium pot. Cook in a pressure cooker for 6 to 8 minutes, or simmer on the stovetop on medium low for an hour or until the rice is cooked. Note: This is purposely cooked to a mushy texture to be easy on your gut. (alternatively, here's Sarah Britton's famous kitchari recipe, if you want to pack in more flavor).
Want more gut healing recipes? Here's tons of inspo!