For A Fresh & Flavorful Take On Sweet Potatoes, Try These Spiced Stuffed Spuds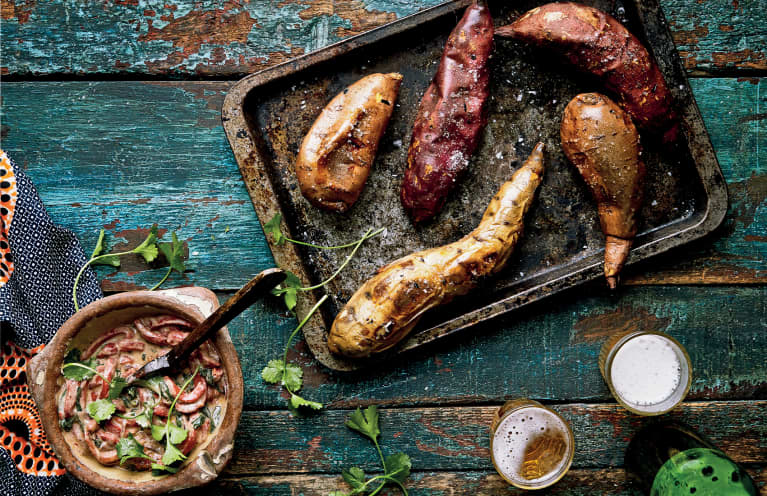 Our editors have independently chosen the products listed on this page. If you purchase something mentioned in this article, we may
earn a small commission
.
We love sweet potatoes as part of a healthy Thanksgiving table. They're a good source of fiber and nutrients like vitamin A, C, magnesium, and potassium, and relatively easy to cook (more on sweet potato benefits here). But the regular Thanksgiving staples of mashed sweet potatoes or sweet potato casseroles can fall flat—or full of excess sugar these naturally sweet tubers don't need.
Enter this recipe from Zoe Adjonyoh's cookbook, Zoe's Ghana Kitchen, which opts for roasting sweet potatoes and stuffing them with a spiced mixture, allowing this staple ingredient to shine in a new way.
"While santom/abrodwomaa is generally the Ghanaian name for sweet potatoes, a pretty common sight in markets and kitchens," Adjonyoh writes. "In the northern region of Ghana the orange-fleshed variety most of us are familiar with has been christened alfie wuljo in the local language of Dagbani, meaning 'healthy potato.'" She explains, "This is because it has been introduced relatively recently through a USAID project to counter vitamin A deficiency, and has proven a big hit." The filling also adds more micronutrients to the table thanks to the combo of spinach, bell pepper, and red onion.
Roasted & Stuffed Spiced Sweet Potato
4 sweet potatoes, scrubbed
olive oil, for drizzling
3 red peppers
1 red onion, diced
1 red Scotch bonnet chili, deseeded and diced
1 bunch of spinach, shredded
3 garlic cloves, crushed
1 teaspoon Ghanaian Five-Spice Mix (recipe below, or buy it here)
sea salt
½ bunch of cilantro, chopped
4 tablespoons crème fraîche (optional)
freshly ground black pepper
Preheat the oven to 400°F.
Start by placing the sweet potatoes on a baking tray and drizzle lightly with olive oil, zigzagging it across the potatoes. Bake for 20 to 25 minutes until they are soft in the middle.
Place the red peppers on a separate baking tray, drizzle lightly with olive oil, and bake alongside the potatoes for about 20 minutes until soft.
While the potatoes and peppers are baking, coat the base of a saucepan with olive oil, add the onion, and sauté over a medium heat for a few minutes until transparent.
Stir in the chili, spinach, and garlic; season with the five-spice mix and ½ teaspoon sea salt; and cook until the spinach has slightly softened.
Remove the roasted red peppers and sweet potatoes from the oven. Shred the peppers, discarding the cores and seeds, and add to the spinach mixture, then stir in most of the chopped cilantro.
Using a sharp knife, make an incision down the middle of each sweet potato (without going all the way through or touching either end), then push it gently so that the hole opens up. Take a large spoonful of the spinach mixture and gently push into the hole, but you want some of the mixture to remain on the outside. Place a tablespoonful of crème fraîche (if using) on top with a little chopped cilantro. Season to taste with sea salt and black pepper, and serve on a small bed of arugula on a plate.
Makes a generous 5½ tablespoons
4 teaspoons ground cubeb pepper
1 teaspoon ground or freshly grated calabash nutmeg
2 teaspoons ground cloves
1 teaspoon prekese, or substitute cinnamon and cocoa
1 teaspoon ground ginger
Mix all the ingredients together in a bowl.
Store in an airtight container in a cool, dark place, and use within a few months.
Excerpted from ZOE'S GHANA KITCHEN by Zoe Adjonyoh. Copyright © 2021 by Zoe Adjonyoh. Photographs by Nassima Rothacker. Used with permission of Voracious, an imprint of Little, Brown and Company. New York, NY. All rights reserved.