10 Women Saving The Planet, In Honor Of Earth Month

mbg Sustainability + Health Director
By Emma Loewe
mbg Sustainability + Health Director
Emma Loewe is the Senior Sustainability Editor at mindbodygreen and the author of "Return to Nature: The New Science of How Natural Landscapes Restore Us."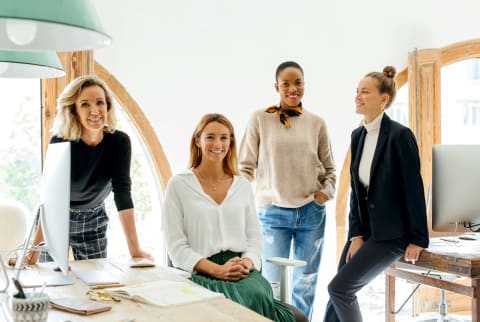 Image by BONNINSTUDIO / Stocksy
April 19, 2019
When we think of our wellness journey from a
You. We. All.
perspective, we're inspired to build a better future for everyone (our planet included!). We know you want to help make a difference, so this year we've teamed up with Target in an exciting partnership to launch Social Good, a new platform where you'll find stories on some of the most important social and environmental movements going on today. The cool part? Most of these stories include an actionable way you can help make the future brighter—right now.
In honor of Earth Month and our new Social Good vertical, we're celebrating 10 women who are changing our world for the better. These environmental activists work all over the globe, their offices spanning deep ocean trenches and arctic ice sheets. We hope that their accomplishments, their passion, and their fight for a better future for all of us inspires you to take some sort of action to help out the planet today.
1. The Teen On A Mission: Greta Thunberg
On any given Friday, you can find 16-year-old activist and Nobel Peace Prize nominee Greta Thunberg skipping school to sit on the steps of Swedish Parliament and demand better climate policies. Her routine has inspired similar movements across the world, culminating in the Youth Climate Strike, which mobilized more than 1.4 million students across 123 countries to skip school for the planet in March. "We live in a strange world, where children must sacrifice their education in order to protest against the destruction of their future," Thunberg explains of the protests. Thunberg's Twitter page, with its 378k followers, has become a beacon of hope for the next generation of environmental activists—and a show that kids aren't just going to sit back as their world is put in jeopardy.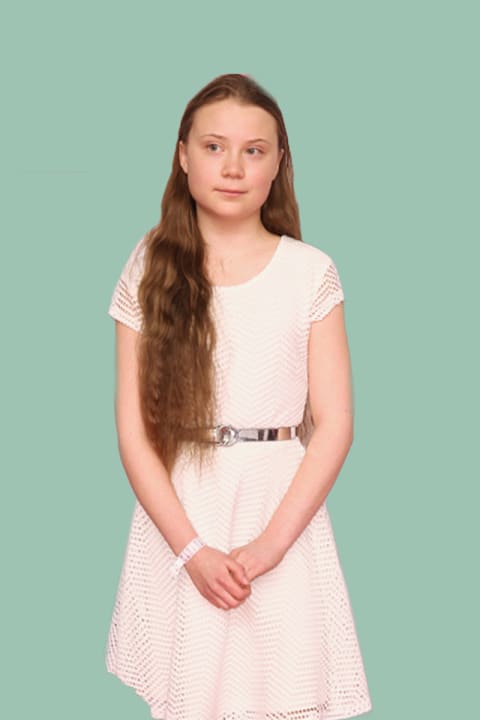 Graphic by Christian Marquardt / Getty Images
"The one thing we need more than hope is action. Once we start to act, hope is everywhere. Today, we use 100 million barrels of oil every single day. There are no politics to change that. There are no rules to keep that oil in the ground. So we can't save the world by playing by the rules, because the rules have to be changed. Everything needs to change—and it has to start today."
2. The Artist Capturing Climate Change: Zaria Forman
On first glance, you'd swear Zaria Forman's drawings of ice landscapes are photographs. The incredibly detailed and accurate portraits of ice and water formations around the world even caught the attention of NASA, who invited Forman to join their mission to map how global warming is transforming arctic regions. She's part of a growing group of artists using their craft to raise awareness and encourage action against climate change, and her work is a beautiful reminder of all that we stand to lose.
"My drawings explore moments of transition, turbulence, and tranquility in the landscape, allowing viewers to emotionally connect with a place you might never have the chance to visit. I choose to convey the beauty as opposed to the devastation. If you can experience the sublimity of these landscapes, perhaps you'll be inspired to protect and preserve them."
3. The Explorer Fighting For Our Oceans: Sylvia Earle
Sylvia Earle has clocked over 7,000 hours underwater over the span of her career as an ocean activist and advocate for women in the sciences. Drawn to the water from a young age, Earle led the first all-female voyage of "aquanauts," or underwater explorers, in the 1970s. In the decades since, Earle has published a number of books and hundreds of papers documenting humans' impact on fragile underwater ecosystems. Our oceans need a spokesperson now more than ever. Though at 85 years old you won't find Earle out on the water as much, she's still fighting for conservation from land with her organization, Mission Blue, which is working to ensure that 20 percent of the world's oceans are designated marine protected areas.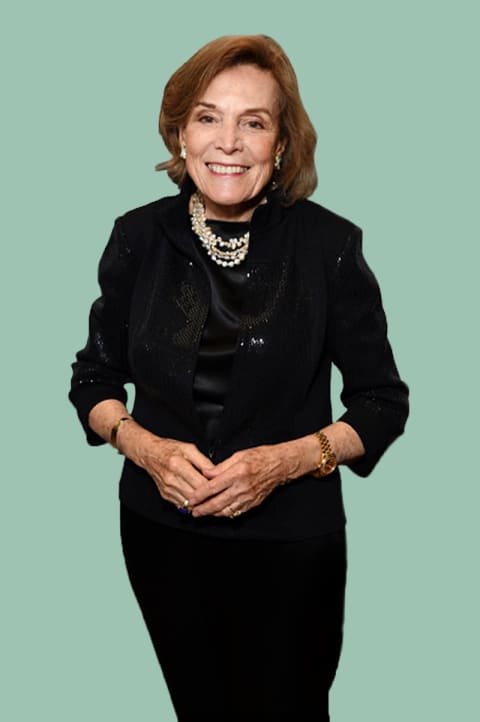 Graphic by Michael Kovac / Getty Images
"Today, young women wanting to be oceanographers find that the doors are open. Kids, they're all explorers—little boys, little girls, doesn't matter. They're just curious. We shape categories and say boys can do this; girls shouldn't be doing this. Or sometimes, you have the joy of just saying, I don't care what people think. I'm going to go this way, because I really want to know that's out there. Those are the explorers who emerge irrespective of what society thinks."
4. The Speaker With The Solutions: Katharine Wilkinson
When Drawdown: The Most Comprehensive Plan Ever Proposed To Reduce Global Warming hit shelves in 2017, it redefined what an environmental book could be. The collection of 100 proven solutions to climate change is gripping, thoroughly researched, and hopeful. As the Vice President of Communication & Engagement at Project Drawdown, it's Katharine Wilkinson's role to bring these solutions to new audiences through engaging speeches and educational events.
Wilkinson has been especially vocal about the importance of empowering women and girls as an antidote to overpopulation and global warming. In fact, the combination of educating girls and family planning would ultimately reduce more greenhouse gases than any other solution the Drawdown team identified.
"The gender-climate connection extends beyond negative impacts and beyond powerful solutions. Women are vital voices and agents for change on this planet, and yet we're too often missing or even barred from the proverbial table... To rapidly, radically reshape society, we need every solution and every solver, every mind, every bit of heart, every set of hands."
5. The CEO In The Business Of Saving The Planet: Rose Marcario
Under the leadership of CEO Rose Marcario, Patagonia has established itself as so much more than a clothing brand. The company is now synonymous with environmental protection, thanks to initiatives like the Worn Wear Van, which helps customers repair old clothing instead of tossing it, and Patagonia Provisions, a sustainable food company. The company has also started a $20 million fund to invest in eco-friendly startups, called Tin Shed Ventures, and given over $100 million and counting to grassroots environmental programs. Since Marcario joined the team in 2014, Patagonia's revenue has quadrupled, proving that people respond to companies that stand for something.
"We really know our customers and they know us, and what I see more is that younger people are coming to the brand because they recognize the climate crisis in a much different way than my generation, probably, and their experience is really first-hand."
6. The Rancher Regenerating How We Eat: Katie Forrest
If industrial agriculture doesn't change, the world's soil could be unfit for growing in as little as 30 years, according to the United Nations. Not if Katie Forrest has anything to do with it. Cofounder of animal protein snack company EPIC Provisions, Forrest and her husband Taylor Collins are demonstrating how regenerative ranching practices (ones that mimic patterns from nature to improve soil health and ultimately extract carbon from the environment) can be applied on a large scale. With the support of General Mills, which acquired EPIC for a reported $100 million, Forrest wants to encourage a new food system, one that relies on animals, not chemicals, to be stewards of the land.
"Animals help spread seeds, so every single step that they take they're picking up seeds and transferring them throughout the pasture. Animals are a critical part of the ecosystem and a critical part of human health."
7. A Model Of Conservation: Gisele Bündchen
Celebrities like Gisele Bündchen have a distinct role to play in the environmental movement, since they're the ones with the star power to get new crowds of people involved in sustainability. Beyond eating a plant-based diet and sporting sustainable fashion in her day-to-day life, the supermodel is also an outspoken advocate for the Amazonian rainforest. So far, the United Nations Environment Goodwill Ambassador has planted 40,000 native trees and supported clean water projects across the Amazon—enough to garner her the prestigious Global Environmental Citizen Award from Harvard Medical School.
Graphic by Christian Charisius / Picture Alliance via Getty Images
"We must stop leading with the idea of 'out of sight, out of mind.' Everything in this world is connected. The trash that magically disappears from our house every day is going somewhere—it's going to landfills, rivers, and oceans, contaminating fish and water sources, and coming right back to our table."
8. The Activewear Activist: Hannah Jones
As Nike's Chief Sustainability Officer, Hannah Jones epitomizes the brand's Just Do It mentality. Incorporating environmentally practices into such a massive company is no easy feat, but Jones is always looking at Nike's supply chain for opportunities to save on emissions. She's successfully introduced new materials like Flyleather (made from discarded scraps of leather fused with polyester fibers) and yarn made from recycled plastic bottles, as well as Nike's suite of lightweight, durable fabrics. These days, 75 percent of all Nike shoes and apparel contain at least some recycled material. Outside of her sustainability work at the athletic company, Jones is the proud founder of the League of Badass Women, where 10,000 members internationally connect on issues relating to gender equality.
"I think I've never seen the world more polarized with more volatility and more injustice. My personal way of processing that is to battle even harder and do what can we do in an appropriate way that creates change... When you can stay true to your environment and you can stay true to your whole purpose and you're really clear about where you're headed, the volatility rocks you less because you're on your path."
9. The Earth's Negotiator: Christiana Figueres
Remember the Paris Climate Agreement of 2015? Figueres was a major force behind it. As the Executive Secretary of the United Nations Framework Convention on Climate Change (UNFCCC) from 2010-2016, the Costa Rican diplomat helped global leaders find common ground on issues relating to our environment for years. Now she's working to hold the world accountable to the goals laid out in the Paris Agreement by overseeing Mission 2020—an organization that calls for major greenhouse gas reductions by 2020, which is thought to be a critical year in the trajectory of climate change.
Graphic by Marc Piasecki / Getty Images
"As I look forward to other global issues that will require our attention this century—food security, water security, home security, forced migration—I see that we certainly do not know how we are going to solve those problems yet. But we can take a page out of what we have done on climate change, and we can understand that we have got to reinterpret the zero-sum mentality. Because we were trained to believe that there are always winners and losers, and that your loss is my gain. Well, now that we're in a world in which we have reached planetary boundaries and that we are not just so interconnected, but increasingly interdependent on each other,—your loss is no longer my gain. We're either all losers or we all can be winners."
10. The Sustainable Footwear CEO: Sara Irvani
Sara Irvani is the force behind Made in America footwear company, Okabashi. After taking over the family business that got started in 1984, Irvani knew that she wanted to continue its original commitment to sustainable sourcing. While many inexpensive sandals don't last more than one or two seasons before being sent off to a landfill, Okabashi's are designed to be worn again and again, and ultimately reused. Customers are encouraged to send old shoes, and each pair incorporates up to 25 percent of this recycled content. In an age where over 99 percent of American-worn footwear is made abroad, Irvani continues to produce her product in a factory in Georgia—a commitment to local manufacturing that has been applauded by the White House.
"Sustainability is no longer just a product story, it is about providing a real opportunity for a conscious consumer to experience supporting the environment."