Make This Antibacterial Oil Your Best Friend This Cold Season
mbg Contributor
By Jessica Cooper
mbg Contributor
Jessica Cooper is a Boston-based yoga teacher. She was trained and certified by the Yandara Institute (Yoga Alliance Certified) in 2012 and has been teaching Vinyasa classes ever since.
Medical review by
Bindiya Gandhi, M.D.
Physician
Dr. Bindiya Gandhi is an American Board Family Medicine–certified physician who completed her family medicine training at Georgia Regents University/Medical College of Georgia.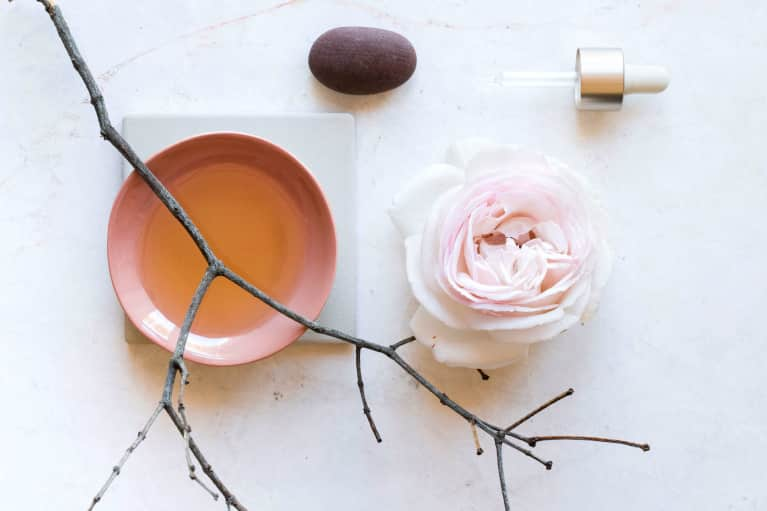 Our editors have independently chosen the products listed on this page. If you purchase something mentioned in this article, we may
earn a small commission
.
Last updated on November 14, 2019
Consider tea tree oil your medicine cabinet's multipurpose secret weapon. The oil has been celebrated for decades for its antibacterial, antifungal, and anti-inflammatory properties—showing promise in everything from treating acne to soothing pesky hangnails. Here's everything you need to know to use this powerful oil to its fullest potential.
Tea tree oil comes from the evergreen leaves of the Australian Melaleuca alternifolia tree, or tea tree, and has nothing to do with the black or green brew you drink in the mornings. (In fact, tea tree is poisonous when taken internally, so you should never, ever drink it.) Interestingly enough, the tea tree, which can reach heights over 25 feet, does not naturally grow outside of Australia.
The first recorded use of the Aussie oil was in the 1920s, when it was revered as a germ fighter. In fact, Australian soldiers were supposedly encouraged to keep the oil in their military kits during World War II as an antibiotic. It quickly spread to the United Kingdom, Germany, France, Italy, Denmark, Sweden, and other European countries, and these days there are massive plantations across Western Australia, Queensland, and New South Wales growing the product on a large scale. The oil has a slightly astringent and woody scent, and you can find it both as a neat essential oil and as an active component in various topical salves and creams.
1. As a smell-good treatment for colds and aches.
One of nature's finest antibiotics, tea tree oil is most often lauded for its bacteria-busting abilities. As far as essential oils go, it is also relatively affordable. Use a drop or two of the oil on a warm washcloth and inhale to help treat mild colds, coughs, and toothaches whenever they come up.
2. As a dandruff-fighting shampoo booster.
Tea tree oil is very effective against dandruff. It's pretty amazing that it can be used to combat acne, which is thought of as an oil issue, and dandruff, which is viewed as a dryness issue. One study found that using shampoo that contained tea tree oil was an effective way to improve mild to moderate dandruff. The group that used the oil for four weeks showed a 41 percent improvement in symptoms (less itchiness, scaliness, etc.) compared to the placebo group, which had an 11 percent improvement. These days, many shampoo brands use tea tree oil as an active ingredient, but you can also make your own by mixing 1 tablespoon of baking soda into 1 cup of water and throwing in 5 or 6 drops of tea tree oil.
Taz Bhatia, M.D., an integrative doctor and mbg Collective member, recommends throwing in some peppermint oil, too, for max relief: "Melaleuca oil, better known as tea tree oil, functions as an antifungal and antibacterial. It can help kill candida and, with the help of peppermint, soothe an itchy scalp."
Avoid chemical-ridden acne treatments by simply dabbing a drop of tea tree oil onto a damp cotton ball or Q-tip and applying to trouble spots. Make sure to blend the tea tree oil with a carrier oil like argan or jojoba—you should never apply essential oils directly to the skin. Since tea tree can cause irritation in some people, you should always test out your blend on a small patch of skin before applying to larger areas.
You can also work tea tree oil into a homemade face mask by mixing 2 tablespoons of green clay powder with 3 to 4 drops of tea tree oil and enough water to make a paste. Let sit for 20 minutes before rinsing.
4. As a treatment for nail infections and athlete's foot.
Have a hangnail or a nail irritation? Dabbing a bit of oil onto the nail will act as an antibacterial but without causing irritation to the skin. Again, be sure to mix with a carrier oil! One study found that after 16 weeks of applying a cream made with 5 percent tea tree oil, 80 percent of people with onychomycosis, a nail fungus, were totally cured. It was a small-scale study, and more research still needs to be done on tea tree's efficacy on nails, but it's worth a shot.
Tea tree oil has also been shown to improve tinea pedis, or athlete's foot, in up to 64 percent of cases. To take preventive measures against athlete's foot, you can refresh stinky sneakers using a blend of eucalyptus and tea tree oils, mixed with baking soda. Place directly into shoes, shake around, and let them sit overnight.
6. As a general cleaning spray.
Given tea tree oil's antimicrobial properties, it makes sense that it would work well as a home cleanser too. Basically anything that needs disinfecting, cleaning, or balancing can benefit from a basic tea tree oil mix. Combine 4 to 5 drops of oil with 2 cups of water in a spray bottle. Use to clean household surfaces like countertops and floors.
mindbodygreen's sustainability editor, Emma Loewe, writes about what happened when she filled a mixing bowl with boiling water and added about 10 drops of tea tree essential oil in saying, "[I dropped in] dirty dish towels to brighten them and remove pesky stains that might not come out in the wash. It works! So much so that I dropped some of my other dirty kitchen gadgets in there for good measure: my blender top, fruit bowl, etc."
Yogi Camila Matos has also found that tea tree oil mixed with water makes for a great mat cleanser after a sweaty class, writing "Tea tree oil can also be used to clean your yoga mat. Whip up a quick and simple batch of the best yoga mat cleaner ever. It's organic, smells amazing, leaves no residue, and won't hurt your skin or the environment."
7. As a powerful antiseptic spray.
This spray is similar to above, but add double the drops (10 drops of oil) to 2 cups of water in a spray bottle for tough areas like the bathroom and sink. You can use this to clean the bottoms of shoes for an antibacterial kick too.
What should I look for when choosing a tea tree oil?
Make sure you purchase oil that comes in a dark glass bottle to ensure that the light does not reduce the oil's potency. The bottle should also have an orifice reducer (since oils will go bad quicker if they're exposed to oxygen), and be marked with the plant's Latin name and expiration date.
"Not all oils have expiration dates on them, which really concerns me," Mariza Snyder, D.C., a functional medicine practitioner and author of Smart Mom's Guide to Essential Oils, tells mindbodygreen. "If they don't, you really don't know what you're working with."
When you are looking for a topical cream that incorporates the ingredient, look for ones that are 5 percent tea tree first and see how your skin reacts before working up to higher concentrations.
Things to keep in mind when using tea tree oils.
Again, you should never ingest oils. Keep applications topical, and even when applying to the skin, be sure to dilute the oil in a carrier oil (more on dilution ratios here). If you're applying the oil to a toddler to soothe skin, be extra sure to use a teeny, tiny amount first. If you have sensitive skin, tea tree oil can cause irritation, itching, burning, and redness.