10 Simple Beauty Uses for Organic Argan Oil
I first discovered argan oil, referred to as "liquid gold" in 2008 when I was visiting my soon-to-be husband in Morocco.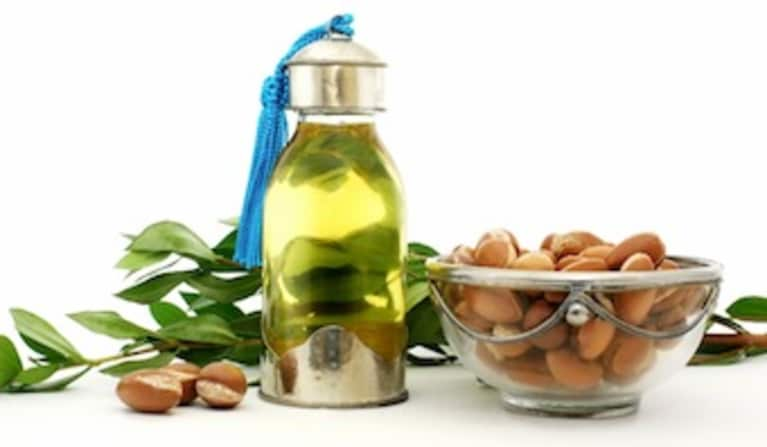 He gave me a bottle as a gift and I was immediately amazed with how it moisturized, hydrated and softened my skin, body and hair in the Marrakech heat.
I was familiar with other brands that advertised Moroccan oil, but knew they were filled with silicone, artificial preservatives, dyes, fragrance and contained little actual argan oil. I wanted to see where organic argan oil came from, so we visited many argan oil cooperatives in the region. Here's what I learned.
Argan oil is produced from a the nut of the Argan tree, which only grows in Southwestern Morocco.
Local Berber women work in fair-trade cooperatives where they hand-crack the nuts in between two stones, a technique they've used for centuries. Instead of being put through a machine, the raw kernels are hand-extracted from the hard shell, hand-ground in a stone grinder, hand-kneaded for hours and first cold-pressed into the oil. It takes one woman three days to make just one liter of oil. This is why argan oil is so valuable.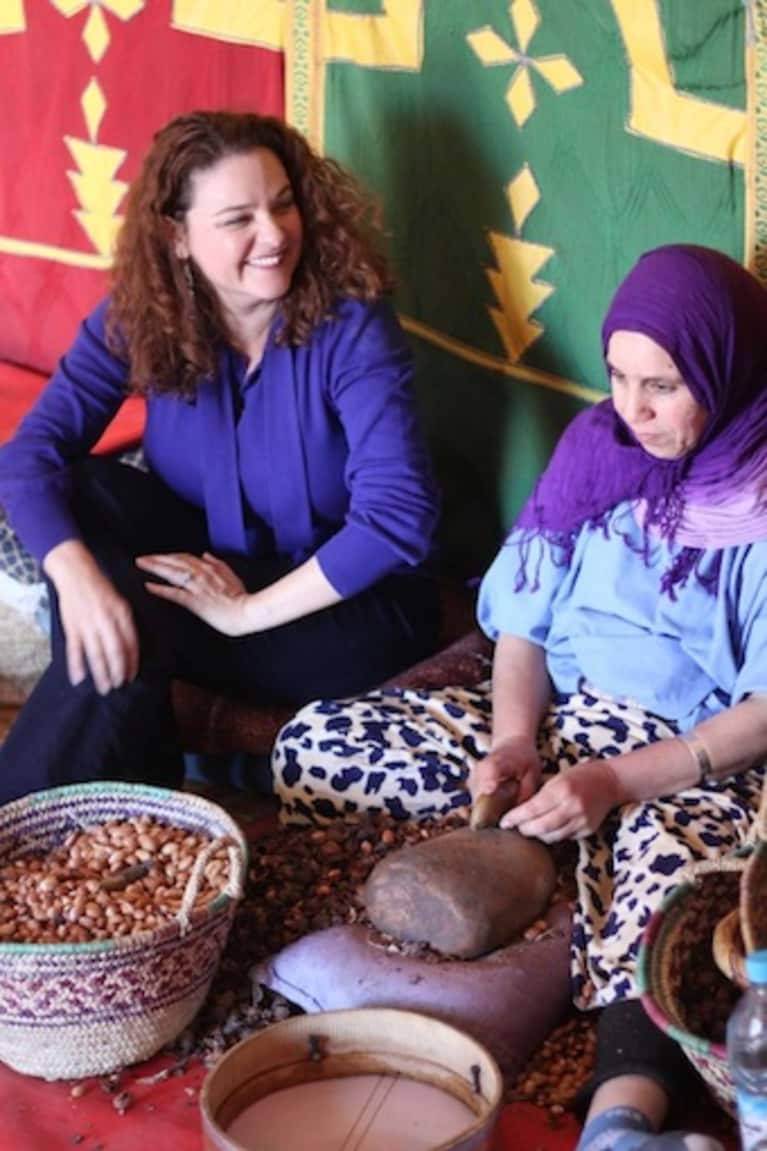 In 1998, the Argan forest in Morocco was designated a UNESCO protected biosphere so argan oil is sustainable.
If you want to de-clutter your cabinet and simplify your beauty routine, argan oil can become your go-to beauty elixir from head-to-toe for any skin and hair types. It's chockfull of essential fatty acids, antioxidants, vitamins (especially Vitamin A and Vitamin E) and minerals that promote your overall health by moisturizing, softening as well as protecting your face and hair from sun damage – free of harmful toxins and Parabens. Argan oil can be added as an additional ingredient to many store-bought beauty products to get more hydration and protection as a result.
10 Natural Uses Of Organic Argan Oil In Your Daily Life
After cleansing morning and/or night, massage a few drops of pure argan oil directly onto your face and neck. Since it is considered a dry oil, it absorbs quickly and is not greasy. If you want to use it as a serum, apply your night cream after the oil absorbs into the skin.
Add a few drops of argan oil to your favorite facial toner to hydrate and tone simultaneously. You can make your own toner by adding a few drops of argan oil to Rose or Orange Blossom water.
3. Rejuvenating & brightening face mask
Add a few drops of argan oil as a special ingredient to your store-bought mask. Alternatively, make your own mask by mixing 1 tablespoon of lemon juice, 3 teaspoons of Greek-style yogurt, 1 tablespoon of honey and 3 drops of argan oil in a bowl. Apply on a clean, dry face and leave on for 10 minutes. Rinse off with warm water.
4. Exfoliating lip scrub and moisturizer
To smooth and moisturize your lips, add a few drops of argan oil and vanilla extract to fine brown sugar for a healing moisturizer. Lightly massage into lips using circular motion and rinse off.
Add a drop or two of argan oil to your foundation, bronzer or tinted moisturizer for a dewy, luminous glow.
After the shower, while your hair is still wet, add a few drops of argan oil to your hair, ends and scalp to condition, hydrate and moisturize. It's especially nourishing if your hair is dry from daily use of a blow dryer, straight-iron or curling iron.
When your hair is dry, use as a styling product by adding a few drops of argan oil to the palms of your hand. Rub your hands together and run your fingers through your hair to create shine and tame frizz. You only need a small amount. It lasts a long time.
8. Overnight hair treatment
Massage a generous amount of argan oil into your hair, ends and scalp. Wrap your hair and leave it on while you sleep. In the morning, wash your hair and you'll have luminous, soft locks.
9. Cuticle and heel softener
Massage a few drops of argan oil into your cuticles to soften, moisturize and encourage nail growth. Use as an overnight treatment to nourish cracked heels by working a good amount into your feet and toes. Cover with socks and wake up to supple feet.
Add a few drops of argan oil directly onto your skin, into the bath or body lotion. It's safe to use on a baby and to help reduce stretch marks on a pregnant belly too.