The Yoga Pose Every Woman Needs on the 1st Day of Her Period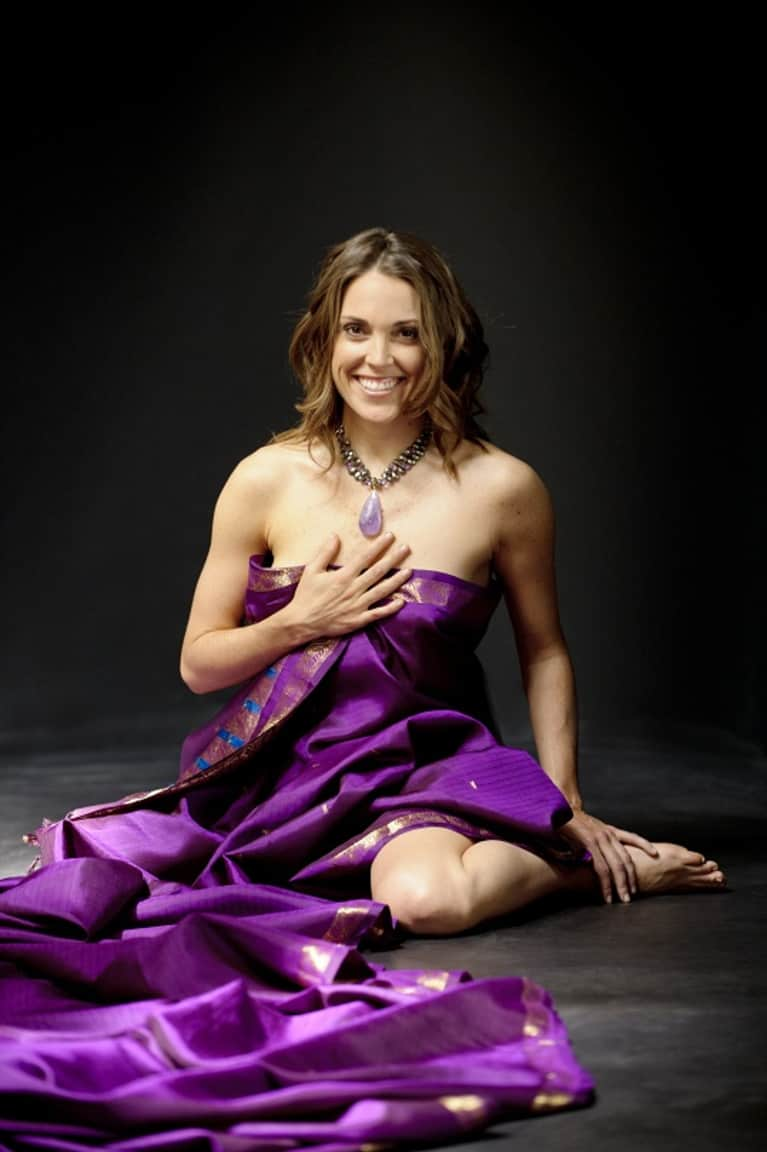 Anorexic, bulemic, an exercise-addict, and a straight "A" student. That's who I was when I was 18 and started practicing yoga. Not a pretty picture! I was a freshman at New York City's all-women's Barnard College; and I was not only miserable, but also completely bewildered about how to be a joyful, lit-up, and empowered woman in (what felt like) a ruthless world.
I lived on black coffee and steamed vegetables and forced myself to exercise every single day. All in order to feel like I was in charge of a life that felt very, very out-of-control.
Sick? I'd still go to that dance class. Sleeting? Yup, I'd still run my 6 miles. On the first day of my period? I'd still do a vigorous Ashtanga yoga practice—no modifications, nil.
….and that continued--until I turned 21 and a diagnosis of the early stages of cervical cancer plus excruciatingly painful ovarian cysts (the size of golf balls), stopped me in my tracks.
Over the twelve years since then, I have revamped my life and yoga practice completely in order to heal not only my body but also my heart.
In the process, I have discovered how to live the answer to my most burning question, "What does it look and feel like to be an empowered, vibrant woman in the world today?"
There are many facets to the answer that I discovered (and continue to). But a really important one is this: adapt your yoga practice to the lunar and your hormonal cycles.
Align with your feminine nature. Don't fight or deny these cycles and rhythms. If you do that, you're asking for trouble and your body and emotions will fight back.
So….how to best do this in a world that mostly wants to squash these cycles? Most importantly, change your yoga practice when you're having your period, or if you're feeling tired, having hot flashes, or overwhelmed by strong emotions.
Take an honest look at how you live (or don't live) in accordance with your cycles. Changing your yoga practice when you get your period is one really practical way to do that.
It's hard, because we women can be soooo hard on ourselves, with "should's" and "I'm not good enough's" or "I'm not doing it right's." And this can be reflected back to us by how hard we push on our mats.
Here's what I think: we get caught in that hamster wheel of self-shaming when we don't let ourselves off the "hook" on a regular basis (e.g. monthly), by giving ourselves permission to JUST REST.
BUT, when we do this consciously and as a tool of self-love and self-inquiry, we can break our self-shaming wheel so that rest is no longer about being "lazy". It's about opening the door for deep healing and listening and, in turn, INSIGHT to arise.
In this video I share the #1 yoga pose that every woman needs to really honor herself when she's on the 1st day of her period (this is also a great practice anytime you need a "time out" in your life).
The self-inquiry prompts I share at the end are really the key to this. This perspective pose (combined) have been the doorway to my sanity, personal growth, and wellspring of feminine creativity every month.
Once you watch the video, I'd love to hear your comments.
1. What self-shaming or judgement to you have about RESTING?
2. What yoga poses do you like to practice when you're having your period or needing to slow down?
3. What other tips can you contribute to the women in our community about this topic?
4. What other questions do you have about practicing yoga when you have your period?
It's an important conversation, and one that we don't engage in enough as women or in the yoga community.