6 Ways French Women Stay In Shape Without Even Trying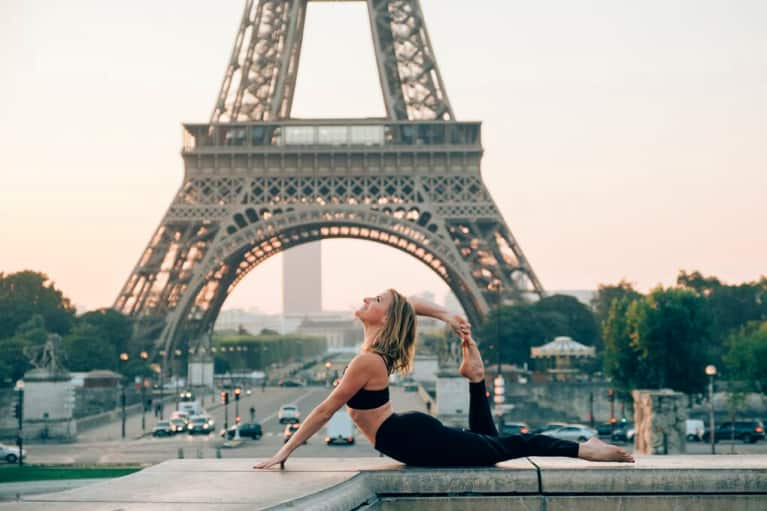 With the intoxicating aroma of pastry shops around every corner, you would think Parisians might have trouble staying thin. But au contraire, they somehow manage to eat baguettes and croissants yet still look amazing with their perfectly tousled hair and all. While living in Paris, I knew I would not be able to resist the bread, to say nothing of the macarons and éclairs and pains au chocolat and cute little cheese shops and...well, you get the picture. I needed a plan.
I was baffled as French women don't seem to exercise much—at least not the way we think of it with regular daily "workouts," but they do seem to eat pretty much whatever they want. They don't speak much about fitness or weight or calories, and yet most appear as if they take great care to stay in shape. Bread is not thought of as "empty calories" but as an essential part of every meal. I love carbs so was on a mission to find out their secrets.
Here are a few tips/tricks I picked up:
Taxis are expensive and sure, the metro is clean and convenient, but biking in Paris is a great way to get around. As with most big cities these days, they have a bike share program called Velib and the rides along the Seine and over the bridges can be pretty exhilarating. I felt like I was in a movie as I rode through my neighborhood in Le Marais district, past Notre Dame, along the Seine, past the Eiffel Tower, and then back through the Musée du Louvre. It's quite magical—and is a good way to take in the sites and keep your body moving.
Parisians value quality over quantity, so supermarkets are outnumbered by specialty stores. Most Parisians shop daily for fresh local ingredients. You go to the boulangerie for bread, the fromagerie for cheese, the patisserie for dessert pastries. These foods don't contain preservatives so Parisians are able to avoid heavily processed foods, which are a major cause of health and weight issues for many Americans.
3. Discover the boutique fitness scene.
When I was there three years ago they didn't have much understanding or many options for "sport" (that's what they call working out). Flash-forward to today and the boutique fitness scene is starting to boom—they have everything from hot vinyasa yoga (my favorite is called "The Yoga Factory") to spin "Dynamo," their version of SoulCycle. Head to a class to start your morning and enjoy that pain au chocolat and cafe au lait afterward. Almond milk is even catching on.
4. Employ portion control.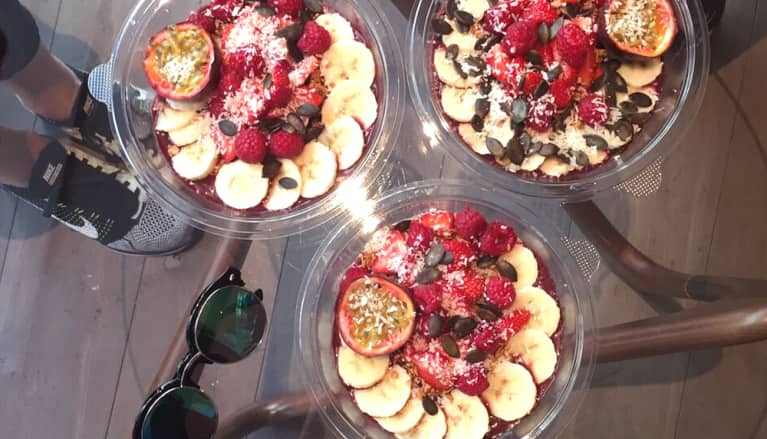 Parisians don't own huge refrigerators that hold a week's worth of food (forget about the concept of buying in bulk—not a BJs or Costco in sight) and they don't gorge themselves on fast food. To me this was the biggest challenge: As I mentioned, I wanted to eat everything! I decided I was going to try it all but not finish everything—only the things I absolutely loved. That was pain au pistache in case you were wondering.
I know just four things ago I was telling you to bike everywhere, but one of the top ways to burn off that croque monsieur you just had for lunch is to walk, especially along the Seine. With all the landmarks and lovely architecture, it's possible to clock some serious mileage without even realizing it. The Bois de Boulogne, Bois de Vincennes, and Parc des Buttes Chaumont (which features a monster of a hill) all offer some charming paths to follow.
6. Throw in some vegetarian options.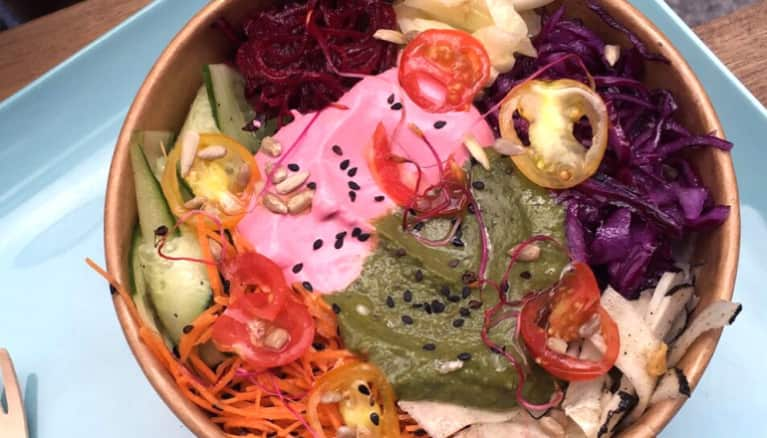 Break away from the bread and cheese and eat a vegetarian meal or two. Vegetarian restaurants and juice bars are springing up with regularity and offer some refreshing and super-healthy options to the buttery croissant. Some of my favorite vegetarian spots are Soya, Cafe Pinson, and d'Adam et Eve La Bio.
But at the end of the day—really just savor your experience! Whether you're in Paris or embracing the French philosophy from somewhere else on the globe, to live like a French woman means truly enjoying your life's richest moments and finding balance in between.