This Aromatherapy Oil Will Work Wonders On Swollen Lymph Nodes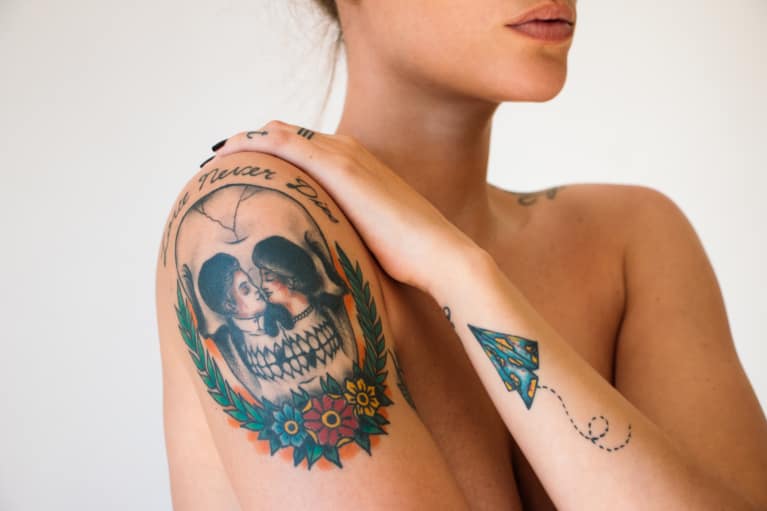 There seems to be lots of chatter about lymph nodes and lymph detox and draining. And for good reason as the lymphatic system is a key player in regulating the body's immune system! Comprised of a large network of tissues and organs responsible for ridding toxins, its primary job is to transport lymph, which is an infection-fighting fluid that circulates throughout the body. Lymphatic vessels connect to lymph nodes, which are where lymph is filtered. With approximately 600 lymph nodes in the human body, located in tonsils, groin, spleen, and armpits, it can be difficult to know when things go awry.
Swollen lymph nodes are a sign that your body is engaged in battle. When there's an infection, lymph nodes swell as they work harder to filter out bacteria and viruses. Unlike our circulatory system, lymph does not have a pump. It relies on the mindful movement of muscles and joints to avoid stagnation, which often leads to impaired immunity and pain. Swollen glands are common with colds, flu, and autoimmune diseases, but that doesn't mean you have to live in discomfort. Below are six essential oils to support lymphatic stimulation and drainage that quell swelling and speed up relief:
While many oils in the citrus family have an affinity for detoxifying and decongesting lymph, grapefruit is especially cleansing. Included in many cellulite creams and body scrubs, grapefruit's uplifting and citrusy aroma seems to inspire movement in the body as it does in the mind. Grapefruit is a proven antibacterial and has been shown to clinically reduce lymphedema when coupled with gentle massage and lymph-stimulating exercises.
How-To: Dry brushing is an effective way to stimulate lymph movement, and to continue reaping the benefits, make your own post-dry brush body oil. Add 15 drops of ruby grapefruit into 1 oz. of a skin-friendly carrier oil, like rosehip seed, and lather thoroughly.
Similar to grapefruit, lemon is a must-have when looking to stimulate lymph movement. Lemon's chemical composition is primarily monoterpenes, meaning it's a powerful antimicrobial and antibacterial. In Traditional Chinese Medicine, lemon oil is sometimes used to stimulate acupuncture points. Some practitioners use lemon on ST 26 and KD 7 to stimulate "Wei Qi," which is the defensive immune system.
How-To: For an at-home remedy, make lemon body scrub. Add 10 drops of lemon with a tablespoon of jojoba oil into an ounce of Himalayan salt. Use all over in the shower giving particular attention to swollen areas.
In my opinion, guaiacwood is one of the most underrated essential oils because it's very economical and a go-to for treating gout, edema, and fluid retention. It's also a robust anti-inflammatory thanks to its high guaiazulene chemical composition.
The smoky, deep aroma has historically made it popular with perfumers. Do be aware that it's a viscous oil and will need to be heated to ~110°F to use. On the bright side, it has an incredibly long shelf-life, which can be up to eight years!
How-To: Give yourself a lymphatic massage by combining guaiacwood with its therapeutic and aromatic complement, cistus, into a carrier oil, like sesame or sunflower.
Popular in ancient Rome, bay laurel was a symbol of wisdom and peace. It has a fruity and camphorous scent that is known for moving stuck energy as well as supporting lymphatic drainage and immunity. It's a known antioxidant and antibacterial that's historically been used to treat infections. Industry leader, Dr. Kurt Schnaubelt, says one gentle use of it on swollen lymph nodes will produce nearly immediate relief. Though it is generally considered safe, do not use while pregnant.
How-To: Add 4 drops of bay laurel into an ounce of sweet almond or jojoba oil and rub on swollen lymph nodes.
Like guaiacwood, mastic is incredibly underestimated. Traditionally used as a lymphatic and circulatory decongestant, mastic is renowned for reducing edema and treating spider and varicose veins. Due to high monoterpene chemical composition, it's known for being an impressive analgesic and anti-inflammatory. Interestingly, mastic has been clinically shown to inhibit cancer cell growth. Do note that these findings are preliminary and in need of replication—much more research needs to be done. Mastic also has an affinity for the respiratory system possessing antimicrobial properties that tackle any respiratory issue.
How-To: Reach for mastic when bogged down with a cold or flu that affects your lymph nodes. Add 6 drops to an ounce of aloe vera gel and rub on affected areas. Feel free to blend mastic with other immune or respiratory supporting oils, like cedarwood.
Perhaps a bit of a misnomer as it's distilled from the berries and needles, it is easily confused with other juniper species. A detoxifier that stimulates movement, it is similar to many other oils on this list as it relieves edema and stagnation. Juniper is a natural antibacterial and antimicrobial that tirelessly fights infections. An immune booster, juniper is a great addition to DIY cleaning products.
How-To: Add 3 drops juniper (optional to add 2 drops black pepper and 2 drops geranium) into an ounce of sweet almond or avocado oil and rub on areas that need energy. For an added bonus after using the oil, I hang from my inversion table to further stimulate lymph movement and circulation.