7 Powerful Benefits Of Drinking Chlorella Every Day
Functional Medicine Doctor
By Deanna Minich, M.D., IFMCP
Functional Medicine Doctor
Deanna Minich, M.D., IFMCP is a nutrition professional and functional medicine doctor. She has a master's in human nutrition and metabolism from the University of Illinois at Chicago and doctorate in medical science and nutrition from the University of Groningen.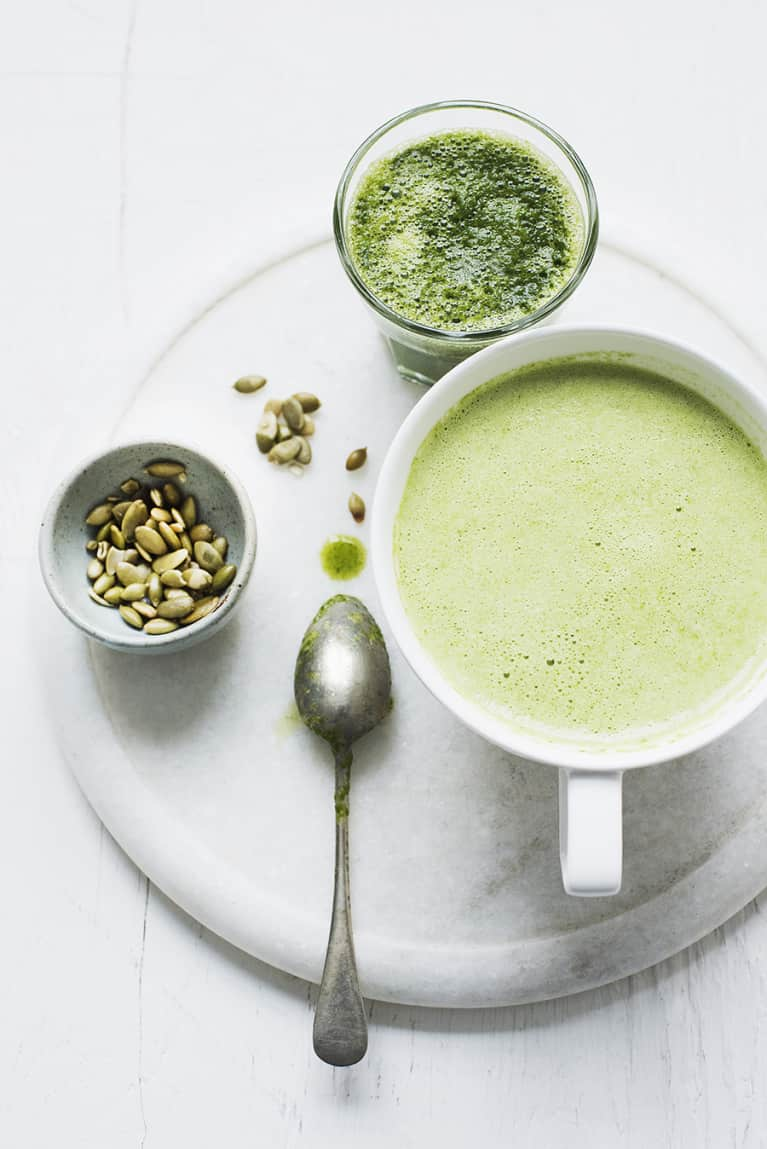 While the idea of eating a freshwater algae may not sound very appealing at first, an extensive list of the health benefits found in a tiny, single-celled microorganism called chlorella might change your mind.
Cousin to spirulina, chlorella is a vibrant-green algae that has been a common supplement in Eastern societies for years. Looking at all the beneficial vitamins and minerals packed into this tiny plant, you can see why.
Chlorella contains many vitamins and minerals, including iron, calcium, magnesium, phosphorus, folic acid, zinc, and vitamins A, C, B6, B12, and E. It's also packed with protein—a 100-gram serving of chlorella contains over 58 grams of protein (keep in mind that a typical serving of chlorella might only be a few grams).
In the West, more people are recognizing the benefits of chlorella supplementation. Research backs this compound's status as a health superstar. Specifically, scientists have found that chlorella may be beneficial in the following ways:
1. Heavy metal detoxification
Unfortunately, many of us have accumulated heavy metals in our bodies, whether it's from eating mercury-laden fish or from our metal tooth fillings.
One cell study found that chlorella absorbs heavy metals in the body, effectively preventing toxic accumulation. In the study, chlorella absorbed 40 percent of the heavy metals in the test solution in seven days.
The effects of chlorella on the immune system have been studied in both healthy subjects and those with compromised immune systems, due to medication or illness. While there are conflicting views about chlorella's effects on the immune system, one study found that supplementation supports the immune-regulating response in healthy patients.
In unhealthy patients, the immune system functions were shown to return to or remain at near-normal levels with 20 grams + 150 mL daily chlorella supplementation over the two-year study.
Many of the toxins that mothers unknowingly take in on a daily basis can be passed on to babies through the mother's breast milk.
One study examined the effects that supplementing with 6 grams of chlorella per day had on breast milk quality. Encouragingly, chlorella was found to increase immunoglobulin (an essential antibody in the immune system) concentrations in breast milk. The research also revealed that women who were supplementing with chlorella had lower levels of dioxins in their breast milk. Dioxins have been linked to developmental problems as well as hormone imbalance and a weakened immune system.
4. Better body composition
Chlorella may be helpful in fighting both obesity and obesity-related health problems. A recent clinical study discovered that chlorella supplementation led to a reduction in body fat percentage, total cholesterol, and blood glucose levels.
5. Reduction of oxidative stress
Oxidative stress, caused by pollution, stress, or a poor diet, contributes to a faster aging process. A study in chronic cigarette smokers found that chlorella greatly reduced oxidative stress.
6. Blood pressure regulation
For those with high blood pressure, chlorella may help with lowering blood pressure to a healthy level. One study in hypertensive patients found that 1.5 grams of pure chlorella in tablet form per day resulted in decreased blood pressure over the six-month period of the study, as well as lowered hypertension-related symptoms.
7. Fibromyalgia symptom reduction
If you suffer from fibromyalgia (a chronic disorder characterized by widespread musculoskeletal pain and fatigue), chlorella may help to alleviate some of the symptoms. A study discovered that participants with fibromyalgia who supplemented with 10 grams of chlorella reported improvements in sleep and well-being as well as reductions in pain and fatigue during the course of the three-month study.
As with all supplements, it's important that you consult your physician before adding chlorella into your daily routine, especially if you're pregnant or breastfeeding. Chlorella does contain iodine, so those with sensitivities to iodine or hyperthyroidism should avoid.
Since evidence exists that chlorella stimulates the immune system, patients with autoimmune diseases should not supplement with chlorella. People with sensitivities or allergies to mold should also avoid it. Be sure to purchase organic chlorella from a quality, certified supplier, when possible.
With all these benefits, it's easy to see why chlorella may be worthwhile to keep in our supplement cabinet. With chlorella included in your supplement routine, you just might offer necessary support to your body's natural detox mechanisms, immune system, metabolism, and more.
In addition to taking a chlorella capsule, you can also drink and eat it. If you're wondering how to get more chlorella in your diet, start with these recipes: