7 Powerful Benefits Of Drinking Chlorella Every Day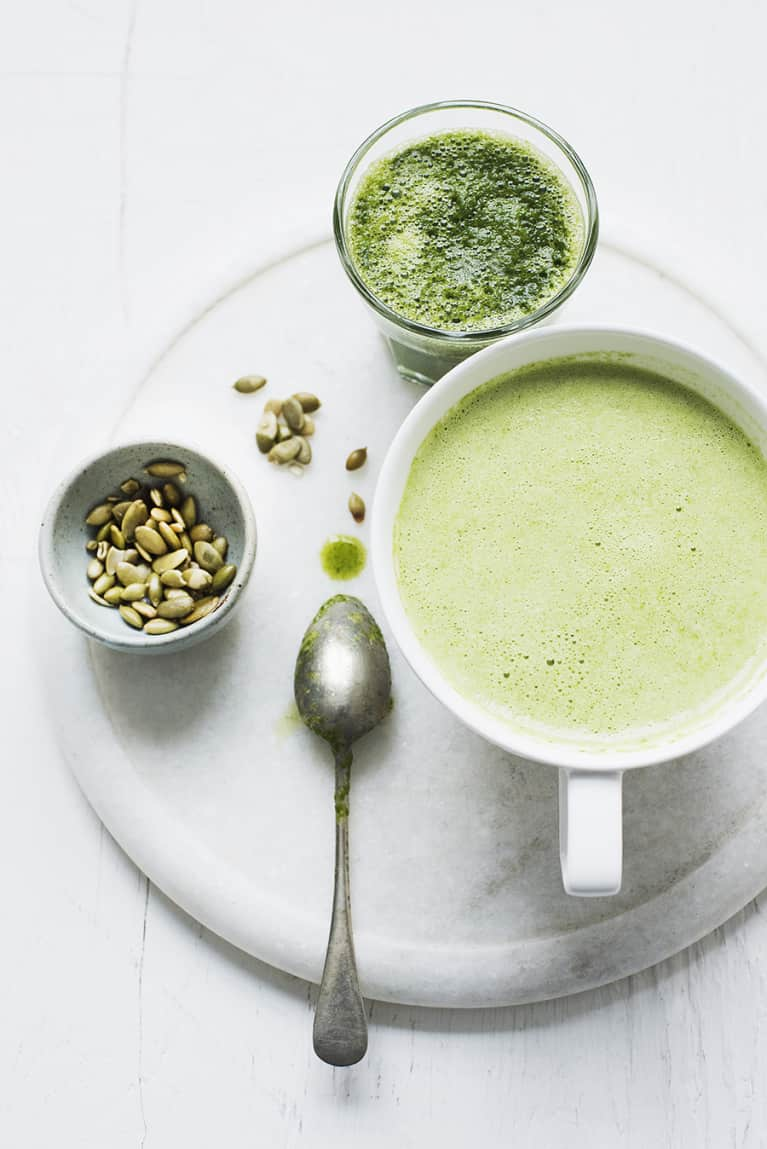 Last updated on February 6, 2020
While the idea of eating freshwater algae might not sound very appealing at first, an extensive list of the health benefits found in a single-celled microorganism called chlorella might change your mind. Cousin to spirulina, chlorella is a vibrant-green algae that has been a common supplement in Eastern societies for years. Looking at all the beneficial vitamins and minerals packed into this plant, it's clear why science is on the side of this tiny powerhouse:
1.
It's packed with vitamins and minerals.*
8.2 grams of protein
143% of the recommended percent daily value (%DV) of vitamin A
101% DV of iron
66% DV of zinc
13% DV of phosphorus
11% DV of magnesium
10% DV of vitamin B6
2.
It enhances heavy metal detoxification.*
Unfortunately, many of us have accumulated heavy metals in our bodies, whether it's from eating mercury-laden fish or from our metal tooth fillings.
Chlorella is a chelator, which means it can bind with heavy metals, transporting them out of the body.* In fact, one study found that 90 days of chlorella supplementation enhanced heavy metal detoxification and significantly reduced mercury levels in individuals with chronic metal exposure from dental fillings and implants.*
3.
It supports immune function.*
The effects of chlorella on the immune system have been studied in both healthy subjects and those with compromised immune systems due to medication or illness.
4.
It promotes breast milk quality.*
Many of the toxins that nursing mothers unknowingly take in on a daily basis can be passed on to the baby through the mother's breast milk.
One study examined the effects that supplementing with 6 grams of chlorella per day had on breast milk quality. Encouragingly, chlorella was found to promote beneficial immunoglobulin (an essential antibody in the immune system) concentrations in breast milk.*
The research also revealed that women who were supplementing with chlorella had lower levels of dioxins in their breast milk.* Dioxins have been linked to developmental problems, as well as hormone imbalance and a weakened immune system.
5.
It can benefit body composition.*
Chlorella might be helpful as part of a weight management program.* A recent clinical study discovered that 16 weeks of chlorella supplementation led to a reduction in body fat percentage, total cholesterol, and blood glucose levels.*
6.
It has antioxidant properties.*
Oxidative stress, which can be caused by pollution, stress, or a poor diet, contributes to accelerated aging and adverse health conditions. Antioxidants can combat oxidative stress and protect cells from damage. Chlorella has been found to have antioxidant properties.*
In one study of chronic cigarette smokers, six weeks of chlorella supplementation was found to beneficially affect antioxidant levels.*
7.
It can promote healthy blood pressure.*
Chlorella might help maintain healthy blood pressure levels.* One study in hypertensive patients found that 1.5 grams of pure chlorella in tablet form per day resulted in a beneficial effect on blood pressure levels over a six-month period.*
How to get more chlorella
As with all supplements, it's important that you consult your physician before adding chlorella to your daily routine. Chlorella does contain iodine, so those with sensitivities to iodine or hyperthyroidism should avoid taking it.
Since evidence exists that chlorella stimulates the immune system, patients with autoimmune diseases should not supplement with chlorella. People with sensitivities or allergies to mold should also avoid it, as it may cause an allergic reaction. Be sure to purchase organic chlorella from a quality, certified supplier, when possible.
With all these benefits, it's easy to see why chlorella would be worthwhile to add to your supplement routine. Incorporating chlorella powder into your smoothies and soups, or sprinkling on salads is a quick and easy way to support your body's natural detox mechanisms, immune function, metabolism, and more.*