Reset Your Digestive System With This 6-Ingredient Soup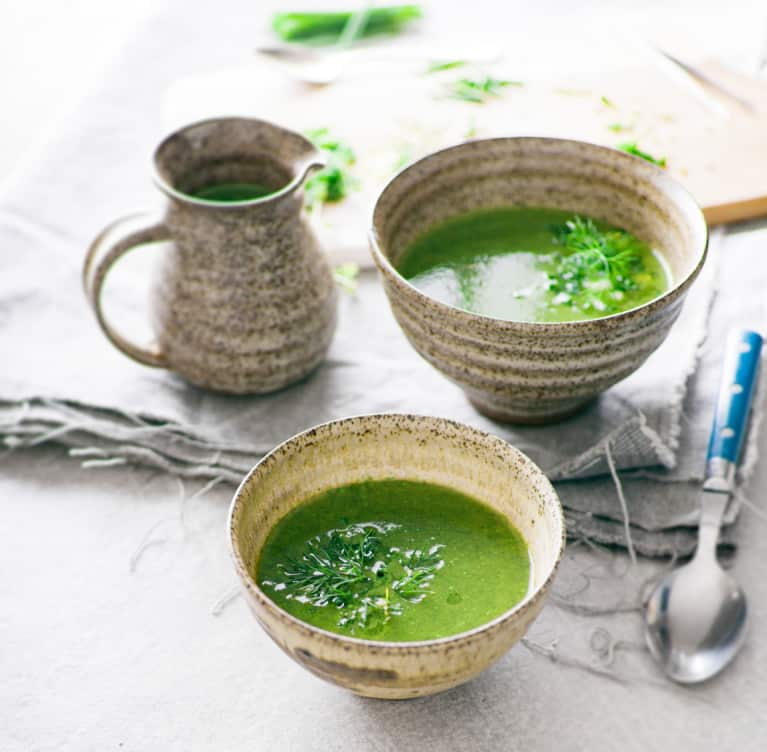 Our editors have independently chosen the products listed on this page. If you purchase something mentioned in this article, we may
earn a small commission
.
Looking for a simple way to pack in some extra vitamin and fiber while giving your digestive system a little love? The Ultimate Soup Cleanse cookbook is all about giving you the tools to easily and enjoyably reset your body with nourishing and nutritious foods—which is what we could all use a little more of this time of year, right?
In our previous soup cookbook, Magic Soup, we made zucchini and za'atar soup. There are many variations of za'atar, a Middle Eastern spice blend, usually made with thyme, sumac, and sesame seeds. It would be a great addition to this soup, too—you can buy it premixed or make your own.
For another cleansing winter warmer, check out Leek + Lentil Soup.
Zucchini, Lemon + Thyme Soup
2 tablespoons extra-virgin olive oil
3 or 4 medium zucchini, cut into cubes
1 teaspoon fresh thyme leaves, finely chopped
Zest of ½ lemon
1¼ cups hot chicken or vegetable stock
1 tablespoon pumpkin seeds
Preparation
1. Heat the olive oil in a saucepan. Add the zucchini and sauté for 3 minutes. Stir in the thyme and half the lemon zest. Add the hot stock, bring to a boil, then reduce the heat to maintain a simmer and cook gently until the zucchini is tender but not too soft.
2. In the meantime, heat a skillet and toast the pumpkin seeds with the remainder of the lemon zest until they just begin to pop a little—keep shaking the pan to prevent them from burning.
3. Remove the zucchini from the heat and let cool, then transfer half to a food processor with as much stock from the pan as necessary to achieve the desired consistency (you may prefer a smoother or chunkier soup).
4. Divide the remaining zucchini between two bowls, creating a pyramid in the middle. Ladle the blended soup around the zucchini and sprinkle with the toasted pumpkin seeds.