Self-Care Strategies For Healing From Heartbreak & Grief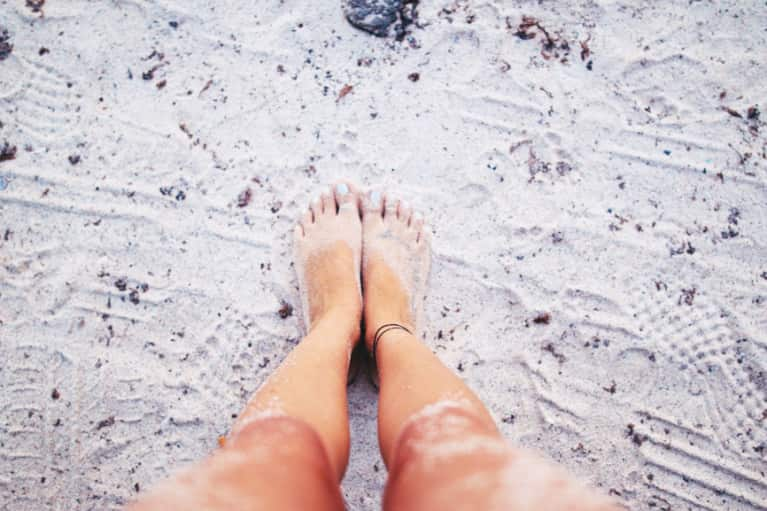 The year 2016 was an unprecedented one for loss: musicians and iconoclasts David Bowie, Leonard Cohen, and his purple highness Prince all seemed to slip away without warning. Well-loved and revered actors and actresses followed suit with Alan Rickman, Gene Wilder, Carrie Fisher, and her mother, Debbie Reynolds, all passing away. For many of us, 2017 couldn't come soon enough.
But grief is a funny thing. It likes to lurk around, stick in the cracks and crevices, hide and then reveal itself when you least expect it. Kind of like those old jack-in-the-box toys. You are going about your business and all is well and then BAM! Grief rears its ugly head and you're instantly an emotional mess.
Don't forget that heartbreak affects your physical body.
Emotional stress from grief can have many physical consequences like loss of appetite, emotional eating, and tension and anxiety from being on guard all the time—cautiously peeking around every corner in an effort to avoid grief and the feelings that come with it.
But we can't avoid grief, no matter how hard we might try (and let's admit it, we've all tried). Like it or not—grief is a part of life. But what we can do is incorporate self-care tactics to make sure we make the most of our time on this planet, live life to the fullest, and ease our way through grief the best way we can while honoring those we've lost.
Here are five self-care strategies to help accomplish this and heal.
Allow feelings to come and go.
That old saying "You have to feel it to heal it" is true. When you feel grief don't stuff it down deeper, for it will only come up again on another day, and with a vengeance. So feel the feelings: sadness, heartache, depression, shock, loss. Feel them, acknowledge them, and they will run through you. Keep them bottled up, and they will secretly run your life.
Whatever your ailment is, a good dose of decluttering can help. It sounds strange I know, but bear with me. Someone you loved is gone and you're surrounded by stuff, much of which you don't even like. It's time to let it go. Release what's not important so you can focus on and appreciate all that is.
Get out in nature. Put your bare feet on the earth or in the grass and take a deep breath of fresh air. Hear the ocean, watch the flowing stream, witness the calm lake. Feel the heat of the sun or enjoy sitting in front of the fireplace's warmth and glow. Connect with the elements—you'll find solace there.
Walk, run, skip, jump, dance! Do yoga, tai chi, Pilates, or hit the gym. Movement will dislodge the hidden grief from your cells so you can release it while simultaneously making you stronger.
Bask in the beauty of now.
Now is all we have. It's all we've ever had. And most—if not all—of those we lost to the "2016 curse" knew that to be true. Just look at how they lived their lives as one big adventure. Now it's your choice. How will you see all the beauty that surrounds you and make your own life a grand adventure?
We've made it to 2017, let's honor the lives of those we've lost by making ours better than we ever imagined possible.