Does Your Space Support Your Intentions? Use This Holistic Home Checklist To Find Out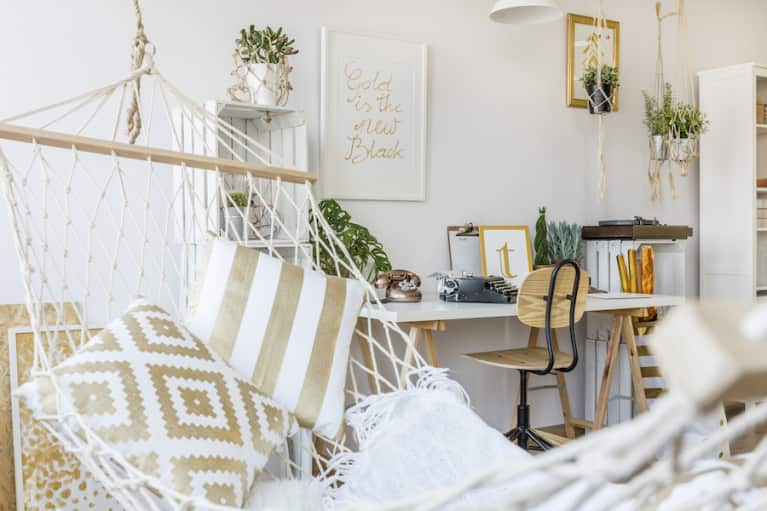 Did you know that your home can propel you toward your heart's desires, motivate you to take action, and become a living, 3-D manifestation board for all your wishes? As a feng shui consultant, I encourage my clients to view their home as the holder of their dreams.
Re-access and reconnect with your life vision and make sure your home is in alignment by first asking yourself the following questions:
1. Is my home supporting me on my life path?
2. Is it in alignment with my deepest desires?
3. Is it connecting me to my purpose, or have I allowed it to pull me off track?
Close your eyes and think back to how your home looked before you moved in. Why did you choose this space over others? How did you envision your life in this space? Now, open your eyes and look around your home as it is today. Is it the home you imagined for yourself?
Is it filled with your cherished mementos and favorite furniture, or is it overrun with clutter? If you're swimming in possessions you don't truly love, take this time to remind yourself that clutter represents the past and you want to open up your space for a successful future.
Below are seven ways to create a home that propels you toward your dreams.
1. Tell the right stories.
Write down your intentions for your life (health, love, career, creativity, travel, learning, etc.) and make sure your home possesses symbols that represent those specific desires. Each book, memento, painting, and photo should tell a story of value. Purposefully placing items to remind you of what you wish to manifest will fill you with an abundant energy.
2. Make your visions concrete.
Create a manifestation board with words and photos expressing your life vision. Place it where you can see it every day. It can be hung on the inside of your closet or cabinet so that you see it but your guests do not.
3. Sort through the clutter.
Clutter creates chaos internally and externally, which makes it much more difficult to realize your goals. Start with the visible areas such as countertops, coffee table, dining table, bookshelves, etc., so you can see the difference it makes. Once you conquer these surfaces, clear clutter from inside drawers, cabinets, closets, rooms, and storage furniture. Afterward, you will feel lighter and more capable of focusing on the present and future.
Remove items that remind you of unhappy or unsuccessful times in your life. You don't have to keep an item that brings you down, even if it was an expensive gift. Since everything has an energy and emotional imprint, it's important to display items that will support you in being happy, healthy, and motivated.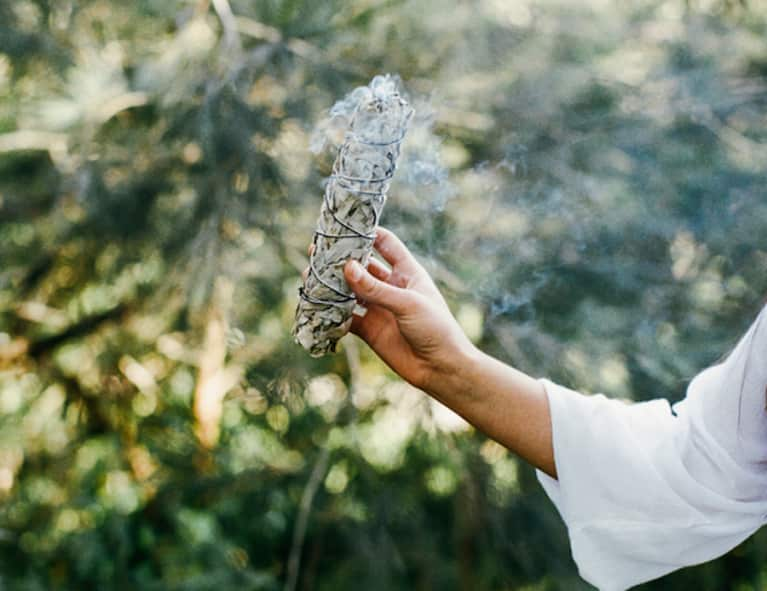 5. Clear out the bad vibes.
Once you've decluttered, conduct a space clearing to clean the energy of your space from past upsets. If you've had negative people or situations inside your home, that negative energy lingers so you must clear it for a fresh start. You can hold a sage, cedar, or rosemary ritual, or try a rainbow home cleanse. After the space clearing, feel free to perform a house blessing to instill your intentions purposefully into the environment.
6. Bring on the plant power.
Live plants and flowers increase positive energy and harmony as well as bring oxygen into the environment, helping you to move forward with greater happiness and ease. Once you dot your space with greenery, open the shades and allow natural sunlight to bathe each room.
7. Welcome the sounds of silence.
Create areas of peace and quiet in your home. Whether it's a serene bedroom, dedicated meditation area, or a relaxing bathroom where you can indulge in healing baths, it's essential to craft spaces that allow you to disconnect from the noise of the outside world and go inward. Be quiet enough to connect with your spirit and the divine energy within.