Here's What French Girls Wear To Yoga
mbg Contributor
By Leigh Weingus
mbg Contributor
Leigh Weingus is a New York City based freelance journalist writing about health, wellness, feminism, entertainment, personal finance, and more. She received her bachelor's in English and Communication from the University of California, Davis.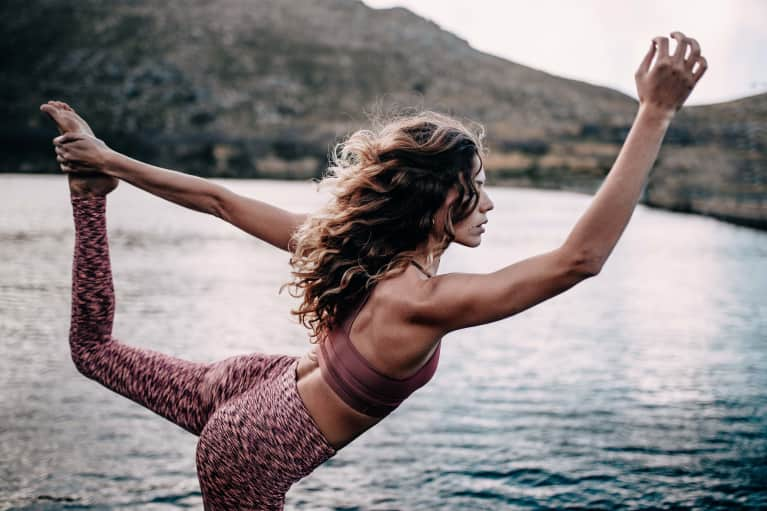 In the United States, yoga studios dance with vibrant, patterned leggings and comfy-yet-chic sweatshirts as students diligently flow their downward-facing dogs. As the U.S. athleisure industry gears up for what will surely be another successful year, we can't help but wonder: Are women in France just as crazy for trendy yoga pants?
No, yoga isn't quite as ubiquitous across the pond. Without the presence of programs like ClassPass, people aren't bouncing around from studio to studio, and they tend to go to class about once a week. Make no mistake, though—French women love yoga, and for many of the same reasons we do.
"Most students come to us seeking a holistic form of exercise, some start yoga due to physical discomforts, and others because they are looking for a healthier lifestyle," says Aman Singh, a yoga instructor in the French Riviera.
Now that we know that French women are most definitely practicing yoga—why else would they look so calm and collected all the time?—here's what you need to know about the athleisure scene.
The athleisure movement is having a moment—finally.
Yes, it's true: French women love their Lululemon leggings and sports bras. Aman adds that students often come to class in Lole and Casall, as both brands have recently opened stores nearby.
Paris-based author, journalist, and yogi Rebecca Leffler adds that the athleisure scene has been slow to arrive in France, but recent store openings have caused a boom.
"Lululemon just opened an incredible boutique/showroom at the Place St. Suplice, and they're opening another new spot in le Marais soon," she says. "Athleisure is more available than ever; major department stores sell Lole, Nike, and other brands. Many French fashion brands are branching out into athleisure like Ba&Sh yoga line with Ana Heart or American Vintage's new fitness line. EKYOG's 100 percent organic clothing is also perfect for yoga-to-street fashion."
"I used to get crazy looks when wearing yoga clothing through the très chic streets of Paris," says Rebecca. "I now see ladies wearing leggings and oversize sweaters all the time, going straight from fitness classes to the streets or out."
But a "laissez-faire" attitude is also alive and well when it comes to yoga clothes.
French women are known for their effortlessly cool look, and while athleisure brands may be picking up steam, there are certain women who still stroll to class in an oversize sweatshirt and plain leggings, and look very chic doing so.
"There's not this 'catwalk' feeling of everyone looking you up and down when you come to a class," Rebecca says. "They're there to move, not necessarily to model the latest yoga fashion trend."
Ah, to be French.