A Gut-Healthy Fruit That Fights Inflammation (That You Can Eat All Year Round)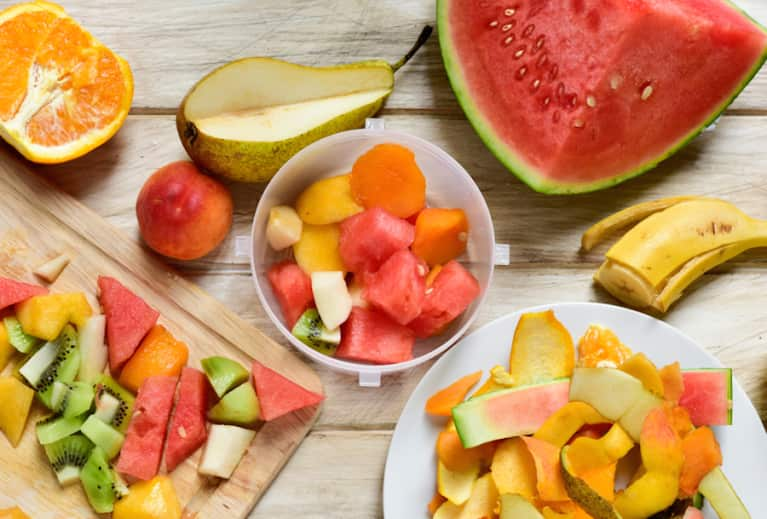 Our editors have independently chosen the products listed on this page. If you purchase something mentioned in this article, we may
earn a small commission
.
A luscious fruit bursting with sweet juice, it's hard to resist the tropical goodness of a ripe mango.
But not only do mangoes taste great in smoothies and salsas, they have a long history in Ayurveda and other ancient medicinal systems. (After all, they've been around for about 5,000 years ago.)
Scientists around the world are digging into mangoes ... and uncovering their many health benefits. The fruit is chock-full of good-for-you compounds like vitamins, minerals, carotenoids, and phenolics, and they have powerful anti-inflammatory effects on the body.
Here are 10 science-backed health benefits of mangoes:
1. They're full of antioxidants.
Studies show that mangoes are full of antioxidants like vitamin C, carotenoids like beta-carotene, and phenolic compounds like gallic acid. Researchers in Havana, Cuba, found that these compounds may help protect the body against oxidative stress and damage as well as reduce chronic inflammation, which can lead to cardiovascular and other degenerative diseases.
2. They contain mangiferin.
3. They boost your immune system.
Not only do they deliver a powerful antioxidant punch, but mangoes are also packed with vitamin B6 and vitamin C. Both of these vitamins help keep your immune system humming, and 1 cup of mango provides 100 percent of your daily needs.
4. They support a healthy heart.
A cup of mango also provides 20 percent of your daily requirement of folate — an essential nutrient that supports healthy cardiovascular function.
5. They may help prevent obesity and lower blood glucose levels.
In a first-of-its-kind study, scientists from Oklahoma State University found that mango lessened the rise in body fat, blood glucose, and cholesterol in mice following two months of a high-fat diet.
6. They support a healthy metabolism.
Studies show that the mangiferin in mangoes can improve metabolic abnormalities and soothe metabolic disorders.
7. They're good for your eyes.
Mango's orange-yellow color is a telltale sign that the fruit is rich in beta-carotene, a compound in vitamin A. In fact, mangoes provide 35 percent of your daily vitamin A — a crucial component to healthy eyes.
8. They keep your digestive system humming.
Fresh-frozen mango has been shown to be more helpful in treating chronic constipation in young adults compared to commercially available fiber treatment. Those who were given the fruit experienced less severe symptoms and improved biomarkers of inflammation in the gut.
9. They help enhance your iron absorption.
Iron deficiency is no joke. In fact, according to the Centers for Disease Control, it's the most common nutritional deficiency in the world. Your body needs iron to help your red blood cells carry oxygen and support healthy immune function and cognitive performance.
Mangoes can help boost the absorption of non-heme iron, which is harder for your body to take in on its own. When non-heme sources of iron are eaten together with vitamin C-rich foods like mangoes, your body is better able to absorb the iron.
10. They may improve your overall nutrition
After studying a group of approximately 29,000 children and adults in the United States, researchers found that those who regularly ate mangoes consumed higher amounts of dietary fiber, vitamins B6 and C, magnesium, and potassium. They also ate less added sugar and sodium.
Mangoes are a great example of how food can bolster our body's natural defenses and improve our physical health. And lucky for us, the fruit is available year-round!