10 Cooling Teas That Are Packed With Health Benefits
mbg Contributor
By Cheryl Boiko
mbg Contributor
Cheryl Boiko is a community herbalist based in Carroll Gardens, Brooklyn, and owner of Remedies Herb Shop. She completed the advanced immersion program at the Institute for Integrative Nutrition and is a certified holistic health practitioner.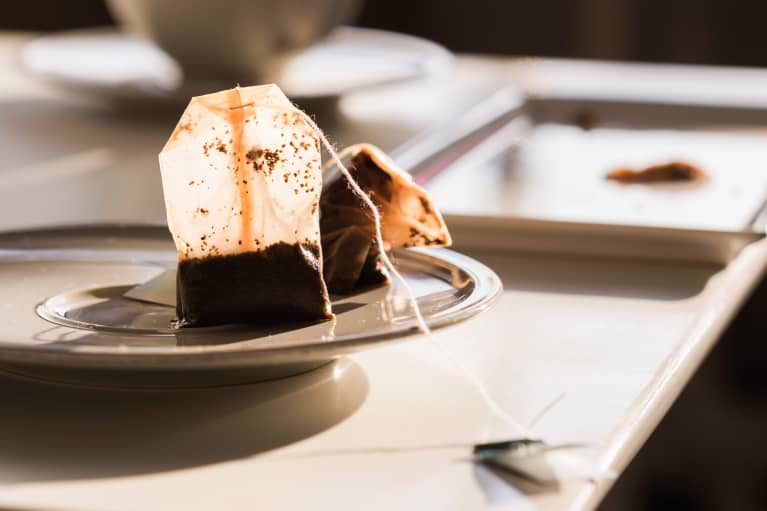 The summer heat has hit hard in the Northeast, as I'm sure it has in many locales across the country.
Drinking refreshing iced tea is a yummy way to help keep your body cool, and many herbal teas also come packed with a slew of health benefits.
Here are 10 of my favorite cooling herbs, many of which are antipyretic, meaning they assist in lowering body temperature. I encourage you to experiment with the individual plants and get to know their flavors and personalities, then mix and match according to your taste buds to help keep you comfortable and fresh all summer.
Lemon Balm is a relaxing, mildly sedative herb that can help calm nervousness, tension headaches, and indigestion. It helps many postpartum women in alleviating the "baby blues" and is a tasty, gentle remedy for kids. I like to pair it with equal parts nettles and half-part spearmint.
Shatavari is a powerfully rejuvenating herb that is commonly used in Ayurvedic medicine to support all stages of a woman's reproductive cycle. It can reduce the symptoms of PMS, mood swings, irritability, and hot flashes and is considered a fertility-enhancing herb, which is why it translates as "having 100 husbands"!
Fennel is a sweet, licorice-flavored tea and all-around digestive aid. It supports liver function and can reduce indigestion, nausea, gas, and bloating. Try a nice cold glassful the next time you overindulge at a backyard BBQ!
Spearmint and peppermint both contain menthol, which binds with cold-sensitive receptors in the mouth and causes a cooling sensation. Both can relieve cold and flu symptoms, headaches, indigestion, and nausea.
Elderflower has anti-inflammatory, antibacterial, and antioxidant properties and is useful for respiratory issues such as sinus infections, allergies, colds, and flu. Try it with peppermint and rose hips if you find yourself with a summer cold.
Rose hips are an excellent source of antioxidants and vitamin C, making them potent immunity boosters. They have a delicious slightly sour, slightly sweet flavor and pair nicely with lemon balm or hibiscus.
Hibiscus is another plant that's high in both antioxidants and vitamin C. It has a tart, sour-berry flavor and has historically been used to fight high blood pressure and liver disease and lower fever.
Chickweed contains saponins—soapy substances that help the body better absorb nutrients—and its emulsifying effects can dissolve and break down cysts, mucus, and even fat. Try pairing it with fennel for a fat-burning plant powerhouse in a glass!
Nettle is a favorite of mine in the summer, when intense heat and humidity can sometimes cause my ankles to swell. A big, cold glass of nettle tea works every time to relieve inflammation and water retention.
While stevia is not classified as cooling, it is the perfect addition for those who enjoy sweet tea. A pinch or so is all you need to help lower blood pressure, blood sugar levels, and cholesterol. Be sure to use pure stevia powder, which is bright green in color. (Packaged, white stevia products often contain MSG and other additives and preservatives.)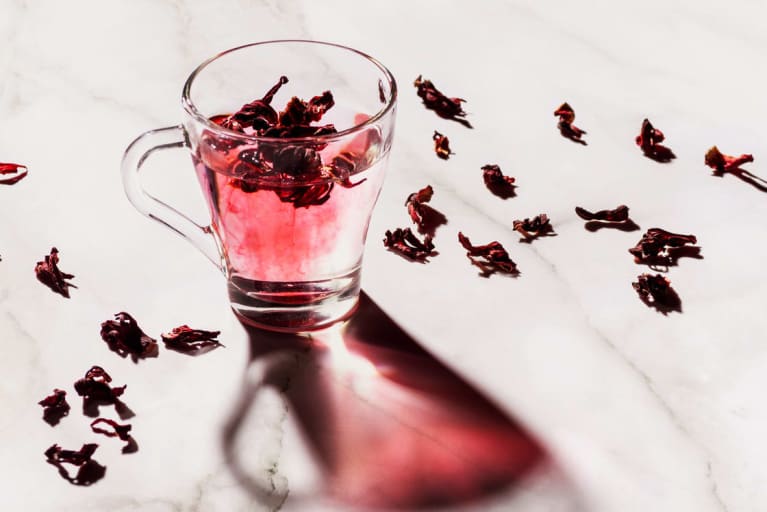 This summer, we can't seem to get enough of this delicious deep-red tea blend at my Brooklyn herbal shop, Remedies. The brainchild of fellow herbalist Jo Anne Richards, it's incredibly cooling, calming, and flavorful.
Ingredients
Preparation
1. Boil 1 quart of water and pour over the dried herbs in a Mason jar or French press.
2. Cover and let steep for 30 minutes.
3. Move to the refrigerator until chilled. Strain and enjoy!