4 Potentially Toxic Beauty Products To Stop Using — For Good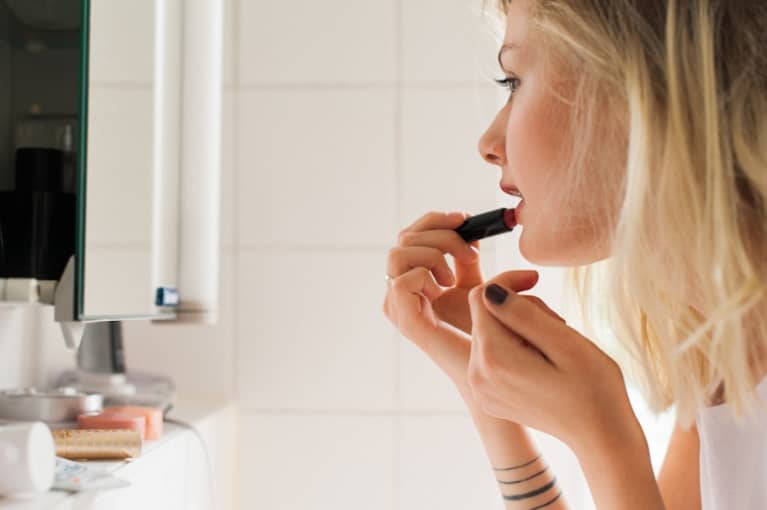 The average woman uses 12 personal care products a day, and they contain an average of 168 unique ingredients.
This number may seem high, but think about your typical bathroom routine: Each morning you brush your teeth, take a shower, and use some soap, body wash, shaving cream, shampoo, and conditioner. After the shower, you put on lotion, deodorant, face cream, makeup, hair styling products...the list could go on and on.
Not all of these products are toxic, but many of them often contain dangerous chemical compounds like parabens, phthalates, and dioxins. Daily exposures to these chemicals really add up over time, so it's incredibly important to watch what you're putting on your body.
Use resources like the EWG Healthy Living App and the Think Dirty App to distinguish the unhealthy ingredients in your products, and then make these simple swaps to detoxify your bathroom shelves.
Bar soap seems like a simple enough product, but its ingredients can be anything but simple. Its magical lather effect is made possible by a chemical called sodium laureth sulfate (SLS)—a common skin, eye, and lung irritant. (There's a reason it hurts when you get soap in your eyes!) Other ingredients to watch out for are triclosan, parabens, and fragrance (which is often just a blanket term used to describe chemicals not listed on the label).
Swap out the chemicals for soaps that are made with natural ingredients like shea butter, coconut oil, and cocoa butter, and scented with essential oils. Local farmers markets are great places to find these cleaner alternatives.
Using lotion regularly is a great way to maintain healthy skin throughout the year, but you need to pay close attention to its additives. Watch out for ingredients like coal tar (a lotion-thickening agent that has been linked to cancer), parabens, fragrance, and butylated compounds. The best lotions are the simple ones made out of natural butters and oils.
Many people see soapy suds as a sign that the product they're using is really working, but suds are actually an indicator of two chemicals called sodium laureth sulfate and 1,4-dioxin—both of which are potentially toxic and should be avoided. Look out for Polyethylene glycol (PEG), colorants, potassium sorbate, and fragrance, too (we keep seeing this one!). There are plenty of shampoo products out there that don't have these ingredients, and you can even try to wean your hair off shampoo completely to save money and packaging.
I know what you're thinking: Finding new deodorant isn't an easy task! But these days, there are so many natural options on the market that are as effective as the chemical stuff. Some of the most common offenders in traditional deodorants are fragrance, propylene glycol, triclosan, phthalates, and parabens. Replace them with options that use shea butter, coconut oil, baking soda, arrowroot powder, cocoa butter, and vitamin E.
Related reads: