Cameron Diaz On Aging Well, Trusting Your Gut, And #Wellth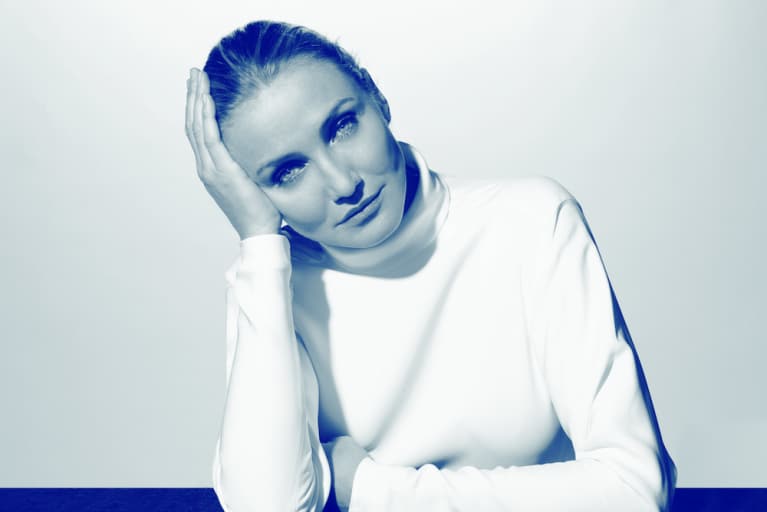 Our editors have independently chosen the products listed on this page. If you purchase something mentioned in this article, we may
earn a small commission
.
I've spent the past year thinking a lot about "wellth" — the idea that success is found in a lifestyle devoted to mental, physical, and emotional health. (I even wrote a book about it.) In this series, we're celebrating visionaries who embody what it means to be wellthy.

The actress Cameron Diaz probably doesn't need any introduction—you already know her from the way she lit up the screen in films like Gangs of New York, and There's Something About Mary.
But here at mindbodygreen, we also love Cameron for something else: her inspiring dedication to meditation, health and wellness. This month, she follows up her best-selling 2013 book, The Body Book, with The Longevity Book, a new guide to the art and science of aging. As she shows here, Cameron is a glowing example of what it truly means to live well, for life.
mbg: Favorite way to break a sweat?
CD: The best way to sweat is—no pun intended—whatever moves you.
Favorite healthy place to eat?
How do you de-stress and practice self-care?
I try to meditate every day.
What's your favorite way to escape and get some nature?
Wherever I am, I just walk outside and head for the trees, the water, the hills.
What's the biggest takeaway you learned from writing your book?
That the best way to age is to live! And to live a long life, it's quite simple: move your body, eat wholesome foods, sleep, make good friends and relieve stress.
If you could go back in time and give advice to your 20-something self, what would it be?
Trust your gut, and take care of it.
What does wellth and success mean to you?
Living life to the fullest.
Any advice for someone who's looking to build a life that they love and follow their passion?
Proceed with an open mind and let your heart lead the way.