5 Foods To Eat To Boost Your Fertility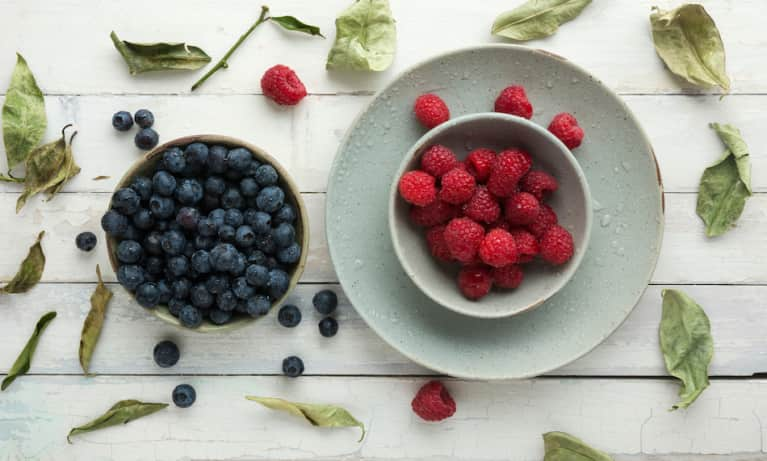 Our editors have independently chosen the products listed on this page. If you purchase something mentioned in this article, we may
earn a small commission
.
Last updated on November 21, 2019
Jamie Grifo, MD, one of the leading fertility doctors in the country, teamed up with Kyra Phillips, a CNN correspondent and former fertility patient, to co-author The Whole Life Fertility Plan: Understanding What Affects Your Fertility To Help You Get Pregnant. In this excerpt from the new paperback edition, the authors explain what you need to know about eating for your fertility.
Digestion and nutrition play a key role in just about every aspect of our health, including fertility. What you eat and drink affect the way your body works for better or worse — so let's make sure you understand how to properly nourish yourself.
Kim Ross,MS, RD, CDN, suggests consuming as many high-water-content, nutrient-dense foods as possible — whole foods from the earth. When she counsels fertility clients, she advises them to go with an 80 percent plant-based diet along the lines of the Mediterranean diet because it's anti-aging and decreases chances of disease. This type of diet improves your overall health, which includes your reproductive health.
5 Foods That Help Boost Fertility
There are also a few specific foods you can eat in order to help retain or improve your fertility. Here's what's recommended:
1. Whole grains, such as brown rice and unrefined breads
Refined carbs — think white bread, white rice, sugar — cause an increase in blood sugar and insulin in the body that can disrupt hormones and your ovulation cycle. Whole grains don't have this effect. Women between 19 and 50 years old are recommended to eat 6 oz. daily.
Iron is an important nutrient to aid fertility, and the easiest way to get iron in your diet is through meat — but it should be lean meat. Choose lean cuts and eat about 3 oz. per day; trim the fat; and bake, grill, or broil instead of frying.
Studies show that women who increase their iron intake during the preconception period have a higher fertility rate than women who are iron-deficient. If you're a vegan, you may need to take a vitamin with iron in it, along with folate.
Salmon, sardines, herring, and other types of fatty fish boost fertility, thanks to their high levels of omega-3 fatty acids, which increase blood flow to the reproductive organs.
Vegans or vegetarians will benefit from omega-3 fatty acids from flaxseeds, almonds, walnuts, pumpkin seeds, and DHA-enriched eggs.
Milk, cheese, yogurt, and other dairy sources are good for bone health as well as reproductive health. Some research shows that women who have problems with ovulation may benefit from a serving a day of full-fat dairy.
5. Organic raspberries and blueberries
All fruits and vegetables are great for you, but these berries are particularly good for fertility. Packed with antioxidants, they protect your body from cell damage and cell aging — and this includes cells in your reproductive system and your eggs.
Why You Should Fill Up on Fiber
Fiber is another tool to flush out excess estrogen, says Ross. Fiber adds bulk to your digestion and helps you feel full. It also helps prevent constipation, which keeps things "moving right along." When you have a diet with inadequate fiber, you can slow down your digestive system, and the estrogen that's sitting in your bowel waiting to make its exit can get bored waiting and get reabsorbed into your system, causing a buildup of too much estrogen.
Pay attention to ingredient labels: you want to aim for about 25 grams a day (that's the recommended daily intake level for women; men should get 38 grams), whereas most American women get about half that amount per day.
If you're not getting enough fiber, then build up to optimal levels slowly over the course of about three weeks. You can use dietary supplements, but it's better to get your fiber from food for several reasons. For one, foods that are high in fiber are typically very good for you all around (such as fruits and vegetables that also contain important vitamins). Plus, you can control the intake of fiber gradually throughout the day rather than taking just one big dose.
Fruits: raspberries, prunes, raisins, pears, blackberries, apples
Legumes: navy beans, black beans, split peas, pinto beans, kidney beans, lentils, lima beans
Vegetables: artichokes, green peas, broccoli, Brussels sprouts, sweet corn
Grains, pasta, and cereal: whole-wheat spaghetti, rye bread, whole-wheat bread, bran flakes, oat-bran muffins
Nuts and seeds: sunflower seeds, pistachios, almonds, pecans, walnuts, peanuts
If you have a sensitive stomach, you may want to limit your intake of dairy, which is hard for many people to digest even without a clinical lactose intolerance. But Ross makes an exception for yogurt because it contains probiotics — which have the opposite effect. Probiotics are great for your gut, and like fiber, they can help your digestive system work better and improve your immune function, which improves your fertility as well. There are also a ton of dairy free yogurt options that have the same benefits.
You can take a daily probiotic supplement available at drug stores, or you can get probiotics from your diet. Good sources, aside from yogurt, include kefir, sauerkraut, and miso.
Aside from the fertility-boosting potential, these dietary additions are nutrient-rich and delicious. Adding them into your meals will support you beyond your pregnancy journey.