The Important Reason That This Woman's Facebook Selfie Is Going Viral
November 8, 2015 — 18:11 PM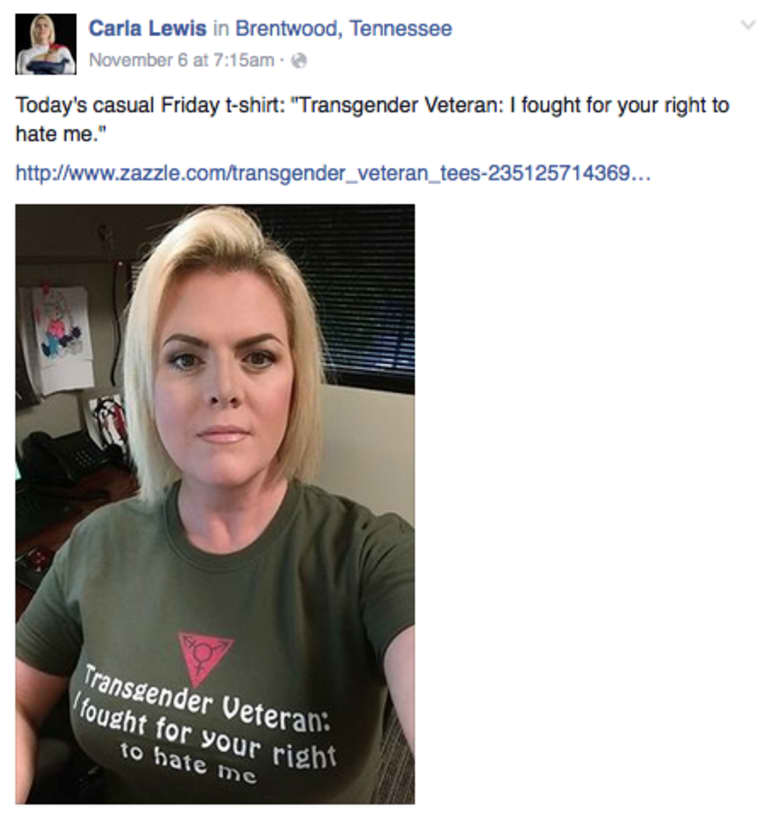 Talk about a fashion statement: Transgender veteran, Carla Lewis, just started a crucial conversation with a shirt that reads "Transgender Veteran: I Fought For Your Right To Hate Me."
Lewis — who was discharged from the Air Force in 2010 for gender identity disorder — posted the photo of her outfit on Facebook this Friday, and it's since garnered thousands of shares and comments.
It's shocking that, though Lewis has the right to fight for her country, she doesn't have the right to fight for her identity. The military currently doesn't allow openly transgender people to serve and, according her her website, Lewis' Air Force discharge papers state that she has "mental disorders."
She explained the significance of her shirt to Huffington Post:
Whenever a citizen volunteers for the armed services they immediately, at the very moment, make the conscious decision that they will sacrifice their life if it means securing freedom for their fellow citizens. Every right, every privilege enjoyed by an American citizen is paid with the currency of soldiers' lives. Even if the rights and privileges secured enable others to lobby against me and my transgender brothers and sisters. Freedom matters to us.
Though the trans community has made important strides lately, and popular programs like I Am Cait and I Am Jazz are inserting trans narratives into the national dialogue, Lewis' story shows that there's still work to be done. She's proving that everyone needs to change their definition of "normal," and accept people as they are instead of giving them no choice but to hide.
Carla Lewis, we salute you.