A Simple, All-Natural Technique For Cleaning Your Makeup Brushes
Go ahead, admit it ... the thought of cleaning your makeup brushes doesn't occur to you very often (or at all!), does it?
I used to be like that until I realized that even though I was taking the utmost care to only use natural makeup and skin care products, I was applying everything with dirty brushes. All it took were a few breakouts to get me thinking about what I was doing wrong and it soon occurred to be that dirty tools were the culprit.
I'm happy to report that since cleaning up my brush-cleaning-act, my skin is clearer and my brushes not only look nicer, they're performing better than ever!
All-Natural Makeup Brush Cleaner
Ingredients
extra-virgin olive oil
liquid Castile soap (lavender and peppermint are my favorites)
distilled white vinegar
two glass bowls
warm water
clean washcloth or towel
tall glass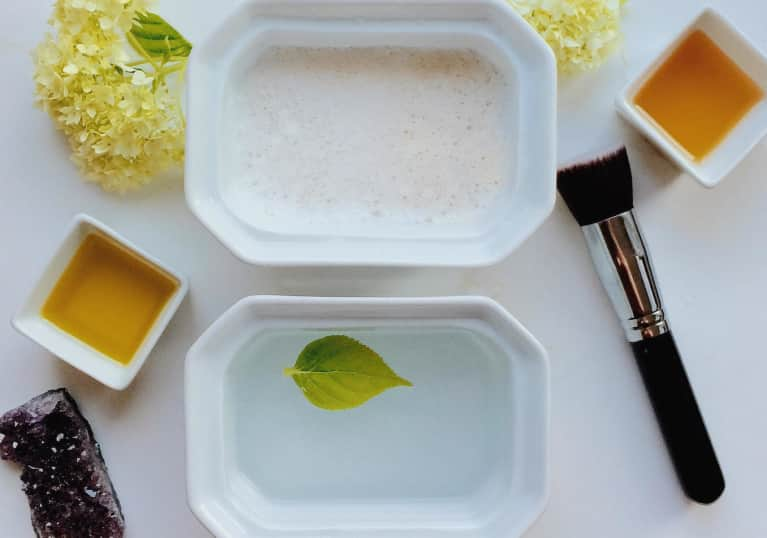 Preparation
Pour one teaspoon of olive oil onto your clean washcloth or towel. Then press the bristles of your dirty brush into the oil until saturated. Be careful not to involve the handle at all — this step is specifically to moisten the brush and loosen the dirt/old makeup.
Lightly wipe the bristles back and forth on the washcloth.
Combine the Castile soap and warm (filtered) water into one of the glass bowls. Swish the brushed back and forth in the soapy water using your fingers to squeeze the bristles to release embedded dirt. I do this process one brush at a time using a new batch of the cleanser for each brush.
Pour 1/2 cup of distilled white vinegar into the second glass bowl. Put your cleansed and squeeze-dried brush (bristles only!) into the vinegar. Remember not to get the handle wet! This step is to make sure the brush is clear of any bacteria.
Rinse the brush under warm running water for a quick final rinse. Squeeze extra water from the brush, reshape the bristles and place upright in the tall glass to dry properly. If it's a sunny day, I leave mine outside to air-dry in the sunshine.
Enjoy your squeaky clean, bacteria-free brush.
Regular delicate cleansing of your brushes will make them last longer and will have a noticeable impact on the state of your skin!