The One Sleep Position That Every Snorer Should Be Avoiding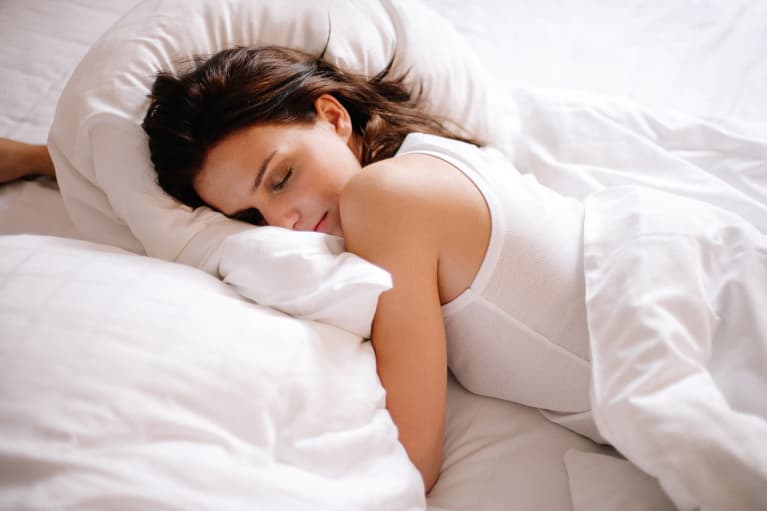 Our sleep position every night can affect everything from our breath to our posture and even the quality of the sleep we're getting overall. One of the main objectives when you lie down at night should be to keep your neck and spine in proper alignment, but for folks who snore, mitigating snoring is a big priority too. And as it turns out, there is one position to avoid if your snoring is troubling you (or your partner).
The sleep position that lends itself to snoring.
According to psychiatrist and sleep expert Nishi Bhopal, M.D., sleeping on your back is a big contributor to snoring. The reason being, when you lie on your back, your tongue and soft palate relax to the back of your throat, causing a vibration (the snoring sound you hear).
Luckily, there are a few easy fixes to keep in mind if you want to stop snoring.
How to reposition yourself.
As Bhopal explains, if you find yourself snoring while on your back, your best bet is to stay on your side as much as you can. You probably want to avoid sleeping on your stomach, too; it doesn't necessarily cause snoring, but it's very hard on the neck.
"There's an old-fashioned hack that involves attaching a tennis ball(s) to the back of your pajamas to prevent you from rolling onto your back," Bhopal tells mbg. There are even sleep position trainers that vibrate whenever they sense you're sleeping on your back, she adds, should you need the extra nudge.
"Alternatively, you can place a firm pad or pillow behind you to help you stay on your side," she says. And speaking of pillows, she adds, you can find ones that are ergonomically designed for side sleeping, including body pillows, which are "quite supportive and can make side sleeping more comfortable."
Other ways to ease snoring.
Aside from your sleep position itself, which is probably the biggest factor to keep in mind, some other ways to mitigate snoring include avoiding inflammatory foods, as well as avoiding eating and drinking alcohol close to bedtime. All of these things can contribute to constricted breathing.
Before bed, you can try doing a facial steam, putting on a nasal strip, and/or using a humidifier, to open up those airways. Another pre-bed ritual to consider is using a sleep-supporting supplement, like mbg's sleep support+, to help you achieve more restorative sleep.* And of course, staying hydrated never hurts to loosen up mucus.
Whatever works for you to help stop the snoring—do it. Not only is it affecting your breathing at night, but that translates to less energy during the day. When we can breathe well all through the night, we wake up feeling rested and ready for that day, and that's what good sleep is all about.