The 16 Things You Need Before You Start A Decluttering Session
mbg Contributor
By Tracy McCubbin
mbg Contributor
Tracy McCubbin is a decluttering and organizational expert who has spent the last decade decluttering over 1,200 homes around the country. She has a bachelor's from the University of California, Santa Barbara, and most recently authored Making Space, Clutter Free: The Last Decluttering Book You'll Ever Need.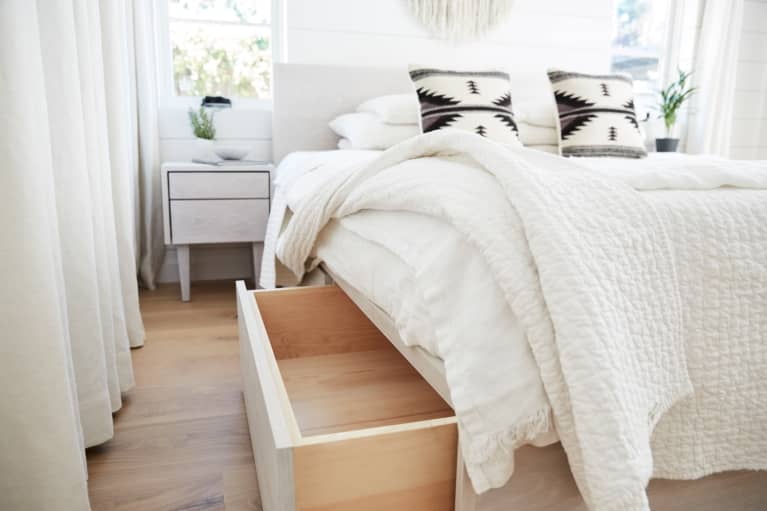 Our editors have independently chosen the products listed on this page. If you purchase something mentioned in this article, we may
earn a small commission
.
I know it may seem counterintuitive for me to send you shopping right now, but before we begin, you're going to need to have a few things on hand. Of course, I have to issue a standard warning here: If you are someone who tends to over-purchase, do not go overboard. You can always get more of any of this later if you run out. Before you head to shop, double-­check that you don't already have all of these.
I am also a huge fan of using your clutter to declutter. Do you have a bag of bags in the closet? Or boxes of boxes in the garage you've been squirreling away for just this reason? This is their lucky day! They are about to get called into action.
These are the tools I arrive with at every job, and they will be indispensable:
Only get them as big as you think you will be able to comfortably lift when they're full. So do not buy lawn and leaf or contractor size unless you are expecting some brawn to show up at the end and remove them.
Your local liquor or grocery store probably puts out dozens a night, or check the free stuff section on Craigslist where people who have just moved will list their used boxes. Stock up!
3.
Hanging wardrobe boxes.
But only if you are expecting to have a lot of clothes to donate that need to remain unrumpled, like business clothes for the charity Dress for Success. The caveat is that they are heavy when full, so use them only if you are planning on calling on professional muscle to get them out at the end. If not, then used shopping bags are your best bet.
4.
Post-­its in four colors.
To label: Keep, Donate, Recycle, Trash.
8.
Rubber or latex gloves.
The amount of dust hiding in very clean homes where stuff has amassed will amaze you. And with dust come dust mites, the invisible bugs that live on our dead skin and eventually take over pillows, headboards, mattresses, and couch cushions. Save yourself the clutter cough and get some masks.
This one's optional. I tend to just wipe everything down with water, but if you prefer a stronger cleanser, get that too.
I am not kidding. You will get something called decision fatigue at some point because the part of the brain that holds you to a task and helps you make decisions runs on glucose. When it runs low, you'll stop being able to think so clearly. I'll talk more about that later, but in the meantime, stock up on whatever you like to nibble on to keep going. I once arrived at a house-­clearing job to find the daughter of a widower having a beer at 10 a.m. She was holding one of her late mother's sweaters. "It felt like this called for day drinking." No judgment. The only caveat: It has to be something that helps, not hinders the process. My day drinker went on to clean for the next eight hours after she finished her one beer. If it makes you need a nap, don't pick it.
This is dusty work. This is manual work. Plan to drink water like you are working out.
It can be a great motivational help, but pay attention to it. One hour, you may need to be pumped up. Later in the day, you may need something soothing.