What Mandy Moore Does For Her Gut Health — And The Two Supplements She Swears By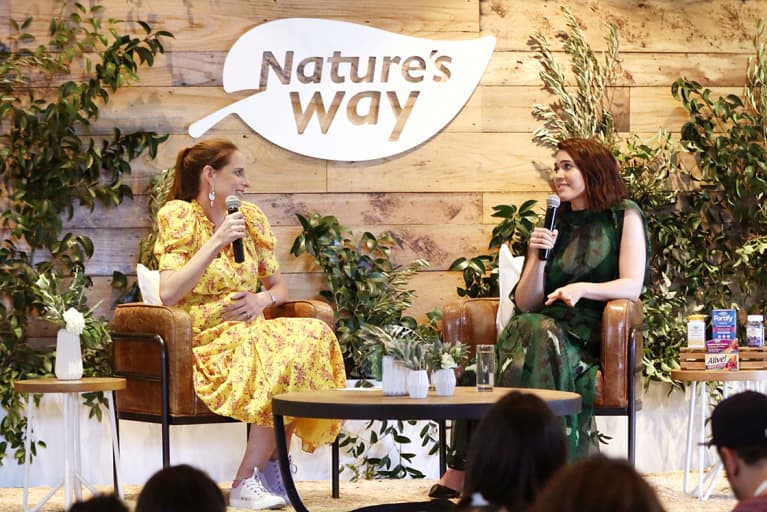 Our editors have independently chosen the products listed on this page. If you purchase something mentioned in this article, we may
earn a small commission
.
You may know Mandy Moore for her acting in A Walk to Remember, The Princess Diaries, and most recently the hit series This Is Us. What's less known is aside from her job as an actor she's passionate about all things wellness. I had the pleasure of sitting down with Mandy and Nature's Way while I was at Natural Products Expo West in Anaheim, California, last week to talk about how she takes care of her skin, her nighttime routine, the supplements she loves, and what steps she's taking to heal her gut. Here are the wellness habits she swears by.
When it comes to skin care, she told me she finds drinking lots of water and wearing sunscreen every day makes a huge difference. Growing up in Florida, she spent a lot of time in the sun but has been better about wearing sunscreen every day over the last five years.
She also believes in getting quality sleep. "I'm an early-to-bed kind of girl; if I had my way, I'd be asleep by 8:30—and sometimes I am," said Mandy.
I couldn't help but wonder about the nighttime routine that makes this deep slumber possible. It turns out not looking at her phone in bed whether it's morning or night is an essential part of her routine. "It's not the thing that I'm doing right before I go to sleep; it's not the first thing I reach for when I wake up," said Mandy.
Coffee with a dash of collagen
When she does wake up, she loves a coffee with either steamed almond or oat milk and collagen peptides. "I've noticed a crazy difference in the last six months: My nails are stronger, my hair grows like a weed, and my skin feels good," said Mandy about taking collagen peptides daily. In addition to collagen peptides, another supplement she's noticed has made a big impact is vitamin D—"my skin benefits, my mood, my immune system, all of that, so that's my favorite," said Mandy.
While her wellness routine may sound simple, she opened up about a more difficult struggle. "I'm on the eternal hunt to figure out what is wrong with my gut health," said Mandy. For a while, she thought she had celiac disease, then learned it was actually a severe gluten intolerance. More recently, Mandy thought she had SIBO, but the test was negative.
To tackle her stomach troubles, she's been drinking chlorophyll-infused water and seeing a new doctor for her gut health who recommended she practice 15 minutes of meditation before getting her test results back. "It honestly has made a world of difference already," said Mandy, and in fact, she's setting time aside most days to do 15 minutes of meditation for her mental health, tests or not.
Just like many of us, Mandy's wellness journey is ever-evolving, but we love how she always comes back to the basics—sleep better, breathe more, and keep growing.
Want to turn your passion for wellbeing into a fulfilling career? Become a Certified Health Coach! Learn more here.