This Creamy Alternative Milk Is Protein-Packed, Mineral-Rich & Nut-Free
mbg Health Contributor
By Gretchen Lidicker, M.S.
mbg Health Contributor
Gretchen Lidicker earned her master's degree in physiology with a focus on alternative medicine from Georgetown University. She is the author of "CBD Oil Everyday Secrets" and "Magnesium Everyday Secrets."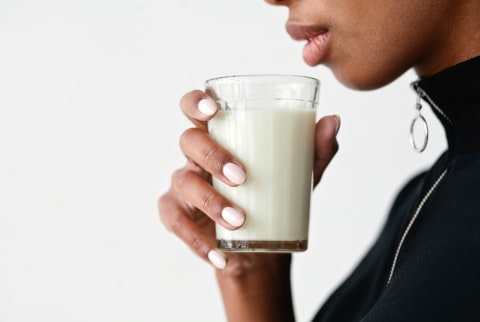 Image by Sergey Filimonov / Stocksy
April 23, 2019
Soy milk, almond milk, oat milk, rice milk, coconut milk ... the list of alternative "milk" options go on and on. For those of us who are lactose intolerant, vegan, or just attempting to live a more plant-based lifestyle, this means a ton of options. And now, you can add one more to the list above: hemp milk.
This new type of plant-based milk is becoming more popular by the minute, so here's everything you need to know about hemp milk, its benefits, its nutrition profile, and how to make your own right in your own kitchen.
The health benefits of hemp milk
Hemp milk is made from the seeds of the hemp plant, which you might be familiar with from sprinkling them on your yogurt and salads or stirring into your overnight oats. The milk made from these delicate, white seeds is a great source of minerals, healthy fats, and plant protein. In fact, according to Nour Zibdeh, MS, RDN, CLT, hemp milk has even more protein than other common plant-based milks. "A cup of hemp milk contains 3 to 4 grams of protein, which is higher than almond or coconut milks," she explained.
Hemp seeds are also a great source of minerals like phosphorus, potassium, sodium, magnesium, sulfur, calcium, iron, and zinc, so you're a little closer to your recommended intake of each of those minerals by consuming hemp milk on the reg.
Healthy fats in hemp milk: ALA omega-3 fatty acid
Hemp milk is particularly unique because it contains high amounts of the plant-based omega-3 fatty acid alpha-linolenic acids, or ALA for short. Unfortunately, ALA is not converted into EPA and DHA—the bioactive forms of the omega-3 fatty acid—very efficiently1 in the body, but it does still have some positive benefits.
As Carlene Thomas, R.D. wrote for mbg, "One body of research2 found that women who ate more ALA fatty acids had a 40 percent reduced risk of sudden cardiac death, while the Cardiovascular Health Study3 found that there was a 50 percent reduced risk of fatal ischemic heart disease with higher ALA intakes in both men and women over age 65."
Is hemp milk sustainable?
If hemp's nutrition profile wasn't enough to convert you, there's a chance its sustainability factor will be.
Hemp milk is made from an extremely resilient plant that grows in a variety of conditions with little water and is naturally resistant to most pests.
How to choose the best hemp milk
If you've decided that its rich mineral content and lesser need for water is enough to give hemp milk a go, there are a few things to know before you go shopping. The first has to do with sugar, as Zibdeh explained: "When picking hemp milk, choose varieties that are not sweetened. Sweetened and flavored varieties often contain sugars or syrups that negate its health benefits."
The second has to do with gums. "Hemp and most other dairy-free milks contain gums to keep the beverage homogeneous and from separating. But people with digestive disorders or symptoms like IBS, IBD, stomach pain, bloating, diarrhea, or constipation may experience more stomach upset from these gums." If you have these digestive issues, it's best to avoid these ingredients and look for a hemp milk with the fewest possible ingredients, which brings us to…
How to make your own hemp milk
Whether it's added sugars, gums, or flavoring, you might no be happy with the hemp milk options you find at the store. The good news is that as with most nut and seed milks, making your own hemp milk is refreshingly simple. Much like making your own oat milk, hemp milk just requires water, hemp seeds, and a pinch of salt.
¾ cup hulled hemp seeds (also called hemp hearts)
2 cups water
Pinch of salt
Add all ingredients to blender (with sweetener, if using: See note above).
Blend until very smooth. You can strain this one through a clean, thin dish towel or a nut milk bag, but I don't find it necessary—I just shake well before using again.
Makes 2 cups milk that can be stored in the fridge for up to a week.
Now that you're an expert on all things hemp milk, you might be wondering one last thing: How do hemp seeds and hemp milk relate to hemp-based CBD oil? Are they really from the same plant? There are a lot of different versions of the hemp plant, but the short answer is yes. Hemp is more than just super sustainable, its extremely versatile: It can be used to make anything from soap and paper to clothing and biofuel. As we already know, hemp seeds make a tasty snack and can also be used to make hemp milk or hemp seed oil (not to be confused with CBD oil). CBD oil is still made from hemp, it's just extracted from a different part of the plant that is richer in specific medicinal compounds, called cannabinoids, than the seeds.