A Holistic Interior Designer Shares Her Top 3 Home Must-Haves
Interior Designer
By Laurence Carr
Interior Designer
Laurence Carr is an NYC-based interior designer recognized for her application of wellbeing principles and ancient techniques in high-end residential interior design. She is a graduate of Parsons The New School of Design in New York and a member of the Sustainable Furnishings Council.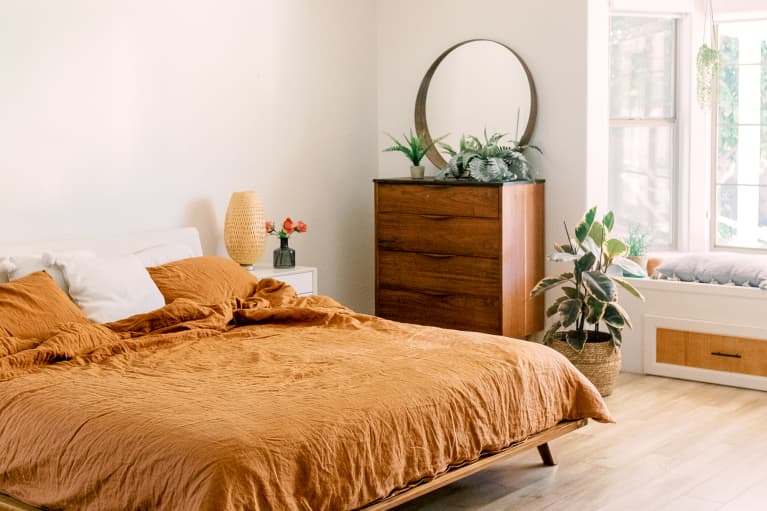 Our editors have independently chosen the products listed on this page. If you purchase something mentioned in this article, we may
earn a small commission
.
I consider holistic interior design to be one of the most effective (and underrated) tools we have to improve quality of life and well-being. Holistic interiors blend the ancient wisdom of feng shui and vastu with modern interior architecture and design concepts to promote health and healing at home.
Holistic home design tweaks that can have reverberating effects on your life.
1. Pay attention to the colors and natural elements in your space.
In such a fast-paced, anxiety-inducing world, the need for relief is palpable. I find that my interior design clients are often pleasantly surprised by how quickly they begin to feel calmer after home redesigns. Some of the quickest fixes that I've seen affect people's stress levels include introducing the sound of water into your home, using calming hues like olive greens, purples, and blues, and bringing in crystals. I believe the most effective are rose quartz, clear quartz, and citrine, and they should be strategically placed near your mood-lifting colors to amplify the effects.
2. Reserve a designated wellness area—even if it's just a cushion in the corner of your bedroom.
Designating wellness spaces is also important, as this sends the message that your home is a place of mental and physical restoration. I believe that every house should have a spot earmarked for meditation or general relaxation—and this space shouldn't be chosen arbitrarily!
According to the American Journal of Public Health, "'Sense of place' is a widely used term, and one that remains difficult to define. The antecedent Latin term, genius loci, referred not to a place itself but to the guardian divinity of that place. In modern, more secular times, the term connotes the atmosphere of a place, the quality of its environment." This quality matters because "we recognize that certain localities have an attraction, which gives us a certain indefinable sense of well-being and which we want to return to, time and again."
Simply put, different spaces have different energies, so choose your relaxation area carefully. When searching for that perfect spot, I advise clients to spend some time alone in each room or area of their home. Naturally, the body will relax in certain spaces, which will help you narrow your search. Once you settle on a space, I recommend actually marking this location off with tape and then filling it with soothing items (here are some ideas to get you started). Remember, in a space meant for full-body relaxation, everything should have a purpose. The very act of taking the time to assign every item with intention is gratifying in and of itself.
3. Whatever you do, make it sustainable.
Sustainability is another cornerstone of holistic design. Architect Jason F. McLennan writes in his book The Philosophy of Sustainable Design: The Future of Architecture that "holistic thinking reminds us that all things are connected. Holistic thinking applied to sustainable design is about striving for win/win solutions for people and the environment…holistic thinking is the mode of thinking that is required for any project to truly be sustainable in performance." Therefore, we can look at sustainability and holistic design as wholly intertwined.
Luckily, today, sustainably made products are widely available. It just takes shifting your shopping habits to hold out for the items that are the right ones for you and our planet. I suggest creating a list of rules and keeping them in your purse or wallet to reference before making any purchases. My list includes things like "No VOCs, No synthetic fibers," etc.
By taking a breath, removing overwhelming clutter, and bringing in fresh, joyful decor, we are setting an intention for a life focused on what matters most: remaining calm, keeping the peace, and contributing positively to the world's collective energy.