Close Banner
Advertisement
This ad is displayed using third party content and we do not control its accessibility features.
5 Tangible Ways To Support Indigenous People On Thanksgiving Day & Beyond

mbg Nutrition & Health Writer
By Abby Moore
mbg Nutrition & Health Writer
Abby Moore is an editorial operations manager at mindbodygreen. She earned a B.A. in Journalism from The University of Texas at Austin and has previously written for Tribeza magazine.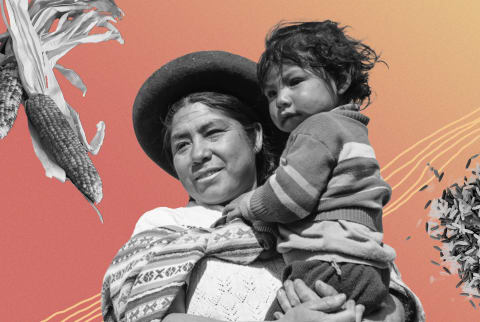 The peaceful story of "Pilgrims and Indians" coming together for the first Thanksgiving is largely fabricated. In fact, while many people are carving turkeys and mashing potatoes on the fourth Thursday of November, many Indigenous communities are mourning.
The story of Thanksgiving is muddled with appropriation and mistruths, much of it at the expense of Indigenous peoples. While gathering with family and sharing what you're thankful for will always be a valuable tradition, it's also a good time for non-Native people to show support for the Indigenous community. Acting in allyship takes real work and education, but here are a few ways to start:
1.
Learn the real history of Thanksgiving.
One important aspect of allyship is education. The Thanksgiving story many Americans learned in a school play has set the tone for more than 100 years, but that story of peace and unity between "Pilgrims and Indians" erases the truth of violence and suffering Indigenous communities faced at the hands of European colonizers—and that many continue to experience today in America. If you haven't learned the true history yet, it's time to do a deeper dive.
"Thanksgiving, as it has come to be observed in America, is a time of mourning for many Native people. It serves as a reminder of how a gift of generosity was rewarded by theft of land and seed corn, extermination of many Native people from disease, and near total elimination of many more from forced assimilation and as a reminder of 500 years of betrayal," Terra Trevor, a writer of mixed Native roots, once wrote for HuffPost.
Here are a few resources to get you started learning more about the true history of Thanksgiving:
2.
Advocate for a more truthful Thanksgiving dialogue in your child's school.
If you have children, check the school curriculum and make sure they're being taught an honest depiction of the Thanksgiving story and the fraught relationship between Indigenous peoples and the settlers from Europe. In an interview with HuffPost, Jana Schmieding, Lakota Sioux writer and host of the podcast Woman of Size, recommends asking your school officials and educators for more comprehensive lessons that go beyond the false narrative of "Pilgrims and Indians" peacefully eating turkey together.
"Saying something makes a difference," she says. "If more non-Native people kindly advocated for truth in their children's history curriculum, we would raise a more socially conscious generation."
Decolonization refers to the process of undoing colonialism and its effects. In the U.S., people from Europe colonized land that had already been inhabited by indigenous peoples and forced them to assimilate into American culture.
"When I hear the word decolonize, I think about what makes colonizing successful, which is the erasure and invisibility of a certain people that existed in history and play a really significant role but are often overlooked," Valerie Segrest, a member of the Muckleshoot tribe and a native foods nutritionist, tells KIRO Radio. "So promoting the visibility of [native] traditions and culture and history is the work of decolonizing."
A decolonized meal will look different for everyone, says Nephi Craig, a chef and member of the White Mountain Apache, in an interview with Vice last year. Learning what foods are native to the region you're specifically living in is the best place to start. You can also prioritize sourcing your Thanksgiving table locally, buying from Indigenous food businesses and local farmers as much as possible.
One dish Craig recommended making to honor Indigenous people is the "three sisters," which is equal parts corn, beans, and rice. "This is the gateway dish to decolonizing your diet, and it will add the history of Native Americans to any Thanksgiving spread," he said.
Or join a reclamation feast cooking demo: Chef Crystal Wahpepah, ethnobotanist Linda Black Elk, and Sovereign EarthWorks founders David Rico and Reignbeaux Cuahuitl are hosting a celebration of Native food and food justice in partnership with the Museum of Food and Drink on November 23, 2020.
4.
Support Indigenous organizations, artists, and activists.
Rather than investing money in a large feast (or in addition to it), consider donating to organizations and activists supporting Indigenous people and Indigenous land rights. Additionally, learn more about the effects of climate change on Indigenous people and find ways to support or donate to the fight.
"Climate change poses threats and dangers to the survival of Indigenous communities worldwide, even though Indigenous peoples contribute the least to greenhouse gas emissions," according to the United Nations Department of Economic and Social Affairs.
Here are just a few organizations:
You can also start your holiday shopping early and purchase from Indigenous artists, jewelry makers, authors, and other craftsmen.
5. Listen to Indigenous voices.
Doing your own research on the history and current affairs of Indigenous communities is important. But education is just the first step: Action must follow. To continue engaging and supporting, follow, listen to, and rally behind Indigenous voices. Instagram and other social media platforms can be great places to find Indigenous voices and activists who are at the forefront of these social movements.
"Let marginalized communities lead the way," therapist Jesse Kahn, LCSW, CST, previously told mbg. "You are there for support, so make sure you are listening to and amplifying the voices of others."

Abby Moore
mbg Nutrition & Health Writer
Abby Moore is an editorial operations manager at mindbodygreen. She earned a B.A. in Journalism from The University of Texas at Austin and has previously written for Tribeza magazine. She has covered topics ranging from regenerative agriculture to celebrity entrepreneurship. Moore worked on the copywriting and marketing team at Siete Family Foods before moving to New York.