mbg Sustainability + Health Director
By Emma Loewe
mbg Sustainability + Health Director
Emma Loewe is the Senior Sustainability Editor at mindbodygreen and the author of "Return to Nature: The New Science of How Natural Landscapes Restore Us."
If the population continues to grow at its current rate, the world is going to have nearly 400 million new mouths to feed by the end of the decade. More than 60% of them will be in cities.
Urban gardens offer a sustainable way to bring fresh food to millions of city dwellers, often at a fraction of the cost of traditional farming.
These 9 spaces are incredible examples of downtown innovation. Some are high in the sky while others are tucked away in the depths of old factories or abandoned buildings, but they're all changing the face of farming and proving that a concrete lot may just be the new grassy field.
Bell Book and Candle Rooftop, Manhattan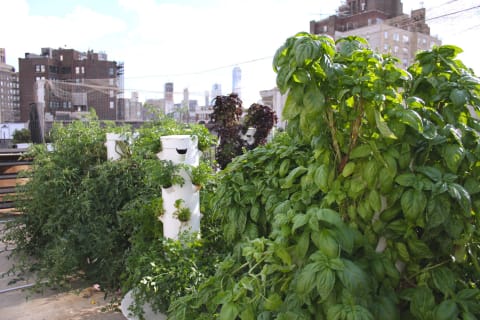 While most food travels hundreds of miles to reach consumers, the stuff at Bell Book & Candle only has to cover a few stairs. The inside of BB&C, complete with dim lighting, dark woods and an expansive bar, gives off a vibe that you'd expect in any trendy Manhattan's restaurant. But walk six flights above the dim basement eatery, and you'll see what makes it so special — it's the only restaurant in the city with its own hydroponic tower garden. Owners Mick O'Sullivan and John Mooney plan their menu based on what herbs and veggies are available on the roof.
Higher Ground, Boston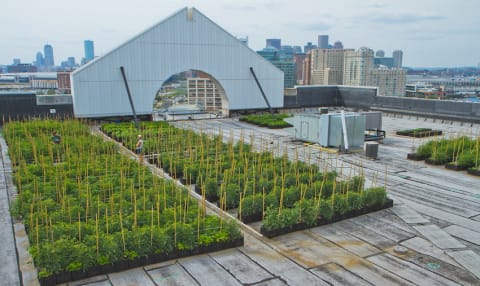 Higher Ground, the largest rooftop farm in Boston, measures in at an impressive 60,000 square feet. College pals John Stoddard and Courtney Hennessey pursued their shared passion for local food when they founded the space on top of the Boston Design Center in 2013. In addition to selling their harvest in the center's lobby, the duo also delivers to nearby restaurants. In true roof-to-table fashion, morning deliveries often make an appearance on people's dinner plates that same night.
The Hells Kitchen Farm Project, Manhattan
Who said kiddie pools were just for swimming? Over on the roof of the Metro Baptist Church in Hells Kitchen, they're using the plastic playlands to grow food for those in need. Since 2011, farm managers have filled dozens of the pools with compost to create portable, durable planting beds for basils, beans and greens. Open to volunteers from April through November, the Project donates hundreds of pounds of produce to the local food pantry each year.
Peachtree + Pine Works, Atlanta
Peachtree + Pineworks Homeless Shelter's rooftop farm gives its residents the chance to grow their own fresh, organic food. The space features nearly 100 garden beds, a beehive for pollinating honey, and a rainwater irrigation system. Those in the shelter are taught how to grow, store and sell the roof's crops, in the hopes that this entrepreneurial farming and marketing know-how will ultimately help them transition out of poverty.
Sweet Water Organics, Milwaukee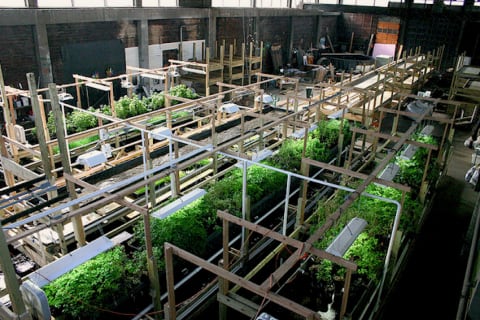 Sweet Water's aquaponic system simulates a natural wetland by using fish waste to fertilize plants, and plants to filter the fish's water. And it does all this in an abandoned factory in downtown Milwaukee. Each aqua-cycle yields hundreds pounds of lettuces and tilapia that can be sold to local restaurants and community members. Sweet Water also operates as a nonprofit that teaches kids about environmental sustainability.
O'Hare Aeroponics, Chicago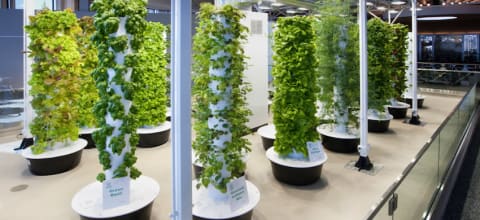 It's often difficult to eat well while traveling, but O'Hare is proving that airport food can be so much more than McDonalds and Pizza Hut. The Chicago hub's international terminal features a sustainable garden that passengers are invited to visit between flights. It grows various veggies without harsh chemicals or fertilizers — many of which are used by airport restaurants.
Sole Food, Vancouver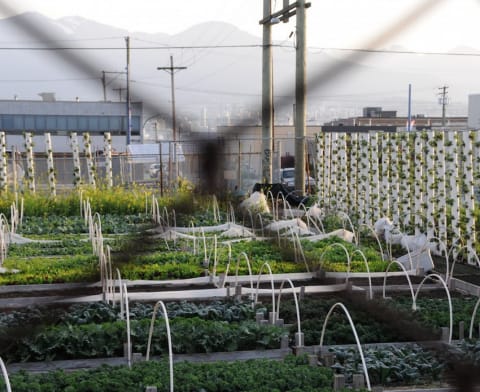 Vancouver's Sole Food works to transform abandoned lots into functional gardens, and create meaningful jobs along the way. So far, they've opened four farms and employed 25 individuals who are dealing with drug addiction and mental illness. Their latest project took an old gas station in Canada's poorest postal code and turned it into the largest urban orchard in North America — complete with 500 fruit trees.
Food Field, Detroit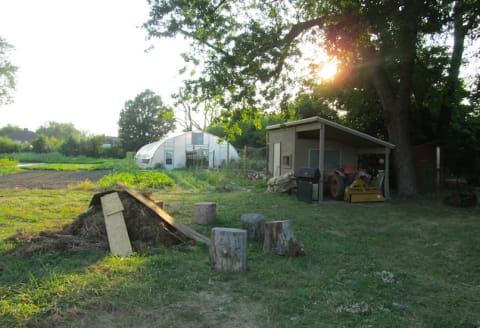 The Food Field occupies four acres in central Detroit, sitting on what used to be an elementary school playground. Owners Noah Link and Alex Bryan hope their community-based business will revitalize the motor city by providing residents with sustainable, affordable food. They sell their bounty at local markets and host farm-to-table meals on site every week.
Riverpark Farm, Manhattan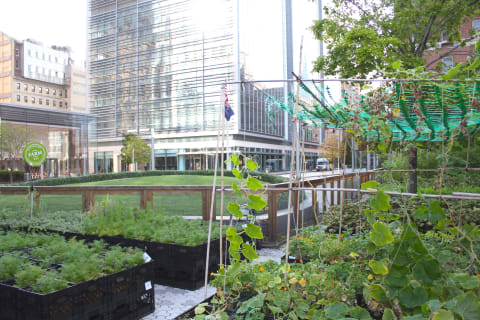 One step onto the Riverpark farm and it's easy to forget you're in the middle of the busiest city on earth. Rows of fragrant herbs, colorful vegetables and edible flowers provide the foundation for celebrity chef Tom Colicchio's restaurant next door. An onsite greenhouse makes it possible to plant year round, and anything that's not used up right away is frozen and stored to be incorporated into a dish later on in the season.