The Not-So-Obvious Sign You May Be Facing Mental Burnout, From A Reiki Master

mbg Intern
By Elizabeth Della Rocca
mbg Intern
Elizabeth Della Rocca is a mindbodygreen intern and a student at Endicott College. She is studying Marketing Communication and Advertising, with a minor in Spanish. She has previously written for Mustache Agency.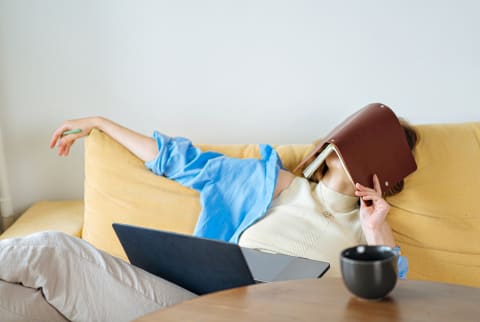 Image by Ivan Ozerov / Stocksy
August 4, 2020
Burnout can be tricky: Not only can it manifest in a multitude of ways, both physical and mental, but it can be difficult to identify burnout before it becomes severe. It can be rather frustrating; after all, the key to managing burnout is to prevent the onset in the first place—aka, to combat the stress before it becomes debilitating.
So how do you recognize those mild signs of burnout before the exhaustion quite literally takes over? According to reiki master Kelsey Patel, there's an underlying, sometimes misinterpreted, signal to consider: unhealthy ambition.
How stress can be disguised as ambition.
Research shows that a leading factor of mental burnout is prolonged stress1, but it can be difficult to recognize those triggers, especially if they may be disguised as ambition. Take it from Patel: "I thought I was an overachiever," she recounts on the mbg podcast. "It was this idea that I could keep going, but I didn't realize I was suffering in the process."
Finding that slight overlap between ambition and exhaustion, says Patel, is the key to identifying your burnout. In terms of what that looks like in practice, here's a prime example: "It could be this feeling that there's always more to do," she explains. Even after a busy workday, a nagging feeling may creep up that you haven't done enough—you may feel determined yet overwhelmed (burnout's favorite pair of emotions, according to Patel).
Additionally, "it's noticing if your mind is continuing to race." For example, you may brainstorm other activities you could be doing before you even complete the task at hand. When this happens, your go-getter attitude may have an opposite effect, leaving you feeling unfulfilled and overworked. Research backs it up, too: One study even found that mental burnout can lead to inadequate job performance and satisfaction2 in some people.
So, the next time you catch yourself attempting to start another project as soon as you finish the one prior, try taking a mindful break to clear your head and acknowledge the task you just completed. It is important to recognize your small wins throughout the day, as it may lead you to feeling more satisfied and optimistic within your daily routine. In fact, pausing for a short break is just one of the many ways to bounce back from burnout.
The takeaway.
Mental burnout is a gradual process and can be self-induced. If you consider yourself an overachiever or even a constant multitasker, consider whether you might be putting excess stress and pressure on yourself. That way, you can better manage your burnout before it becomes severe (Patel, for example, had debilitating back pain) and accomplish your goals and ambitions in a healthy way rather than wandering through your days feeling disconnected and unfulfilled.