5 Trader Joe's Skin Care Products That Are Worth Snagging On Your Grocery Run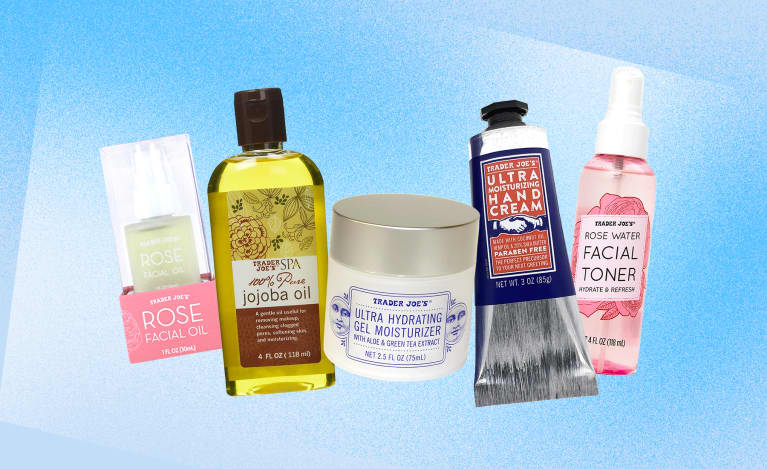 Our editors have independently chosen the products listed on this page. If you purchase something mentioned in this article, we may
earn a small commission
.
Trader Joe's might not be your go-to beauty retailer. We get it: TJ's reigns supreme when it comes to unique food items (looking at you, cookie butter). But beauty? Not so much.
Before you write off the cult grocery store, know that there's much to admire about Trader Joe's skin care. Like their versatile selection of produce, the store has an impressive lineup of serums, cleansers, eye creams, and the like. And the best part? They're each chock-full of clean, nourishing ingredients for skin—at an extremely affordable price point, to boot. The next time you find yourself at TJ's, perhaps test one of these five skin care offerings. Maybe you'll make your way back to the store to stock up on skin care rather than a new bag of cauli gnocchi.
We love a good rosehip oil around here (it naturally contains trace amounts of tretinoin and linoleic acid to promote cell turnover and repair skin tissue), and TJ's version doesn't disappoint. While rosehip is the eponymous star, the facial oil is pumped with so many nourishing ingredients, including safflower seed oil, neem seed oil, as well as squalane. Pat a few drops onto freshly cleansed skin for a healthy glow.
3.
Ultra Hydrating Gel Moisturizer With Aloe & Green Tea Extracts
This gel formula is extra cooling: With both aloe and green tea extracts, you'll have a calming and soothing moisturizer on your hands (and face, and neck, and décolletage). It's incredibly lightweight—it's water-based, with a jelly-like texture—so it's perfect for those with skin on the oily side who might not reach for a thick cream. Plus, it's paraben- and fragrance-free, so it's also gentle enough for sensitive skin.
4.
Ultra Moisturizing Hand Cream
Dry, cracked hands, begone: This shea butter hand cream feels like a dream. Hemp seed and coconut oils also make an appearance, as well as vitamin C and E to nourish and protect against free radicals. In terms of selecting the right hand cream, the Trader Joe's version fits the bill: "Use a moisturizer on your hands with real, traditional fats," Cate Shanahan, M.D., tells us on the mbg podcast. "These moisturizers can foster the development of good bacteria." An important notion to keep in mind when tending to your skin microbiome, especially post-sanitizing. Coat your paws with this buttery formula, and you'll supply your skin with necessary fatty acids and antioxidants for a strong skin barrier.
5.
Rose Water Facial Toner
For a hydrating and refreshing spritz, this rosewater number has you covered. Either use it midday as a pick-me-up, or spray on post-cleansing as a toning step: Rosewater has a mildly astringent nature, so it's great for purifying the skin; you can even spritz on your scalp to reduce grease between washes. The only caveat here is that you might want to proceed with caution if you have sensitive or dry skin: Trader Joe's spritz also features witch hazel, which may be too harsh for certain skin types.
If you're in the market for some new skin care, don't sleep on TJ's! The market has some quality products, even some coveted fragrance-free options for those with sensitive skin. Consider it a one-stop shop for your kitchen and bathroom shelves.