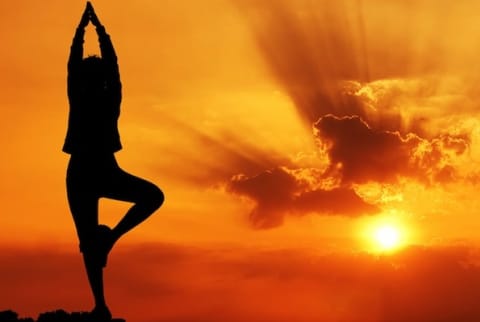 Photo by Shutterstock.com
June 30, 2013
Being a yoga teacher and student is fulfilling and inspiring, but being a yoga cheerleader isn't always that easy. Knowing the power of yoga to transform your body and mind makes me want to spread the yoga love, but I'm often met with the following reasons for why yoga is not for everyone. 
Here is my top 10 list of yoga myths:
1. You have to be flexible to do yoga. 
If you aren't flexible now, imagine yourself in 10, 20, or 30 years? Start practicing now so you CAN be flexible.Yoga requires a combination of strength, balance, and flexibility. Everyone has at least one of these in their favor and you can use that to help you improve the other areas of your practice.
Yoga was started by men and practiced exclusively by men thousands of years ago. Plus, the popularity of yoga among men is growing today. The ratio of men to women in my classes has grown from 1:10 to 1:2 in the past few years.
3. Yoga is too expensive.
Most yoga studios offer introductory specials for new students. Plus, there are many affordable online yoga services available and free youTube classes.
Yoga is built on spirituality and the promotion of being kind and compassionate towards yourself and others. It is not a religion and does not judge religions. It is accepting of all religion.
5. Yoga is not a workout. 
There are many types of yoga. For those who want a more vigorous experience, try a power or ashtanga class. This class will get your heart rate up, build strength, and burn calories.
6. Yoga is just for 20-somethings.
My teacher Dharma Mittra just turned 74 years old and can still do headstand without his hands! (Not to mention other challenging poses...) If you have physical limitations, try a gentle yoga class or other class specific to your condition. Another option is a private classes to establish a routine you can do on your own.
7. Yoga's too much of a time-commitment. 
Any practice of yoga will benefit you. Even a 10-minute routine first thing in the morning at home will strengthen your body and mind.
8. Yoga's only for people who are fit and thin.
A yoga class is a place of nonjudgement. Everyone is there to better themselves physically and mentally. Take a beginner's class or workshop and ease yourself into regular classes. Depending on your intention, yoga can help you attain a healthier weight or allow you to love and accept yourself as you are. 9. There is only one type of yoga.
Vinyasa is the most popular type of yoga right now and involves using your breath with movement. Hatha yoga is slower with more static postures. Power yoga is more strengthening and cardiovascular. Hot yoga adds heat for an extra challenge. These are just a sampling of the many available styles today. Try each type of available classes near you and see what works best for you.
10. Yoga is not for people with injuries or chronic pain.
This is the reason why you should practice yoga. Speak to your teacher before class about your special conditions so they can give you modifications and keep an eye on you. Yoga is healing and can help you with your pain relief.

Brenda Blanco
When Brenda Blanco began practicing yoga in 2005, she was working as a senior marketing executive for a major oil company—a job that left her stressed and unfulfilled. Yoga gave her the clarity to see the life changes necessary to find happiness and the courage to make them a reality. Within 3 years, she established a full-time career as a yoga teacher, leading private & group classes, international retreats and teacher training. She was also named ambassador for Lululemon, Manduka and SheaMoisture. Brenda shares her tips on living yoga and wellness on her Girl Gone Yoga blog. Her hope is that her story and tips inspire you to not just practice yoga but also live it. Learn more at
www.brendablanco.com
and connect with her on
YouTube
and
Instagram
.