These Organization Hacks Will Leave You With A Clean Home By The Year's End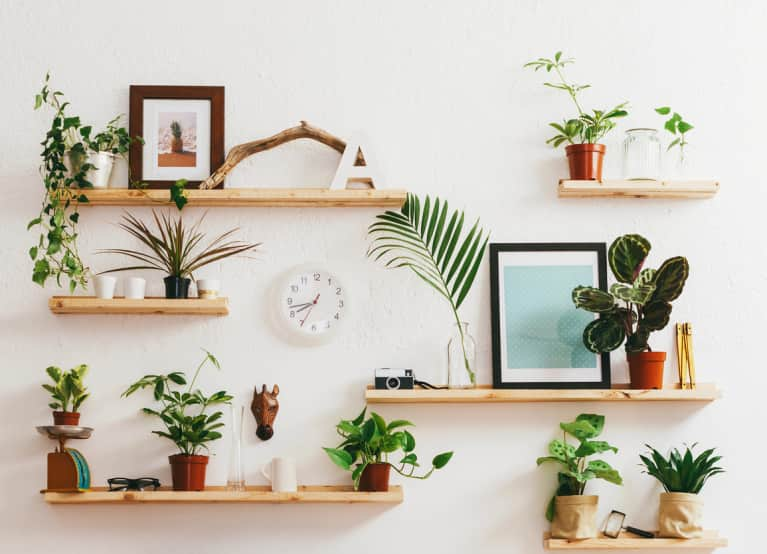 Our editors have independently chosen the products listed on this page. If you purchase something mentioned in this article, we may
earn a small commission
.
Laying the groundwork for organizing is almost as important as the actual projects. Before you begin, ensure success by taking a moment to set your organizing vision. The first thing you want to do is to consider the end goal. Take a moment and jot down why you want to get organized. What does an organized home look like to you? What does it feel like? What will happen when you get organized? Considering these questions is important; these reasons will give you a clear goal to work toward and a reminder of the end goal when you're in the thick of it. Organization comes from having a clear and executable plan.
Then, you're ready to move into the 10 commandments of organizing. Each one is important, but together they create a framework that will help you set yourself up for continued success.
The 10 commandments of organizing:
There are a few basic principles—you may even want to call them "commandments"—you need to know before jumping into organizing your home. Read them, do them, live them. Consider photocopying this information and pinning it to a bulletin board. Each time you start to organize, reread it until it sinks in. Once these commandments become habits, getting (and more important, staying) organized will become part of your daily routine. That not only saves time but also energy, stress, and money!
In other words, do a thorough decluttering and purge before you begin so you don't waste energy and space organizing items you don't need, use, or love. When decluttering a space, first take everything out. Then clean the space with a thorough dusting, scrubbing, or polishing. Instead of trying to decide what you should get rid of, frame the question as "What should I keep?" Touch each item, and put back only what you need and love. Have a system in place for getting rid of the rest such as a donation bin or trash bag, and dispose of them as soon as possible.
2. Start with easier spaces first to gain momentum.
Your closet is a great place to start because it's easy to figure out what doesn't fit or look good anymore. Tackle the time-consuming or emotional areas like photographs later, after you've worked up confidence and experienced how great it feels when you conquer the small "wins"!
3. Keep flat surfaces clear.
Keeping flat surfaces clear is visually appealing and will make everything appear neater and more organized. Flat surfaces such as tables, desks, and countertops occupy a large horizontal area so they look (and feel) airy and calm when they are clutter-free. Find ways to stow most of your items out of sight, and keep those flat surfaces as clear as possible to instantly create the appearance of organization.
4. Gather and sort first, then organize.
Resist the urge to buy organizing supplies until you know exactly how much of an item you are storing, and where. When possible, use what you have on hand to organize first, and then purchase additional supplies only if needed.
If you do purchase bins and baskets, keep them neutral and classic so they fit with any décor, are easy to find, and allow you to add more if needed. When you hack something, you should paint, decorate, or arrange it in a way that it makes you happy when you see it. Make storage do double duty; for example, that beautiful basket on the shelf can be decorative, but it also can be used to stash unused remotes.
6. Give everything a home.
The common phrase "a place for everything, and everything in its place" is a simple yet brilliant mantra for keeping your home organized. One of the biggest reasons for clutter is not knowing where to put something. Once you designate a spot for an item (or category of items), it has a home. This will help you and your family to make a habit of putting it away properly.
7. Group all the "like" items in your home together.
As you organize, first consolidate everything in each category so you can see how much you have, and then store those items together. For example, if you've stashed batteries all over your home, gather them up and keep them in one accessible spot instead. Now you know exactly what you have and where to find it each time you need it.
Complete each organizing project or task fully before moving on to the next one. Block enough time for cleanup, as that usually takes quite a bit of effort. Be realistic in your expectations or you'll burn out before you really begin.
9. Do what works best for you.
Each person organizes differently. There's no "one-size-fits-all" method that can be applied to every family and situation. Discover the solutions that best work for your family and situation.
10. Make organizing a part of your daily routine.
In addition to tackling the larger projects, devote a few minutes each day to organizing and decluttering. Organizing is not "one and done." This is a continual process—make it part of your daily habits and reap the rewards!
Now that you're properly prepared, the best advice I can give you is to just start. Blast the tunes, listen to a podcast or audiobook, light some candles, and make organizing both fun and productive. I suggest you start with the area that you can knock out the quickest; choose the area that once it's done will continue to motivate you the most. As you incorporate these systems and hacks into your routine, continually evaluate whether they are working for you. Are you keeping up with the system? Did it solve your problem? If not, tweak it until it works.
If you commit to one hack a day, at the end of the year you'll be fully organized.
Ready for some major inspo to get you started? Check out how one declutterer got rid of 500 possessions in one month.