Capsule Wardrobes: How To Give Your Closet A Minimalist Makeover

By Sara Weinreb
mbg Contributor
Sara Weinreb is the host of the Medium Well podcast and curator of the weekly email, Sara... lately.. She has a bachelor's degree from Tulane University.
These days, the world is abuzz with the idea of having fewer: fewer clothes, fewer possessions, fewer obligations.
After all, life is complex enough, and certain things should be easy...namely, getting dressed in the morning.
The story behind capsules
A capsule wardrobe—a term coined in the '70s by Susie Faux and popularized in 1985 when Donna Karan released a seven-piece collection of interchangeable workwear—is one composed of 30 to 40 essential items that serve as a complete seasonal closet. The items are chosen to be mixed and matched, making choosing outfits a breeze.
But capsule wardrobes are more than just a convenient fashion trend. Research shows that having fewer clothing options may actually free up the mind for other, more important decisions throughout the day.
"Dr. Roy Baumeister proposes that willpower operates very much like a muscle and gets fatiguing through repeated use," Kayleigh Pleas, a positive psychology coach, explains. "We wake up with a certain amount of willpower potential, and over the course of the day, every temptation we resist and every decision we make pulls from our limited 'willpower reserve.'"
It makes sense, especially when you consider the amount of successful people who have sported minimalist wardrobes. Think: Steve Jobs' signature black turtleneck and jeans, Mark Zuckerberg's hoodie and jean combo, and Obama's two-suit closet.
Capsule Inspo
When I decided to start my own responsible fashion company, IMBY, I knew I wanted it to be a mindful collection of versatile pieces that could work in any capsule. And first, I wanted to build a capsule wardrobe myself.
Take a peek into my closet for a better idea about how a few essentials can take you from the beach to the bar to the boardroom.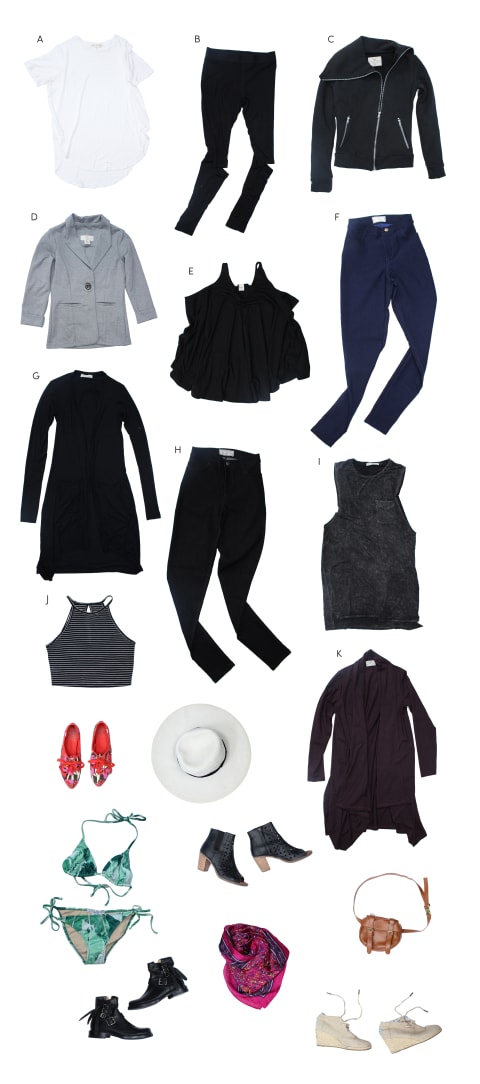 Photo by Chloe Bulpin / mbg creative
A + B + D = Casual Friday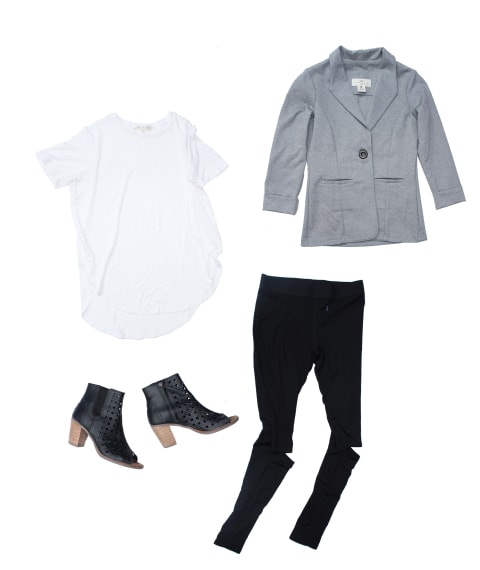 Photo by Chloe Bulpin / mbg creative
Casual Fridays at the office followed by happy hour are a breeze in an easy white tee, blazer, and cutout leggings paired with a chunky heel.
E + F = Jam-Packed Weekend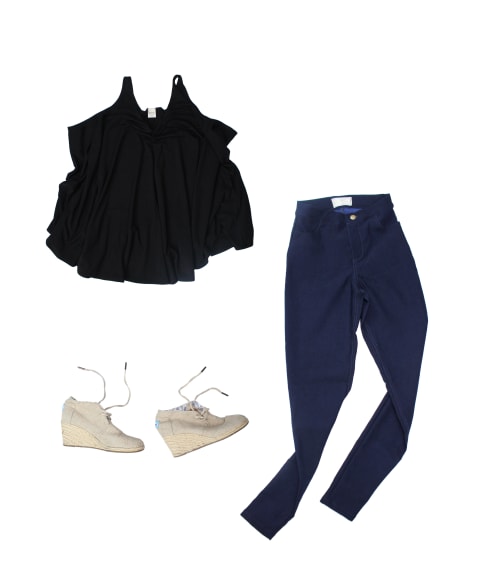 Photo by Chloe Bulpin / mbg creative
Transition from a day in the park to a night on the town with jeans, a black top, and espadrilles.
I + Bathing Suit = Beach Day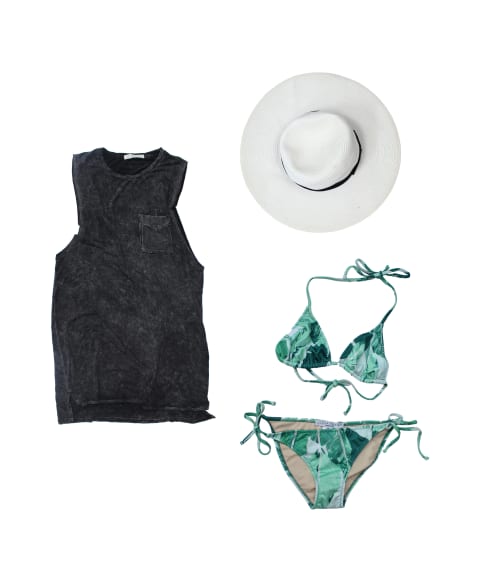 Photo by Chloe Bulpin / mbg creative
Hit the beach in an easy shift dress—floppy hat and tropical bathing suit necessary.
I + Accessories = Breezy Night
Photo by Chloe Bulpin / mbg creative
Transition from beach to bar by adding a colorful scarf and some heels to your dress.
J + H + D = Day in the Office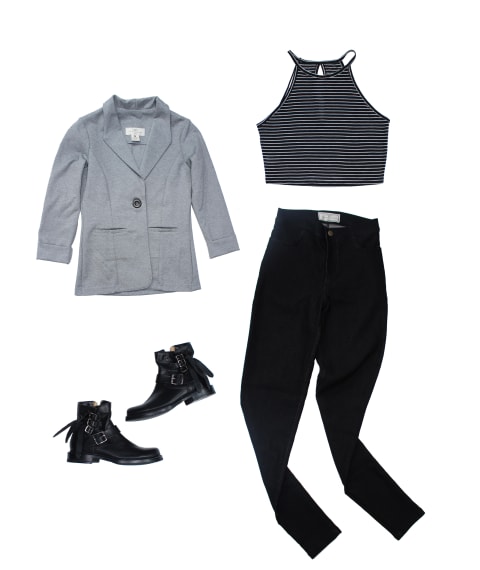 Photo by Chloe Bulpin / mbg creative
Who said you can't wear your crop top professionally? Pair it with high-waisted jeans, a blazer and some chunky booties for the perfect outfit for your (casual) office!
J + H + G = Weekend Brunch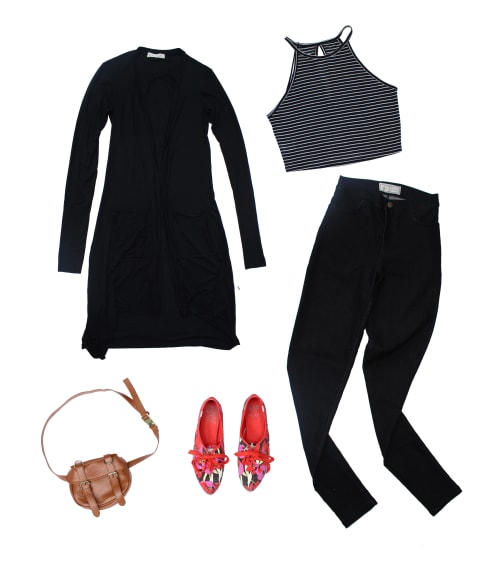 Photo by Chloe Bulpin / mbg creative
Swap out your blazer and booties for a long cardigan, sneakers, and a fanny pack (because why not?) for a fun weekend look.
E + H + G = Night on the Town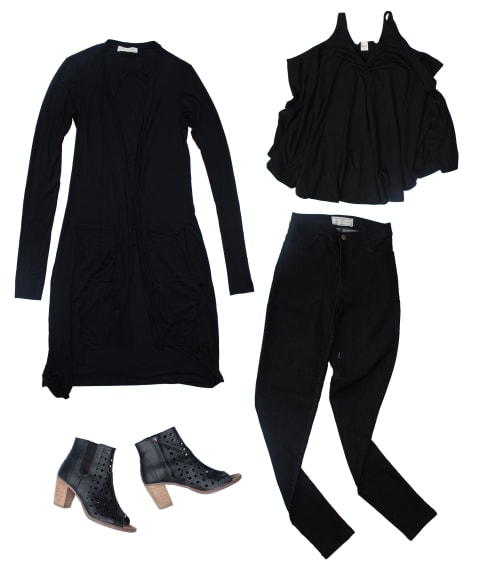 Photo by Chloe Bulpin / mbg creative
Jazz up your high-waisted skinnies with sexy booties and black layers for a night out.
A + B + C = Sweat Sesh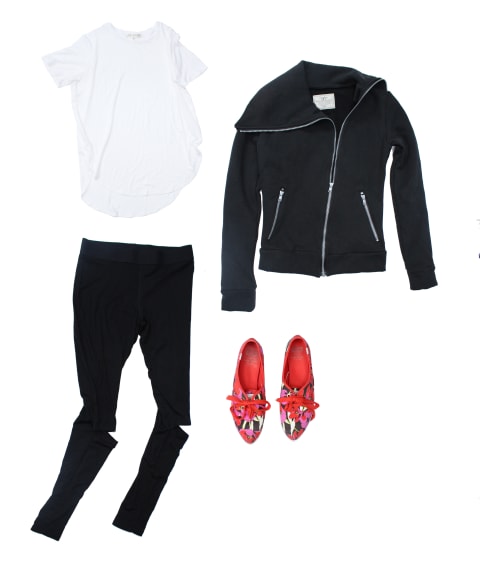 Photo by Chloe Bulpin / mbg creative
Combine a pair of basic leggings with a white tee and easy sweatshirt to look Instagram-worthy during your next hike or yoga class.
A + F + K = Errands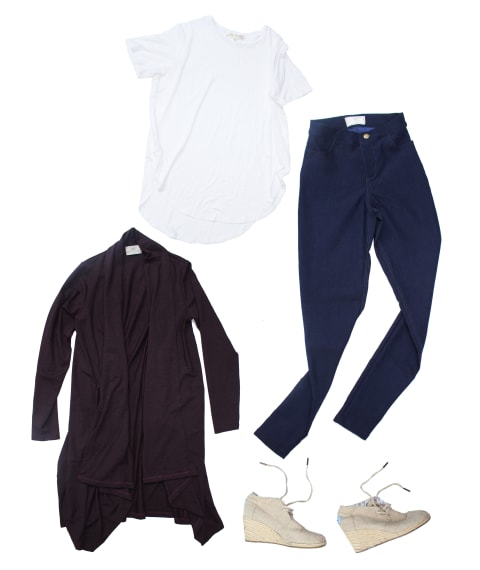 Photo by Chloe Bulpin / mbg creative
Pair a long cardigan with your essential white tee and high-waisted skinnies to elevate your weekend errand attire.
How to create your own capsule wardrobe
Inspired to craft a capsule of your own? Here's how to get started:
1. Start with the suitcase rule.
When people ask me how to start a capsule wardrobe, I tell them to imagine they're going on vacation for a week.
Which items would you pack for your trip? These are likely the items you love the most, and they should be the first 10 to 15 things in your capsule.
2. Go through your closet and get rid of your "sympathy" items.
Before I quit fast fashion, I used to make purchases without thinking them through, which left me with a closet full of items that I felt obligated to wear just because I'd spent money on them. When I started my capsule, I started weeding out pieces that I didn't truly love until I was only left with options I was actually excited to wear.
3. Plan a balance of different types of items.
You want to make sure your capsule has enough to style the different aspects of your life—from work to weekend and everything in between. In my current wardrobe, I have six pairs of pants, two jumpsuits, two dresses, two jackets, a blazer, a sweatshirt, eight pairs of shoes, and 15 tops that vary in style and fanciness.
4. Carry over at least a third of your capsule each season.
You should carry at least a third of each season's capsule over to the next season and fill the rest in with weather-dependent staples like sweaters, shorts, and summer dresses. The idea is NOT to go out and buy 40 new items for your capsule every season.
5. Fill in the gaps—responsibly.
When you need clothes to fill in the gaps, be sure to invest in new items that are ethically and sustainably made or secondhand pieces that are thrifted. These items should span the test of time, so avoid "micro-trends" that will quickly go out of style.
6. Experiment.
It takes time to learn the art of building a wardrobe you love and finding your personal style. Sometimes you have to learn what to include in your closet the hard way, and that's OK! Take your time, realize it won't be perfect, and try again for the next season and capsule.
7. Look to others for inspiration.
Karin Rambo, a capsule wardrobe blogger, taught me to always "find other people who are also doing capsule wardrobes and learn from them. It's a community effort!" I draw a lot of inspiration from other lean wardrobe bloggers and hashtags on Instagram. It's useful to see what they choose to include and how they navigate the process. At the same time, remember, each journey is unique.
8. Remember that it doesn't have to be perfect.
Your closet doesn't always have to adhere to a "magic number," and your capsule wardrobe should be custom-built for your needs. It should make your life feel easier—not more stressful! Want to include all your shoes? Do it! Want to have a separate capsule for work? Got for it. This is your wardrobe, so let your personality and lifestyle shine through.
9. Bring a minimalist approach to other areas of your life.
Lastly, I would encourage you to let the mentality extend past your closet. As capsule wardrobe blogger Andrea Hartman says about decorating her house, "Instead of buying a bunch of inexpensive stuff right now, I am trying to be more slow and deliberate and save my money to invest in things I will love for a long time. It takes patience, but I believe the payoff is worth it."
Surrounding yourself with items that bring you joy is a way to clear your mind of clutter and live a more mindful and intentional existence overall.
Have you tried a capsule wardrobe and have insight on what works? Have questions about where to start or what to include? Comment and share your mindful capsule styles on Instagram with #mindfulcapsule.

Sara Weinreb
Sara Weinreb is the host of the Medium Well podcast and curator of the weekly email, Sara... lately. She is currently training to be an herbalist. Sara received her bachelor's degree from Tulane University and has since worked as a writer, sustainability consultant, and design thinking facilitator on a mission to support people and businesses in being kinder and more connected to each other, the planet, and themselves. Her expertise is in the intersection of business and social and environmental impact. Sara's writing has been featured in Forbes, USA Today, Cherry Bombe, The Fullest, and AlleyWatch, amongst others. You can follow along with her adventures and misadventures at @saraweinreb.