I'm A Beauty Editor: This Is The Face Wash I've Loved For 8 Years & Counting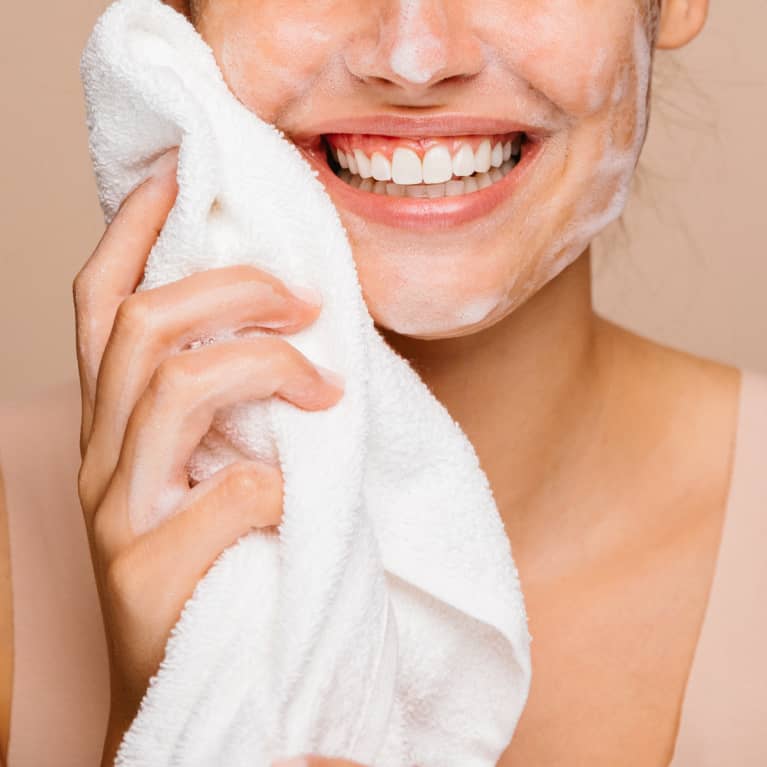 Our editors have independently chosen the products listed on this page. If you purchase something mentioned in this article, we may
earn a small commission
.
I often ask people what part of their beauty routine they look forward to most: I find it to be an illuminating question in two ways. First, it gives you a peek into their priorities: What they look forward to most usually correlates to what they care about most or at the very least, what brings them the most joy. It also usually reveals their favorite product: People love using products they love.
Well, I love washing my face—and for eight years and counting, I keep returning to my all-time favorite Indie Lee's Brightening Cleanser, which has amassed a cult following in its own right.
A beauty editor's ode to face-washing.
Cleansing is the backbone of any skin care routine. Cleansers are also a deeply underappreciated item; we usually don't give them a passing thought, instead giving our attention to the other big-ticket items, like active-packed serums or dense creams.
Without face cleansers, your other products won't work. Products need to be applied on fresh, clean skin: Serums can't treat skin issues or ailments if they're not able to penetrate the stratum corneum into the epidermis. Moisturizers can't hydrate when there's gunk and excess dead skin cells in the way.
Not to mention, without cleansers, dirt, oil, and pollution will wreak havoc. For those with acne-prone skin, this is obvious: If you are no stranger to blemishes, the idea of not washing your face may send a cold shiver down your spine. But even if you're blessed with a perennially clear complexion, all that debris still collects, irritating skin, triggering free radical damage and oxidative stress. It may be invisible, but it's there and will lead to dark spots, fine lines, and other signs of premature aging.
Now, for why it's underappreciated (and even misunderstood): For so long—and, well, currently—so much of skin care experts' and dermatologists' advice tends to go as follows: You don't need to care as much about face wash as it's a rinse-off product and thus isn't on your skin long enough for actives to really get to work. Now, this technically is true. You're better off utilizing high-powered and potent actives in serums or creams, as they actually sit on the skin giving them time to work their magic on your skin cells.
However, with this advice, some things are lost in translation. Just because it's a wash-off product doesn't mean that it's somehow inconsequential. Poorly formulated face washes can be hugely detrimental to your skin barrier function and skin microflora; once this happens, it doesn't much matter what else you're doing to your routine, you're in the red (sometimes literally as a damaged microbiome can cause flushing for some skin tones, as well as flaky or scaly patches). This is why you need to be just as smart about finding a face wash—that works for your lifestyle and skin type, and is nonstripping—as you do anything else in your routine.
The brightening cleanser I can't stop coming back to.
Eight years ago, before I was an official beauty editor, I was introduced to Indie Lee by a co-worker, who was a beauty editor. While I was a fan of beauty products and the beauty world writ large, I hadn't really delved into the world of clean or natural beauty and was primarily using traditional products. I often credit that introduction to sparking my interest in the space.
And their Brightening Cleanser was the first of their products I used. The gel-oil hybrid cleanser was like a sensorial awakening: I fell for it at first wash. It was so gentle on my delicate skin (I have rosacea and thus tend to be sensitive), and yet even my makeup melted away with ease. See, the wash is made with a blend of oils (coconut and sunflower), so it's able to target oil-based makeup (most of it, to be honest) as well as excess sebum. Then here's the lycopene, a carotenoid that's found in tomatoes and other bright red fruits and vegetables; it has the ability to oh-so-subtly slough off dead skin cells. But don't worry: This is truly a soft exfoliation. Take it from someone who will have a flare-up if they wash their face with AHAs or BHAs daily: That does not happen with this face cleanser. Finally, it comes with a host of antioxidants—from strawberry seed oil and vitamins A, C, and K—to help reduce inflammation by neutralizing free radicals.
The wash is also a multitasker—we love those around here—as it can double as a mask if you so choose. Simply apply a thin layer to a bare face (it needs to be put on clean, so you may have to actually use the product as a wash first before reapplying as a mask), let it sit for 10 to 15 minutes, and rinse away as usual. This will give the antioxidants, oils, botanical extracts, and lycopene more time to penetrate the skin cells.
Next time you go to make a face-wash purchase, take a moment to think about how your current option is serving you. No, you don't need to find the most expensive or luxe option out there—that's not what we're saying here at all—but you also shouldn't view the step as an afterthought. Cleansing isn't a throwaway step on your way to serums or creams.