Barely Any Space & No Equipment? We've Got The Best 15-Minute Workout For You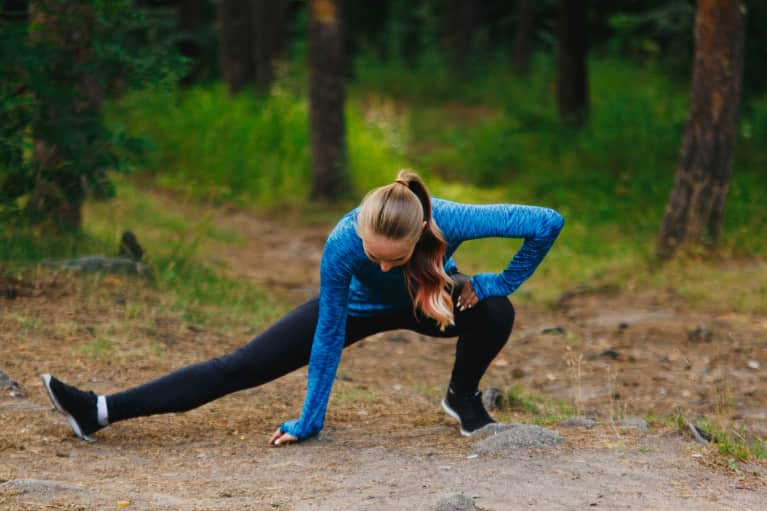 Whether you're stuck inside due to cold weather or don't have access to your usual workout space or equipment, you can still get an awesome workout in—you just have to get a little creative.
This is a workout you can do with just a little bit of space and a chair, a few stairs, or something sturdy to step on. Try to get your friends or family to join you and motivate each other to work even harder!
Complete four rounds of the following exercises in a circuit, resting as little as possible between reps and sets. It should take you about 15 minutes to complete.
10 squat step-ups
10 T push-ups
20 side lunges
5 pike push-ups 
20 elevated knee touches
20 v up in/outs

Stand in front of a plyo box, chair, or a sturdy elevated surface.
Step up onto the surface with one leg, following with the other leg.
Step back down, then immediately squat down.
Repeat, starting with the other leg.

Start in a push-up position, with your shoulders directly over your hands. Tighten your abs, glutes, and thighs.
Lower yourself down so that your chest is just a few inches from the floor.
Push yourself back up into the starting position.
Rotate your torso and legs to one side so that your body is facing away from the ground as you raise your arm to the sky so that your body forms a "T."
Lower back down to the push-up position and repeat, making sure to switch sides. Each side is one rep.
Beginner variation: Place your hands on an elevated surface such as a chair or a few stairs, and perform the T push-ups. The higher the surface, the easier the exercise will be.

Stand straight with your legs wider than hip-width apart. Tighten your core and pull your shoulders back.
Bend one knee as far as you can while keeping the other leg straight to the side.
Raise back up and repeat on the opposite side.

Start in a downward-dog position and walk your feet toward your hands so that your shoulders are above your hands. Tighten your core and push up through your shoulders.
Lower your forehead so that you touch the floor or as near as possible.
Raise back up to the starting position and repeat.

Start in a plank position with your feet on a plyo box, chair, or sturdy elevated surface with your hands on the floor in front of you.
Tighten your core and push through your shoulders, then bring one knee toward your elbow on the same side.
Return your leg toward the starting position and repeat on the other side.

Lie on your back with your hands by your side.
Pulling your belly button toward the ground, tuck your knees toward your chest and raise your head and hands off of the floor.
Extend your legs until they're straight in front of you, continuing to press your belly button toward the ground.
Return your legs to the tuck position. That's one rep.
Want to turn your passion for wellbeing into a fulfilling career? Become a Certified Health Coach! Learn more here.