Study Reveals How Whole Grains vs. Non-Whole Grains Affect Blood Sugar
mbg Nutrition & Health Writer
By Eliza Sullivan
mbg Nutrition & Health Writer
Eliza Sullivan is a food writer and SEO editor at mindbodygreen. She writes about food, recipes, and nutrition—among other things. She studied journalism at Boston University.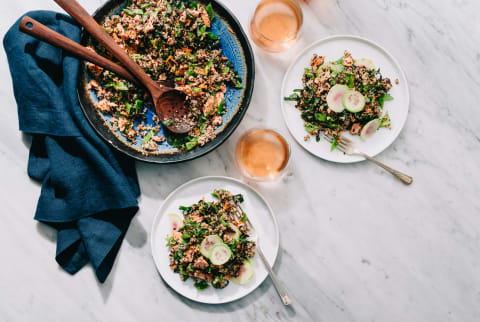 Image by Cameron Whitman / Stocksy
December 8, 2021
Whole grains are notoriously the most good-for-you option in the carbohydrate world. They're a staple in some of the healthiest eating styles (like the Mediterranean diet) since they're a good source of antioxidants, essential minerals, and dietary fiber. Now, a recent systematic review and meta-analysis investigated how eating whole grains may influence blood sugar when compared to non-whole grains.
The review, published in Critical Reviews in Food Science and Nutrition, used data from 48 articles to assess how whole grains affect changes in fasting glucose and fasting insulin1, among other things. They found that eating whole grains was linked with "a significant reduction" in both fasting glucose and insulin levels. Somewhat surprisingly, the researchers reported that specifically oats, compared to mixed grains, brown rice, and wheat, had a lower impact on glycemic index—good news for those who like to start the day with a bowl of oatmeal.
The link between whole grains and blood sugar, explained.
"The fiber in whole grains also works to slow down the absorption of your food and as a result decreases your blood sugar and insulin spike after a meal," explains functional medicine doctor and registered dietitian Elizabeth Boham, M.D., M.S., R.D. "These grains have a lower glycemic load when eaten in their whole form."
Glycemic load is a number that's meant to give an approximation of the way particular foods will raise our blood sugar. Because of the fiber in whole grains, our body processes them more slowly, which means those units of glucose enter the bloodstream more gradually. Similarly, the glycemic index is the scoring system that measures the glycemic load of food.
What are the other potential benefits of eating whole grains?
Beyond just their potential to help support healthy blood sugar, whole grains are also heart-healthy and support a healthy metabolism—it's no wonder they appear in so many popular eating plans.
Outside of the explicit health benefits, there's so much variety in the world of whole grains and ancient grains. There are so many different flavors and textures to choose from, so keeping a mix of grains in your pantry is a great choice for varied and delicious meals, no matter the time of day.
Some of our favorites to keep around? The classics, like oats and quinoa, but also millet, which is the basis for these healthy lunches.
Eliza Sullivan
mbg Nutrition & Health Writer
Eliza Sullivan is an SEO Editor at mindbodygreen, where she writes about food, recipes, and nutrition—among other things. She received a B.S. in journalism and B.A. in english literature with honors from Boston University, and she has previously written for Boston Magazine, TheTaste.ie, and SUITCASE magazine.