New Study Finds Yoga Can Improve Anxiety & Depression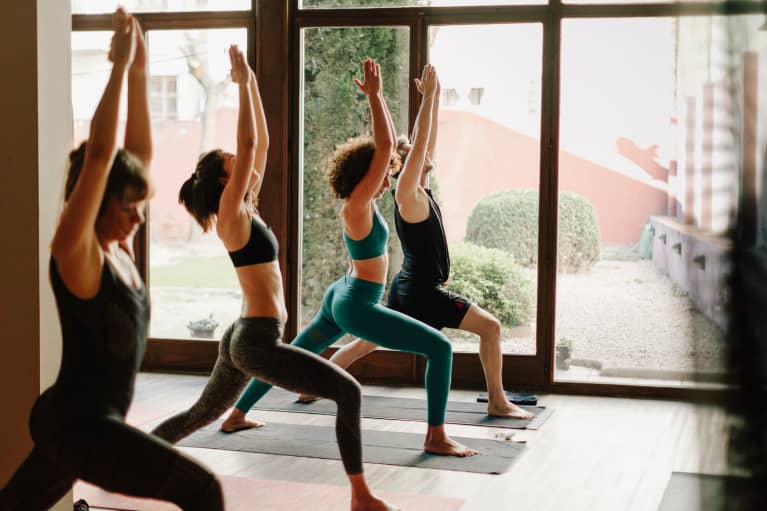 November 14, 2019 — 1:05 AM
Whether you need to sweat out your stress in a hot yoga class or quiet your mind with a restorative flow, it's no secret that yoga has therapeutic qualities. While your overall sense of calm post-yoga might be proof enough, researchers actually found a link between yoga and mental health.
A study conducted by Boston University School of Medicine found that Iyengar yoga and controlled breathing practices can improve symptoms of anxiety and depression. The slow, methodical movements common in Iyengar yoga might be more beneficial than other more fast-paced styles.
What did the researchers find?
The study included 32 participants between the ages of 18 and 65 who were previously diagnosed with major depressive disorder. The participants were divided into either a high-dose group (HDG) or a low-dose group (LDG). The different groups signified the hours spent practicing yoga and breathing techniques (78 hours for HDG and 60 hours for the LDG, over the course of three months).
Within one month, both groups experienced better quality of sleep, leaving them less physically exhausted later on. Evaluations also revealed patients felt calmer and more positive overall.
The improvements were evident in both the short term, with each practice, and the long term, at the end of the three-month study.
According to the American Academy of Family Physicians, one in every 12 adults in the U.S. has reported having depression.
"Providing evidence-based data is helpful in getting more individuals to try yoga as a strategy for improving their health and well-being," said study collaborator and co-author Marisa M. Silveri, Ph.D.
With this information, people struggling with depression and anxiety can use Iyengar yoga and controlled breathing as supplements to medication, therapy, and other prescribed treatments.
What's next for this research?
A larger sample size would also be useful for ensuring the accuracy of the study. The research could also be improved by including a non-yoga control group, which could help determine whether controlled breathing or the breathwork in conjunction with the yoga is more impactful on mental health.
Overwhelmed by the good news? Breathe in. Breathe out. And maybe try a breathing exercise.