An Expert Guide To Stress-Relief Gifts & 31 Great Ones To Give This Year

mbg Sustainability + Health Director
By Emma Loewe
mbg Sustainability + Health Director
Emma Loewe is the Senior Sustainability Editor at mindbodygreen and the author of "Return to Nature: The New Science of How Natural Landscapes Restore Us."
December 21, 2021
Our editors have independently chosen the products listed on this page. If you purchase something mentioned in this article, we may
earn a small commission
.
Certain stress-relief strategies and tools can really help diffuse tense moments. But which ones actually work? To find out, we asked a cognitive neuroscientist about what she looks for in a calming product, and used her criteria to round up dozens of gifts fit for your most stressed-out friends and family members.
Advertisement
This ad is displayed using third party content and we do not control its accessibility features.
Finding the perfect gift for someone who is prone to stress.
The goal of a stress-relief gift is not to help someone avoid stress altogether but to keep stressors from spiraling out of control and affecting overall health.
Caroline Leaf, Ph.D., a neuroscientist, mental health expert, and author of Cleaning Up Your Mental Mess, explains that during times of stress, it's easy to become overwhelmed by emotions. "Sometimes, in these moments, it can be almost impossible to think clearly or do the emotional work needed to get out of the toxic stress spiral, which is why decompression activities can be so helpful."
Decompressing, Leaf explains, involves giving ourselves permission to step back and take a breather. In doing so, we build space between our triggers and our reactions, which we can use to analyze what it is we're really feeling. "Once we acknowledge these feelings, we can validate them and give them a space rather than try to suppress or ignore them," she continues.
You don't need any fancy gadgets to start to decompress: Simply slowing down your breath or moving your body can help get you into a more relaxed state. However, Leaf notes that a number of products can help expedite the process for the loved ones in your life.
The key, she says, is looking for a stress-relief tool that allows your giftee to get back in touch with their mind and body. Think a creative outlet like drawing that directs their attention away from stress, or a tactile product that feels great on their skin and helps bring their body back to baseline.
Advertisement
This ad is displayed using third party content and we do not control its accessibility features.
Our picks.
With this criterion in mind, here are 31 products—from hand creams to herbal teas—that will help guide your loved ones back to themselves during moments of stress and tension.
Journals & creative outlets: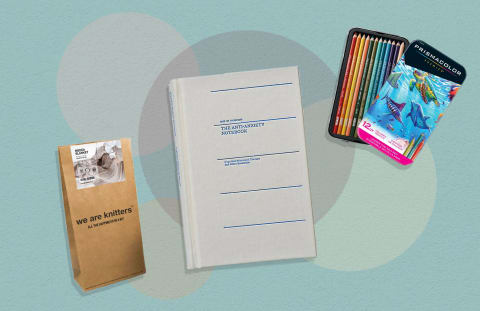 Advertisement
This ad is displayed using third party content and we do not control its accessibility features.
1.
"The Anti-Anxiety Notebook"
This journal features Cognitive Behavioral Therapy (CBT)–informed prompts that will help the user better manage stress in real-time. Peppered with therapist-designed resources like a Feelings Wheel to help them identify their emotions, it doubles as a powerful educational tool.
2.
Field Notes national park notebooks
These adorable little blank journals will give them a place to write down their thoughts and feelings anytime, anywhere. Just looking at their cover illustrations, complete with scenery from national parks, feels like a breath of fresh air.
Field Notes National Park 3-Pack ($12.95)
Advertisement
This ad is displayed using third party content and we do not control its accessibility features.
3.
"Circle of Life" adult coloring book
Adult coloring books provide a fun way to step away from stressors and get into a flow state. They're fast-tracks to clearer thinking, and this one by artist Melpomeni Chatzipanagiotou—filled with illustrations of the natural world—is one of the most beautiful we've ever seen.
Melpomeni Chatzipanagiotou Circle of Life Coloring Book ($11.93)
4.
Prismacolor colored pencil set
Don't forget the supplies! Pair your notebook or coloring book with a set of colored pencils so your giftee can be free to transition between writing and drawing as they please.
Prismacolor Premier 12pk Colored Pencils - Under the Sea ($9.99)
Advertisement
This ad is displayed using third party content and we do not control its accessibility features.
5.
DIY screen printing kit
Give the gift of a new creative outlet with this chic screen printing set. It includes everything a beginner will need to create a custom print of their favorite pattern, place, or calming mantra.
Anthropologie DIY Screen Printing Kit ($48)
6.
We Are Knitters knitting set
Knitting is another relaxing craft that will give your giftee something else to focus on during moments of high stress. And when they wrap up this beginner's kit, they'll have a cozy, chunky throw blanket to show for it.
We Are Knitters Medea Blanket Knitting Kit ($185)
Teas, tinctures & supplements: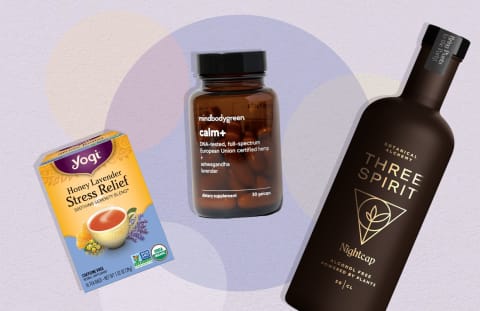 7.
mindbodygreen's calm+ supplement
8.
Three Spirit non-alcoholic nightcap
While many of us turn to alcohol to relieve stress, booze can actually increase feelings of anxiousness in the long run. Help them swap out their nightly cocktail with one of these soothing, plant-fortified mocktails instead.
Three Spirit Nightcap ($39)
9.
Rasa coffee alternative
Coffee is another beloved beverage that can actually raise stress in some people. Those who are trying to cut back can swap out their cuppa for these low- and no-caffeine alternatives that feature functional plants hand-picked by herbalists.
Rasa Super Mega Sampler Pack ($45)
10.
Wooden Spoon Herbs tincture
Adaptogens are plant actives that have a balancing effect on the body and mind. Taking a dropperful of this adaptogenic tincture—featuring holy basil, reishi, ashwagandha, and more—will help support their ability to stay steady in the face of stress as it (inevitably) comes.*
Wooden Spoon Herbs Adaptogen Balance ($36)
11.
Yogi stress relief tea
Body care: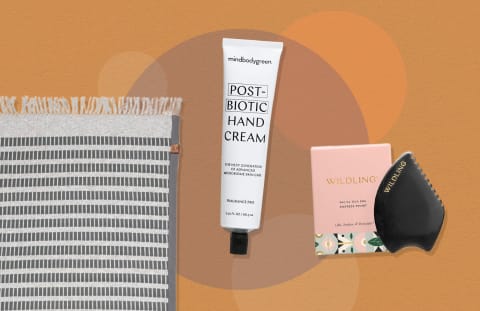 12.
mindbodygreen's postbiotic hand cream
Trust a decadent hand cream to get your giftee to ground down and savor physical sensation. Leaf is personally a fan of mindbodygreen's postbiotic hand cream, which does double duty to support the skin microbiome with each application.
mindbodygreen postbiotic hand cream ($25)
13.
Speks silicone stress ball
Gua sha is a tool that provides a gentle yet powerful facial massage in times of tension—and can lift and tone the skin with each swipe. This one from Wildling earns a stamp of approval from mbg's expert beauty team and would make for a stunning gift. (If your giftee is new to the tool, point them to this helpful how-to.)
Wildling Empress Stone ($65)
Allow them to pamper themselves with a gift that will help work out any kinks in the body—and turmoil in the mind. Unlike most clunky massage tools, this one folds up in a sleek and unsuspecting way.
The Lyric Therapeutic Massager ($199.99)
A welcoming yoga mat can make all the difference in getting someone to stick to a mindful routine. This unique handwoven hemp one from The Ritual Rug will guide them back to the mat for a calming breathwork or restorative flow whenever they need it.
The Ritual Rug ($188)
Slipping on a cotton robe may not cure stress, but it definitely makes it a lot more comfortable. This plush waffle weave screams luxury and is the perfect weight for all-day use (we won't tell if you don't).
Allswell Stonewashed Waffle Bathrobe ($85)
18.
Farmacy hydration mask
19.
Herbivore Rose Hibiscus face mist
The subtle, elegant smell of rose can instantly transport us away from our worries and into some faraway countryside. Gift them a hydrating rose face mist or whip up your own special blend with love using our DIY guide.
Herbivore Rose Hibiscus Hydrating Face Mist ($32)
20.
Violets are Blue healing foot salve
We carry a lot of tension in our feet, and there's nothing like a nourishing foot massage to release some of that pressure. Gift this eucalyptus and peppermint salve to make their next massage even more downright decadent.
Violets are Blue Healing Salve with Eucalyptus and Peppermint ($15)
We can all agree: Life is brighter with a great slipper on your feet. These faux fur cozies have a heavier sole and sturdy strap design to help your giftee feel like they're walking on air, in and out of the house.
Arch Plush Edit Slippers ($110)
Aromatherapy: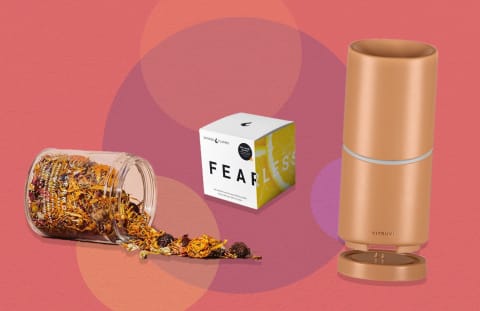 22.
The Artistry of Essential Oils stress collection
23.
Vitruvi portable diffuser
This sleek cordless essential oil diffuser will let them spread their favorite scents in every nook and cranny of their home. It's small enough to fly with, too—perfect for the nervous traveler.
Vitruvi Move Diffuser ($179)
A mix of Dead Sea salts and calming ylang-ylang, siam wood, cedarwood, and orange essential oils, this blend will infuse their bath time with some next-level relaxation.
ORA Bath Salts ($38)
26.
A Palermo facial steam
Made by pouring boiling water in a pot of herbs and letting the fragrant steam cleanse your face, facial steams are pure bliss. Get them started on the beautifying practice with this thoughtful blend of organic calendula flowers, rose petals, chamomile flowers, and other yummy botanicals.
Palermo Botanical Facial Steam ($32)
Meditative tools: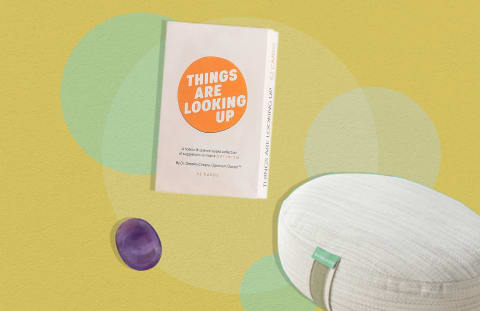 27.
The Life Divine amethyst worry stone
Crystals and other meditative trinkets can serve as small reminders to stress less. Instead of holding their fears in, your giftee can imagine offloading them onto this smooth "worry stone" made from tranquil amethyst and shaped to fit comfortably in their hand during times of tension.
Amethyst Worry Stone ($7.95)
28.
Neurocycle mindful app
While technology can certainly cause stress, a number of strategically designed apps can also help get rid of it. Case in point: Leaf's app Neurocycle, which guides users through a clinically studied technique to identify and overcome toxic thought patterns and rebuild healthier ones in their place in just 21 days. Pair it with noise-blocking headphones and/or a meditation cushion for a stress-less kit.
Neurocycle app (Free)
29.
Avocado meditation cushion
Support their mindful practice with this comfortable organic cotton meditation pillow from Avocado. It's designed to promote proper alignment and posture, so they'll be able to skip the aches and pains and wade deeper into zen.
Avocado Organic Yoga Meditation Pillow ($63)
30.
Rider Waite tarot deck
31.
"Things Are Looking Up" optimism cards
This deck of cards is printed with mood-boosting art and prompts for gloomy days. Take a moment to pull a card and let the optimism find you.
Things Are Looking Up Optimism on Deck Cards ($40)
The bottom line.
Want to give the gift of stress relief to someone in your life who needs it this year? You can't go wrong with this selection of creative tools, teas and tinctures, body care goodies, smell-good treats, and meditative trinkets. While they won't get rid of every single worry, these decompression tools can certainly help support a solid stress management routine. Next stop: a calmer 2022.