How Sound Machines Can Promote Sleep & 9 Of The Best Options For Snoozing

By Julia Guerra
mbg Contributor
Julia Guerra is a health and wellness writer reporting for mindbodygreen, Elite Daily, and INSIDER.

Expert review by
Ashley Jordan Ferira, Ph.D., RDN
mbg Vice President of Scientific Affairs
Ashley Jordan Ferira, Ph.D., RDN is Vice President of Scientific Affairs at mindbodygreen. She received her bachelor's degree in Biological Basis of Behavior from the University of Pennsylvania and Ph.D. in Foods and Nutrition from the University of Georgia.
February 24, 2022
Our editors have independently chosen the products listed on this page. If you purchase something mentioned in this article, we may
earn a small commission
.
Sometimes falling asleep feels like a math equation; only a specific formula will get you from point A to point Zzz.
Your bedroom might be too hot or too cold. Maybe you're on a sugar high from dessert or have been overexposed to blue light from your devices. The culprit could also be various noises keeping you up at night, and if that's the case, you might want to consider investing in a sound machine to drown out any unwanted commotion disrupting your ability to snooze.
Advertisement
This ad is displayed using third party content and we do not control its accessibility features.
How sound machines can benefit sleep.
Sound machines are devices that mask disruptive noises in your environment. They're often used to help lull newborns and little ones to sleep but have the same effect on adults, too.
That being said, there isn't enough research to definitively say whether or not the specific sounds and frequencies emitted by these machines improve the quality of sleep. But, placebo effect or not, according to co-founders of The Happy Sleeper and authors of Generation Sleepless, Heather Turgeon, MFT, and Julie Wright, MFT, some people just prefer to fall asleep to some sound.
"Some people would rather not sleep in a completely quiet room," Turgeon and Wright tell mbg. "For others, [turning on their sound machine] becomes a habit or a cue that it's time for sleep."
Depending on the device, sound machines can emit a myriad of noises to suit the user's preference. These typically include nature and ambient sounds, like rain falling or city traffic, as well as white, pink, brown, or blue noise.
Sleep expert and head of content at Saatva Christina Heiser notes that white noise is a "sound that remains consistent across all hearable frequencies" and "creates a masking effect, blocking out the sudden changes in noise—like snoring, or the dog barking, or a truck rumbling down the street." Pink, brown, and blue noise are all slightly different sound frequencies used for the same purpose: to mask the noises in your environment that might keep you from falling asleep.
Generally speaking, there's little risk in trying a sound machine to get some quality shut-eye, despite the misconception that falling asleep to white noise or ambient sounds isn't healthy.
According to co-owner of Nolah Mattress and certified sleep science coach, Stephen Light, some people think it's best to sleep in silence, but this doesn't take into account the diversity of people's living situations and how they affect their ability to get a good night's sleep.
"If ambient noise blocks out a loud street, a noisy roommate, or simply your anxious thoughts as you lie in bed, the benefits likely outweigh any risks," he tells mbg. And as long as your sound machine emits sound at the appropriate decibel level (60 decibels or less), CEO and certified sleep specialist at My Sweet Sleeper Rachel Mitchell adds "there are no known issues with its long-term use," either.
Advertisement
This ad is displayed using third party content and we do not control its accessibility features.
What to keep in mind when purchasing a sound machine.
When shopping for a sound machine, there are a few things to keep in mind during your search. The first is that there are two types of sound machines: electro-mechanical sound machines, which physically move air to make noise, and electronic, solid-state sound machines that don't use moving parts and create sound from digitally stored patterns via a small speaker, explains holistic sleep coach for women Morgan Adams, MSW. The former is typically fan-based, while the latter serves as a kind of stereo.
Next, Light says you want to be on the lookout for sound machines that offer different types of sounds. This is especially important for first-time users, as white noise (or pink, brown, or blue noise) doesn't work for everyone, nor do ambient sounds. Figuring out which noise or noises resonate with your sleep preferences might take some trial and error, but this way you won't have to purchase multiple sound machines to find what works.
Beyond sound variety, Adams says customizable volume control is a must, as well as adjustable light output, portability, and a "clean loop" feature so you won't be able to hear when the recording begins and ends and potentially be woken up by the sudden change.
If you're shopping for the best sound machines for kids, oftentimes these types of devices will have built-in night lights and adjustable settings parents can access for their phones.
Our product recommendations.
With these criteria in mind, here are nine of the best sound machines out there for supporting your sleep.
Advertisement
This ad is displayed using third party content and we do not control its accessibility features.
Best Overall: The Hatch Restore
When you think of Hatch, you might think of its sound machine for kids, but it turns out the brand also makes a sound machine for adults: The Hatch Restore. A sound machine first, the Restore is also a sunrise alarm, smart light, meditation app, and alarm clock. For anyone looking for an alternative to their smartphone alarm, look no further.
Hatch's sound machine is the perfect addition to any bedside table. It emits a soft, blushing glow void of blue light for reading in bed and mimics morning light in the a.m. to help set your circadian rhythm. Connecting your device to the brand's app will give you access to its exclusive library of sleep stories, meditations, and more. Plus, your sleep experience is customizable to your preferences, so you can fall asleep to white noise and wake up to birds chirping.
Hatch The Hatch Restore ($129.99)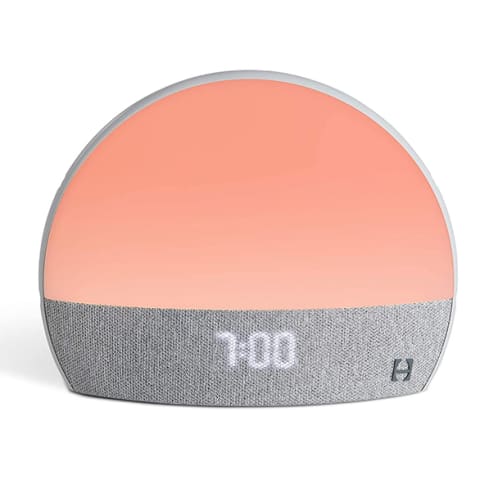 Hatch
Best for Hot Sleepers: Honeywell QuietSet Whole Room Tower Fan
The Honeywell QuietSet Whole Room Tower Fan is this writer's personal favorite. Though not a traditional compact noise machine, the fan features a list of different sound settings (clearly displayed on the machine) that includes white noise, calm, whisper, and sleep. It has easy-to-use control buttons laid out at the top of the tower but also works via remote control, so you can adjust its settings from the comfort of your bed. You can dim its light (though in my experience it isn't very bright, to begin with), set an auto-off timer, or let it run throughout the night.
This is not a sound machine fit for a bedside table. It is a tall tower that needs to be plugged into an outlet. However, what I love about Honeywell's appliance is it's also a powerful fan. As a naturally hot sleeper, I appreciate the combination of white noise and constant airflow coming my way. I turn it on before bed and shut it off when I wake up in the morning.
Honeywell QuietSet Whole Room Tower Fan ($60.99)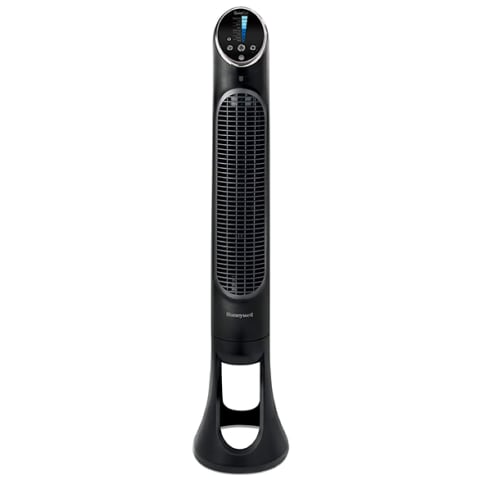 Honeywell
Best Sound Variety: Magicteam Sound Machine
Magicteam's device is one of the highest-rated sound machines on Amazon to date with over 32,600 rave reviews to its name. The device was designed for babies, kids, and adults, with your choice of 20 soothing sounds, ranging from white, brown, pink, and blue noise to various nature sounds, to lull you to sleep.
What's more, the solid-state sound machine also features a range of timer settings (up to five hours total) and 32 levels of volume. It also has a no-loop technology to protect your hearing and avoid noise pollution, plus a memory function that essentially bookmarks your preferences from its previous use so you don't have to sleepily fiddle with a bunch of buttons to program it again and again.
Magicteam Sound Machine ($23.99)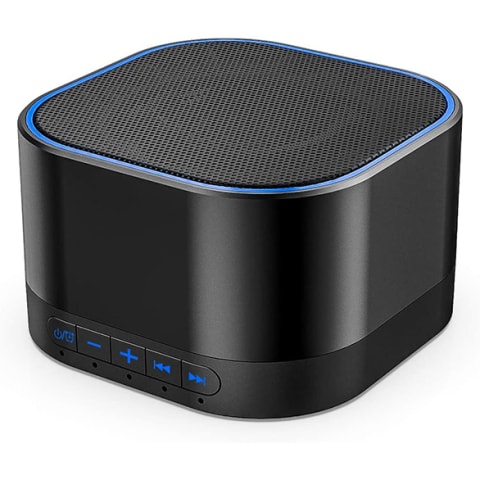 Magicteam
Advertisement
This ad is displayed using third party content and we do not control its accessibility features.
Best Budget: HoMedics White Noise Sound Machine
HoMedics is best known for its at-home spa products like footbaths and body massagers, but it's also a contender on the sound machine market, with the cult following to prove it. The HoMedics sound machine, aptly named the "Soundspa," is a compact sleep companion for restless sleepers of all ages. It has over 43,100 reviews and an average rating of 4.6 out of 5 stars on Amazon alone, with users raving it drowns out sound, is easy to use, and is travel-friendly.
Available in blue, silver, and gold, the portable sound machine comes programmed with six soothing sleep tracks: White Noise, Thunder, Ocean, Rain, Summer Night, and Brook. It features an automatic timer that can be set to 15, 30, or 60 minutes, can be plugged into the wall, or can run on four AA batteries. The only major caveat of the affordable machine is its limited amount of sound options, but the fact that it can fit into a purse for on-the-go use might make up for that.
HoMedics White Noise Sound Machine ($21.99)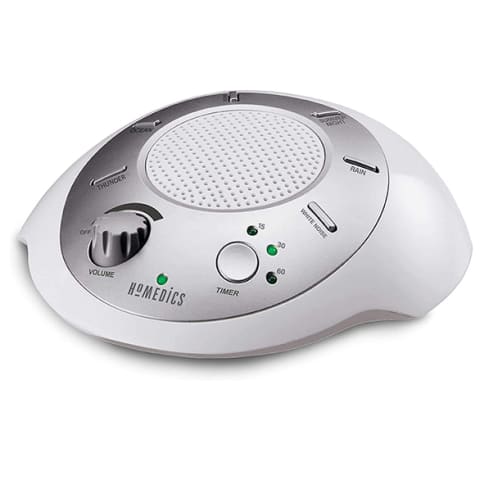 HoMedics
Best for All Ages: Adaptive Sound Technologies Sound+Sleep Machine
The best sound machines of today are generally high-tech or "smart" devices that connect to your phone. But what we like best about this sound machine is it isn't complicated to work, and you certainly don't need to be tech-savvy to operate it. The Adaptive Sound Technologies Sound+Sleep SE's settings are pretty straightforward, so anyone could use it, including younger kids and older generations. All you have to do is spin the dial to one of the 16 sound options, adjust the timer and volume with the press of a few buttons, and voilà, you're ready to listen yourself to sleep.
The Sound+Sleep SE timer can be set to turn off after 30, 60, 90, or 120 minutes, or you can opt for continuous listening throughout the night. The device is constantly monitoring your surroundings and adjusting accordingly to keep you asleep, and if you'd prefer a more private listening session, it comes with a headphone jack (a rarity these days), so you can plug in, tune out, and drift off to sleep.
Adaptive Sound Technologies Sound+Sleep Machine ($108.88)
Adaptive Sound Technologies
Best Portable: Yogasleep by Marpac Dohm Classic The Original White Noise Machine
FYI, you don't have to be a yogi to use (and love) this Yogasleep machine. Marpac has been around for decades, and its sound machine is the OG, dating back to its official product launch in 1962. "It's been tried and true," Adams tells mbg over email.
The Original White Noise Machine has a cult following, and for good reason. "It's fan-based with natural white noise and produces the ambient sounds of moving air," Adam notes, adding that, in her personal experience, she's found it to "be really durable and an overall high-quality machine." Additional features worth mentioning are the device's two-speed options for tone and volume ("high" for especially noisy environments and "low" for everywhere else), and its portability, so you can use it in the bedroom, in your office, living room, or hotel room to combat that dreaded first-night effect.
Yogasleep by Marpac Dohm Classic The Original White Noise Machine ($46.49)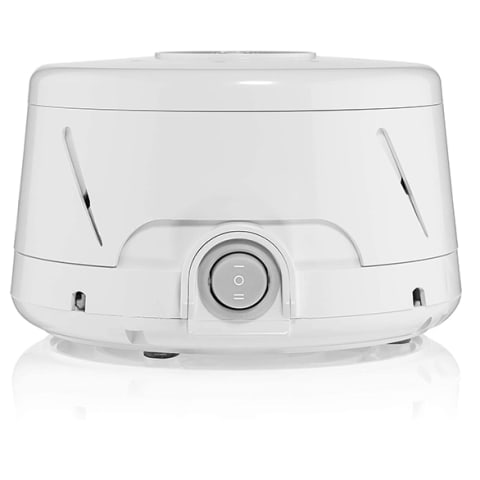 Marpac
Advertisement
This ad is displayed using third party content and we do not control its accessibility features.
Best Sound Machine Alarm Clock: The Loftie Clock
The Loftie Clock does two things: First, it helps you fall (and stay) asleep, then it helps to wake you up from your slumber. The product's tagline is "break up with your smartphone alarm," which just so happens to be a resolution many of us set every New Year's Eve. See, the experts behind The Loftie know as much as we do that technology and blue light hinder our sleep quality. This sound machine is their solution.
Part sound-machine, part alarm clock, The Loftie guides users through breathwork, stories, and sound baths to lull them to sleep, with a sleep timer that fades said content over time. It features a blackout mode and optional nightlight, your choice of white noise or nature sounds, plus a backup battery to ensure your slumber isn't disrupted by a power fizzle. In the morning, you'll wake up to two alarms: the first, a gentle sound signaling you to open your eyes, the second is a non-alarming nudge to get up and out from under the covers.
Loftie The Loftie Clock ($149)
Loftie
Best Fan-Based Sound Machine: LectroFan Evo White Noise Machine
The LectroFan Evo White Noise Machine comes highly recommended by Light as it offers a wide range of sounds, including 10 fan sounds, 10 variations on white, brown, and pink noise, and two ocean sounds. "There's also a lot of flexibility in regards to volume, so you can crank it up if you have more noise to block out, or turn it down on calmer nights," Lights tells mbg.
Available in four colorways (white, charcoal, Evo white, and black), the sound machine boasts a solid-state design operated via AC or USB. Light also raved over the device's many special features, listing its auto-timer, headphone jack, compact build, and affordability as details that contribute to its overall quality.
LectroFan Evo White Noise Machine ($49.87)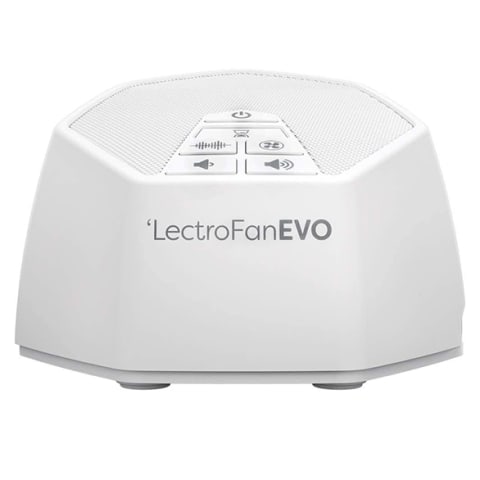 LectroFan
Best for Little Ones: Baby Dream Machine Sleep Device
While the Hatch Rest is also a popular sound machine for little ones, Mitchell tells mbg another great option for babies and toddlers who struggle to fall and stay asleep is the Baby Dream Machine Sleep Device. It's an adorable structure, a 5-in-1 device shaped like a sleeping bear cub that not only helps your sweet babe fall asleep but also helps sleep train them.
After reviewing the special features the Baby Dream Machine offers users, we're impressed. The sound machine is also a nightlight that emits red light, helping babies produce more melatonin so that they fall and stay asleep throughout the night. The device also acts as a cool-mist humidifier, plays sound-engineered pink noise, and also doubles as a diffuser. No wonder parents call it a dream come true.
Baby Dream Machine Baby Dream Machine Sleep Device ($119)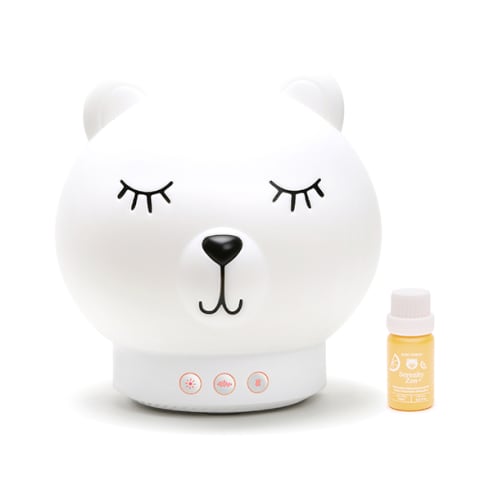 Baby Dream Machine
The bottom line.
Sound machines are one of the many products that can help you fall asleep if you find yourself awake night after night. In addition to things like magnesium supplements, and weighted blankets, these devices can help drown out the noise around you so your brain can quiet, calm, and drift into a restful slumber.* So if you're tired of tossing and turning, any of our recommendations might just be worth the investment.
If you are pregnant, breastfeeding, or taking medications, consult with your doctor before starting a supplement routine. It is always optimal to consult with a health care provider when considering what supplements are right for you.

Julia Guerra
Julia Guerra is a health and wellness writer reporting for mindbodygreen, Elite Daily, and INSIDER. Formerly the beauty editor for BestProducts.com, she's contributed to Women's Health, Cosmopolitan, PopSugar, and more. A book worm and fitness enthusiast, her happiest moments are spent with her husband, family, sipping tea, and cuddling with her Tabby cat, Aria.